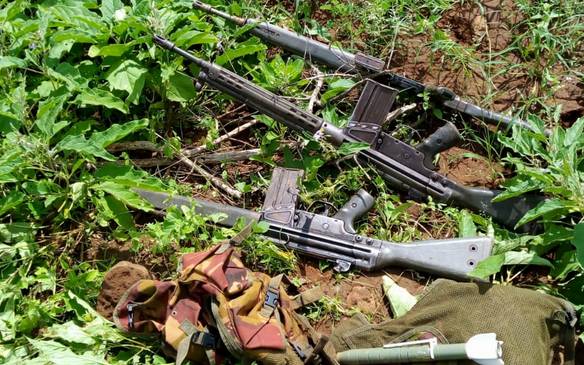 Three G3 rifles (pictured) that were stolen after three police officers were killed by armed assailants at Jaldesa in Marsabit County have been recovered. Police said the guns were recovered along Jaldesa-Shurr Road dumped in a thicket. During the attack that occurred on November 6, 10 herders were also murdered and cattle were stolen.
SEE ALSO: Two minors shot dead, one hurt in Marsabit attack
The officers were killed at a watering point while engaging the armed bandits in a gun battle and officials said around 800 animals were stolen. Police said they also recovered 158 heads of cattle and 70 goats. Four suspects are in custody over the incident. Among those held include a politician, an assistant chief, a retired chief and a driver who transported one of the injured attackers to seek medical attention, police spokesman Charles Owino said. "A multiagency operation to pursue the criminals and recover illicit arms in their possession is still on and we are urging the public within the area who are in unlawful possession of firearms to surrender them to lawful authority with immediate effect," said Owino. A number of local leaders were interrogated in connection with the November 6 attack. County Commissioner Evans Achoki said the operation to recover the illicit firearms is ongoing.
SEE ALSO: Resurgence of ethnic clashes underscores importance of unity
"No one will be spared in the crackdown as long as there is enough evidence to sustain legal suits. We have put FM stations on notice against inciting locals," Achoki said. On Friday, Interior Cabinet Secretary Fred Matiang'i said the government will not tolerate politicians who fuel attacks. Authorities are trailing political leaders and other people said to be funding the militant activities. He said a new border patrol unit will be established in the area as part of broad efforts to maintain law and order in the region. Matiang'i said he had already met leaders from the region to discuss conflicts in the larger northern region.
SEE ALSO: Find lasting solution to cycle of violence in the North
"We have already met and mapped out modalities to deal with this issue once and for all," he said.