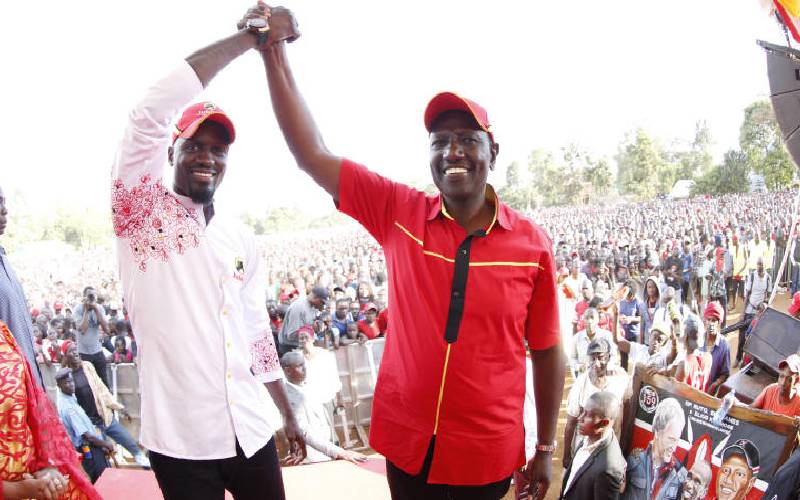 Politics
Ruto says they have changed the narrative that Kibra belongs to someone.
After a bruising election campaign in Kibra which ended in a victory for ODM's Imran Okoth in the by-election, Deputy President William Ruto has finally broken his silence. Ruto who took to twitter to congratulate Imran, fired a salvo at the ODM party following their victory, saying they have served them with notice ahead of 2022. Ruto hailed the more than 11,000 voters of Kibra who voted for Jubilee candidate McDonald Mariga, saying the number was amazing going by the territory. The DP also accused their opponents of using violence and intimidation during the exercise to scare away Mariga's would-be voters from the polling stations.
SEE ALSO: Omanga and Prengei pledge loyalty to Jubilee, president
"Kibra you are amazing! In spite of questionable reinforcements, the con-handshake candidate narrative, the violence/ intimidation, you went past the gate, the door and voted Jubilee a third of 'bedroom'. You have changed the politics of, not just Kibra but Kenya. We are indebted," said Ruto. He also took a swipe at Jubilee leaders who backed Orange party candidate Imran Okoth, saying Mariga's performance was very encouraging. "Thank you all our leaders and members for standing firm with Mariga our Jubilee candidate. "We have demonstrated unprecedented resolve in the face of many odds to proudly double our percentage presence in territory otherwise considered no-go zone, shaming those who betrayed our leader and party," he said. Ruto said going by their numbers in 2017 which stood at a paltry 12 per cent, the 26 per cent was a win for Jubilee, adding that it is their opponents who lost despite retaining the seat. "Congrats Mariga, Team Jubilee and supporters for daring the so-called 'bedroom', braving the chaos violence, to double our vote from 12 per cent in 2017 to 26 per cent now. Our competitors came down 78 per cent in 2017 to 52 per cent. They retained the seat we have served notice," he said.