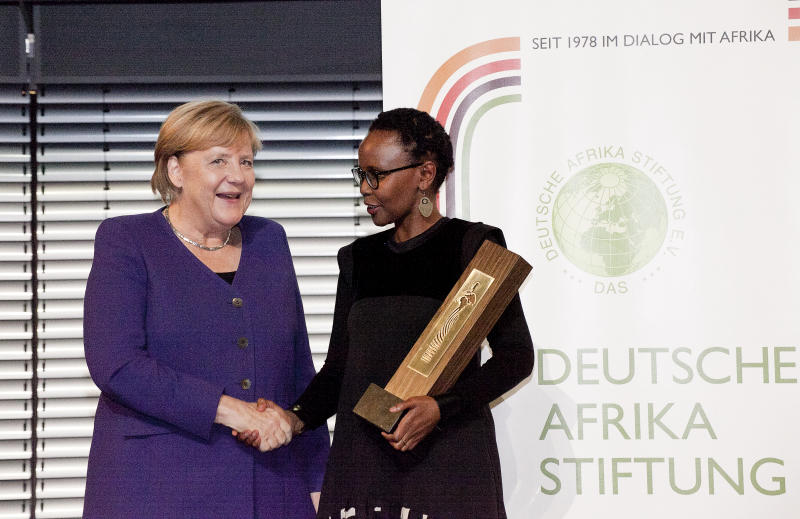 Kenyan tech entrepreneur and founder of software project Ushahidi, which was introduced to monitor violence in Kenya following the 2007 general elections, Juliana Rotich has been awarded the 2019 German Africa Prize.
The prize was handed to her Wednesday by German Chancellor Angela Merkel in recognition of her business achievements, technological innovations and her outstanding sense of social responsibility.
"Your success also encourages many other women," Merkel said in her speech honouring the entrepreneur. "We need people like you who have the courage to innovate and thereby infect others."
A 16-member independent jury selected Ms Rotich from a list of 18 African nominees. The 42-year-old was informed at a meeting on April 4 at the German Embassy in Nairobi, attended by Deputy Ambassador Michael Derus and the General Secretary of the German Africa Foundation, Ingo Badoreck. Ms Rotich said the prize was not only an honour for her.
"The award also recognises the potential for a digital economy in places where you would never expect a digital economy," she said.
Key innovations
In future, she wants to contribute to solving societal problems in Africa through technological innovations.
An issue that particularly worries her is the change in population demographics in the continent. "More young people are pushing to get into labour markets, but we are not creating new jobs and founding new companies fast enough," said Rotich.
Since 1993, the German Africa Foundation has awarded the German Africa Prize annually to honour "outstanding individuals for their longstanding endeavours to foster democracy, peace, human rights, art, culture, the social market economy and social concerns."