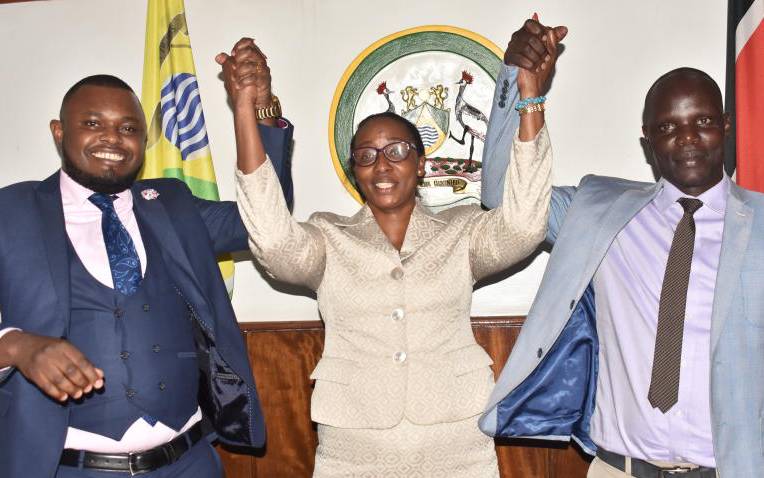 Nairobi
Nairobi County Assembly has sworn in two new members of the County Public Service board following their nominations by Jubilee and ODM parties.
The Nairobi County Assembly has sworn in two new members of the County Public Service board following their nominations by Jubilee and ODM parties. This is even as County Speaker Beatrice Elachi warned County staff of being drawn into the supremacy wars pitting two factions of MCAs with ideological differences on how assembly affairs should be conducted. Jubilee's Mark Ndungu and ODM's Maurice Gari were today sworn in by speaker Beatrice Elachi a day after their gazettement as the new board members. Maurice Gari who takes over from minority leader Elias Otieno attributed the changes in the assembly to the March 9 handshake between President Uhuru Kenyatta and opposition leader Raila Odinga.
SEE ALSO: Reshuffle of Jubilee parliamentary leadership shows MPs are loyal to Uhuru — Ahmednasir
He pledged to represent the welfare of members who had "long been suffering". "We have previously been facing a lot of challenges under the previous board but I am glad that we can now put them to rest given the new appointments. I thank my secretary-general Edwin Sifuna and party leader Raila Odinga for the nomination," stated Gari, who doubles up as Nairobi West MCA. Maringo Hamza Ward legislature Mark Ndung'u called on MCAs from both political affiliations to work together in delivering their mandate to the citizens of Nairobi. He further lauded the actions of President Uhuru Kenyatta and Jubilee Party's Secretary General Raphael Tuju. Minority Chief Whip Peter Imwatok urged the MCAs to begin transacting business on a clean slate saying that there would be a change in handling house business come Tuesday next week. "When we resume from recess on Tuesday there will be no more challenges and conflicts as witnessed in the past. I would also urge the members of staff to be impartial in conducting their duties," said Imwatok.
SEE ALSO: Kamar succeeds Kindiki as Senate deputy speaker
Dandora Phase III MCA Charles Thuo urged the newly sworn-in members of the board to perform their duties lawfully and with due diligence lest they suffer the same fate as their predecessors. "We have been experiencing a struggle but today we have finally been able to overcome it. Those appointed should, however, serve us and if they do not, we will take the same action we did to remove the previous board members," stated Thuo. Speaker Beatrice Elachi warned members of staff against being drawn into assembly politics, urging them to work as the civil servants that they are. She hailed Jubilee Party for intervening in the assembly wrangles and giving a way forward. "The new board will strive to be transparent in its operations going forward. We have a lot to achieve but I would like to urge our members of staff to work as civil servants and not follow politicians," said Elachi. The Nairobi County Assembly Service Board consists of six members inclusive of the Speaker, two members nominated by major parties, the Clerk and two members of the public nominated on the basis of their knowledge and experience in public affairs, who are also not members of the county assembly.
SEE ALSO: Duale spared after Jubilee Parliamentary Group Meeting
The Clerk is the secretary to the board while the speaker is the chairperson. The board is now made up of Mark Ndung'u the newly appointed vice-chair and as a representative of the Jubilee party, Maurice Gari as a representative of the ODM party, clerk Jacob Ngwele and two other members of the public. Section 12 of the County Governments Act stipulates the functions of the board are to provide services and facilities to ensure the efficient and effective functioning of the county assembly.