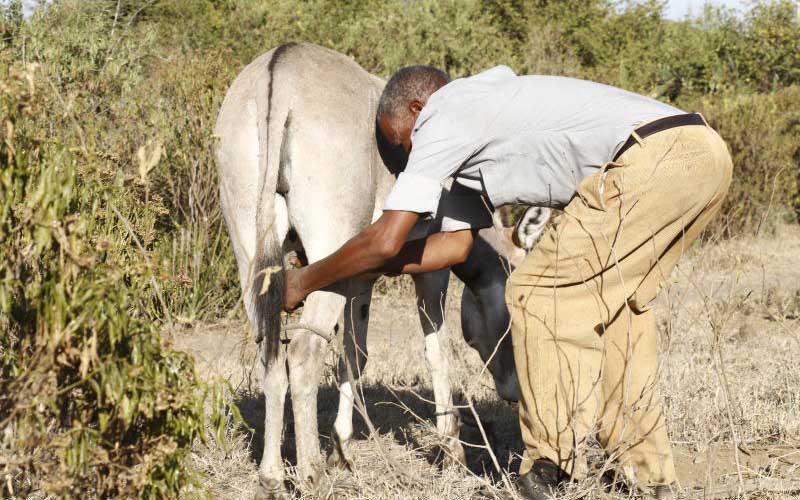 Kenyatta University's Kitui Campus has partnered with an NGO to carry out research aimed at getting a donkey breed that grows and reproduces faster, and is also immune to diseases. Announcing the partnership between the university and Brooke East Africa at Kitui Campus during launch of donkey welfare project, Vice Chancellor Paul Wainaina said the campus was going into non-conventional programmes in agriculture such as donkey breeding. Brooke East Africa cares for the welfare and protection of donkeys. This, Prof Wainana said, will help in protecting the endangered animals that are facing extinction due to the high rate at which they were being slaughtered.
SEE ALSO: Varsity student makes nasal swabs for coronavirus testing
"The donkey has become an endangered animal due to the rate at which it is being killed for meat, medicinal and beauty products. Our research will focus on finding ways to preserve what we have and also come up with a breed that can grow and reproduce faster while at the same time being immune to diseases," Prof Wainaina said. Getting trained The vice chancellor announced that the campus will establish a multiplication donkey farm where farmers, mainly from arid and semi arid regions, can get training. "We shall come up with a curriculum that deals with non-conventional programmes in dry land agriculture and that are practical in solving problems experienced in those regions. We hope to motivate and attract young people," the VC added. He noted that the campus will be a centre of excellence in donkey breeding.
SEE ALSO: Why rural Kenyan communities rely on donkey for daily economic activities
Part of the research, said Wainaina, will be to establish the medicinal and nutritional value of donkey milk as well as improve the economic value of the animal and utilise their full potential in dry areas. Fred Ochieng, CEO of Brooke East Africa, observed that the licensing of four donkey slaughterhouses in the country would decimate the donkey population by 2023 because of their low reproduction rate. And with the extinction of donkeys, the rural poor who mostly rely on donkeys as a source of livelihood will suffer, said Mr Ochieng. According to a survey done by Kenya Agricultural and Research Livestock Organisation (Kalro), the rate of donkey slaughter stands at 5.1 per cent against their reproduction rate of 1.04 per cent, meaning they are slaughtered five times more than they reproduce.
Economic value
"We want to affirm that donkeys are better alive than dead, and for this reason we are calling for a total ban on donkey meat.
SEE ALSO: High Court lifts ban on donkey slaughter after petition
Our only focus should be to ensure that the animals are well taken care of and that their economic value is improved," said Ochieng. Kitui Deputy Governor Wathe Nzau said the county government will also partner with the university to ensure that maximum economic potential of donkeys is realised. Mr Wathe said part of the collaboration would be to help the university establish grass farms by providing free tractors from the county government as well as grass baling equipment.