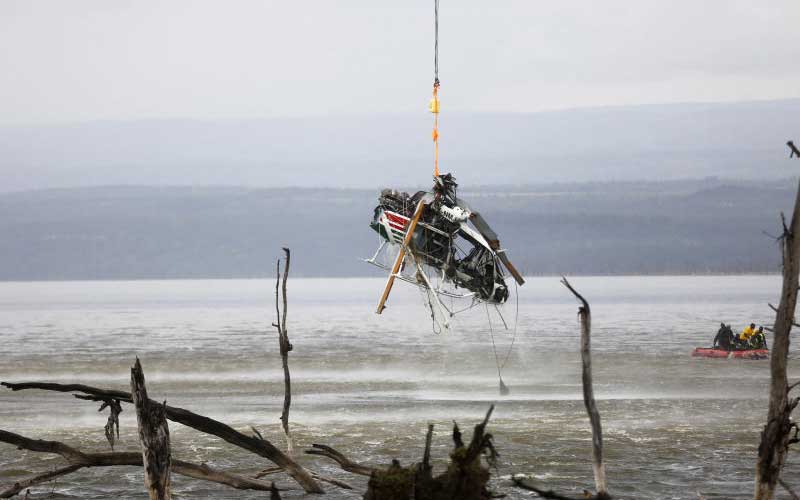 Coast
Bodies of two victims of the Nakuru chopper crash are yet to be recovered
When news broke last Sunday that a mother and her daughter had plunged into the Indian Ocean, a familiar feeling of loss and powerlessness immediately took hold of William Ngugi. Ngugi is the father of Sam Gitau, one of the two victims of the October 21, 2017 Lake Nakuru helicopter crash, whose bodies have never been recovered. The body of John Mapozi is also still missing, almost two years after the tragedy that claimed three other lives. The rescue and recovery team retrieved the bodies of Veronica Muthoni, Anthony Kipyegon and Apollo Malowa, the pilot.
SEE ALSO: Pakistan passenger plane with 98 on board crashes on homes
The failed efforts by Kenya Navy divers to retrieve a personal vehicle that plunged into the Indian Ocean with two occupants on Sunday have rekindled memories of the lake crash. "Search mission to recover my son's body seems to have hit a snag. I am left in the dark despite my wish having been to bury him as per African traditions. It is sad," Ngugi, 57, said. He is yet to come to terms with the loss of his first born and only son who was a renowned blogger and worked for Nakuru Senator Susan Kihika. He told the
Sunday Standard
yesterday that his hope of recovering the body was thwarted after the withdrawal of experts and divers and a requiem mass held at the lake in January 2018. He was forced to travel back home in Githunguri village, Kiambu County.
Produce foam
SEE ALSO: Ethiopian Airlines sees Boeing 737 MAX compensation deal by end-June
Unlike in the Mombasa ferry tragedy where the bodies are said to have sunk 60 meters deep into the ocean, Lake Nakuru is only seven meters deep, with some places as shallow as two metres deep. The lake has no crocodiles or sharks but divers from the Kenya Wildlife Service, Kenya Navy, fisheries department and others sponsored by Nairobi Governor Mike Sonko combed through the lake for three months before the search was called off. It was said then that high pollution made it harder for them to conduct the search. The recovery team had to endure hours in extremely dirty water and silt, which frustrated efforts to locate and retrieve the bodies. The high levels of raw sewage mixed with water did not make things easier. One diver said the water is also soapy, making it difficult to see through it. "When you rub your hands after getting into contact with the water, you could produce foam," said Moses Owaga, head of the 10 Mombasa-based divers from the Sonko Rescue Team who were brought in to assist in the search mission. At one point, tens of divers were diagnosed with typhoid, but they were treated and they resumed in the recovery mission.