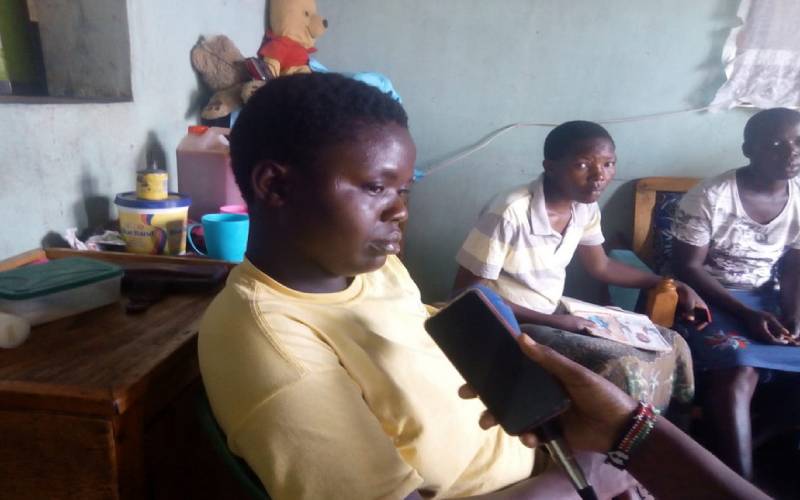 Sunday was a painful day for Jane Akinyi, a mother of the 11-year-old pupil at Usenge Primary School in Bondo, Siaya County, who allegedly committed suicide.
But interestingly, Akinyi says she dreamt about her daughter, Hellen Akinyi's death, just a day before it happened.
"I had a strange dream. I was in the house with my husband at night when I noticed that my daughter was being rained on," Akinyi said yesterday.
SEE ALSO: Villagers left in shock as 11-year-old boy commits suicide
She added: "I got outside to open for her the door but I did not see her. I was devastated but ignored the dream," she said as tears rolled down her cheeks.
Hellen, who was the firstborn in a family of three, left two suicide notes, one addressed to her mother and another to her younger sister.
"Adongo nilisema nikifanya dhambi nitajinyonga. Naenda kujinyonga. Kwaheri (Adongo, I said that if I commit any sin, I will take away my life. I'm going to kill myself. Bye)," read the note left behind by the minor.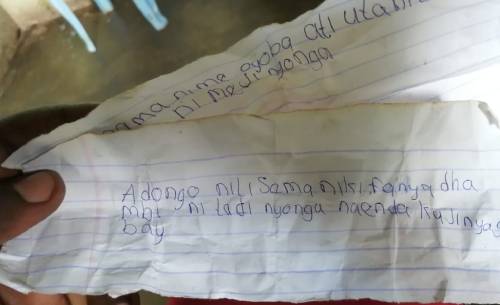 According to the mother of three, they had left with for the market with her daughter on the fateful day.
SEE ALSO: Covid-19 patient tries to commit suicide at Mbagathi
"We were heading to the market where I always buy potatoes (bhajia) and Hellen was carrying a jiko. She slipped and accidentally broke the jiko," narrated Akinyi, adding that she did not threaten to beat her.
Akinyi, who is yet to record a statement with the police described her daughter as obedient and never thought she could take her life away.
"It was around 4 pm and I told her to go back to the house and wash utensils, which she did and thereafter took a rope telling her siblings that she was going to take a swing. This was the last time she was seen alive," the distraught mother recalled.
Bereavement
When The Standard visited Akinyi's house on the outskirts of Usenge town yesterday, friends, neighbours, and relatives of the girl gathered to condole with Akinyi.
SEE ALSO: Suicide attempt: COVID-19 patient slits his throat at Mbagathi
Even though classes were moving on normally at Usenge primary school, something was amiss at Class Four West – Helen was missing from the classroom with a population of about 60 pupils.
Her desk mates, Jilesherin and Rose are in mourning mood. They are aware of the demise of their friend
"We are still mourning the death of our friend Hellen," said the pupils.
The school's headteacher Mr Fredrick Odundo described the deceased as a quiet girl but low performer in class.
"We have learnt her death with a lot of shock because this has never happened in the history of this school," said Mr Odundo.
SEE ALSO: Men only: Why men are now at high risk of suicide
Area Police boss Anthony Wafula confirmed the incident saying the body of the girl was taken to Bondo Hospital Mortuary.
Suicide cases on the rise
Hellen's shocking death has brought concerns over the rising trend of minors taking away their lives in the county, with at least five cases reported since 2015.
In July this year, a class six pupil attempted to commit suicide at Kapiyo Primary School in Bondo sub-county before he was rescued.
Last year, two class pupils committed suicide at Kawamangaria Primary School and Kagwa sub-location in Rarieda sub-county.
SEE ALSO: Man kills self after quarrel with daughter over food
Speaking to The Standard, Bondo Sub-County Director of Education Mr Elisha Omalla said causes of the upsurging suicides amongst minors are many.
"It could be true that guidance and counselling services are not strong in our learning institutions but more so problems in the larger society," said Mr Omalla.