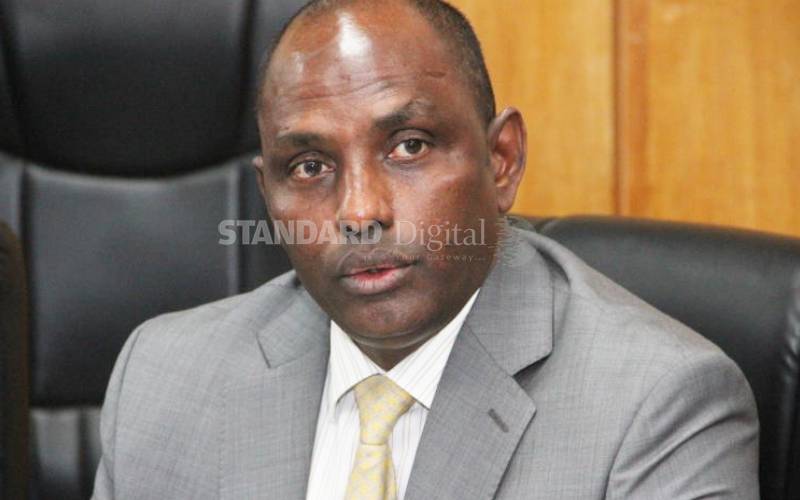 A raft of austerity measures announced by Acting Treasury Cabinet Secretary Ukur Yattani (pictured) in the recent past sounds just like what the doctor ordered for our struggling economy. Last week, Mr Yattani directed all public agencies to slash budgets for furniture by 75 per cent until 2022. He also ordered them to cut spending on rent and banned use of Government vehicles outside working hours. The CS also reduced spending on airtime by 30 per cent and encouraged Government workers to embrace the Internet to communicate. He also suspended benchmarking tours indefinitely. Early this month, Yattani announced a three-year hiring freeze and restricted promotions to stop the wage bill from ballooning further.
These measures, if followed to the letter, would help the Government save billions of shillings and get enough funds for the President's Big Four agenda as it hopes to do.
SEE ALSO: Kositany, Tuju set to lock horns over Jubilee finances
Without doubt, some of these measures are extremely good. For instance, both national and county government officials have been spending millions of shillings on unimportant benchmarking trips. Such mindless spending must be stopped by all means. However, some of Yattani's proposals go counter to Jubilee government's pledges. The ruling party promised to create 1.3 million jobs for five years. This promise is yet to be met, and Yattani's measure would only make matters worse. In any case, hiring of workers is determined by size of the population and unless the recent census has indicated the number of Kenyans has gone down, we can only expect the Government to hire more, not less. Needless to say, the quality of services in the public sector is mostly directly proportional to the number of workers. And it is not only the freeze on hiring that will make the Jubilee job's dream a mirage. The ban on buying of furniture will deal a blow on the industry and might even be the final nail in some carpenters' workshops. The victims here are most likely to be youths who the Government assured 30 per cent of State tenders. It should not be forgotten that suppliers are still reeling due to national and county governments' failure to pay them for services rendered.
SEE ALSO: Kositany gives Jubilee ultimatum, demands transaction details for past four years
And then there is the freeze on promotions. This actually goes against article 41 of the Constitution and International Labour Organisation's conventions on fair labour practices. By failing to promote them, workers will be deprived of deserved pay increments. Of course, this will save the Treasury money, but it would be wrong to sacrifice employees' career and monetary aspirations on the alter of the Big Four. Such a move might even expose the Government to litigation. Finally, the decision by the Government to reduce spending on newspapers would deny public servants reliable sources of information and also deal media houses a body blow--with a possibility of causing job losses. Undeniably, the Big Four agenda is not only important for the President's legacy but also for each and every Kenyan. It would bring joy to all of us if we become food secure, have affordable housing, universal health care, and if our manufacturing sector comes alive and yields the much-needed jobs. Already, President Kenyatta's government has made major strides toward achievement of some these goals. On food security, dams are being constructed to mitigate drought. Universal health care has been rolled out in some counties and the feedback so far is encouraging. Challenges, however, abound on job creation and housing. But it is the jobs that we are worried about here. If indeed the main reason behind Yattani's painful prescription is to save money for the Big Four, we need to ask ourselves at least one question; is it really worth it to take measures that cause job losses in a bid to, among others, create jobs?
SEE ALSO: ODM bags plum committees posts after Jubilee concedes
The answer, according to us, is no. That's why we ask the Government to tone down or put at least one of the Big Four on the back burner if that will help a few unemployed youths to get jobs and old workers to go up the ladder. Housing, which has met resistance from some quarters, could be a good candidate for this. No one will curse the President for not achieving this dream. In any case, Mr Kenyatta's government has already cemented its legacy going by the number of roads it has built, electricity distribution, issuance of title deeds and fight against corruption, just to name but a few. Yattani should go back to the drawing board and come up with a strategy that is less painful.