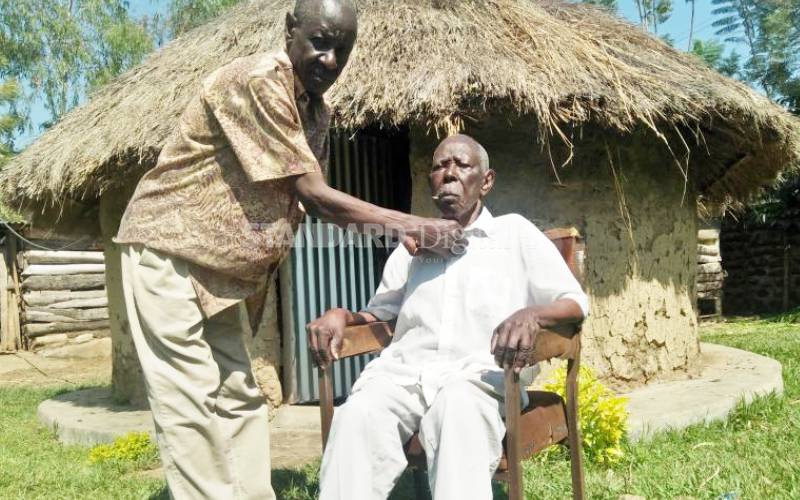 Western
A letter dated January 7, 2010 from the Ministry of Lands states that Olaka is the owner of the property.
A Magistrate's Court in Busia has barred a local businessman from interfering with the property of a 99-year-old man until the case he has filed is heard and determined. The order by Principal Magistrate Samson Temu came as a relief to John Olaka, who had been evicted from the property in Busia town. Olaka, a former soldier who fought for Britain in Burma, wants the court to establish how the businessman got the title deed for the prime property he has owned since 1948. Last Wednesday while he was sleeping, he heard some rowdy youths descend on his property. They destroyed some of his personal properties and then evicted him from a place he has called home for the past 71 years.
SEE ALSO: Seven killed, over 57,000 displaced as floods rage on
The old man then filed a suit through Okeyo Ochiel and Company Advocates and Mr Temu issued orders restraining interference from any quarter on his property. "A temporary order is hereby issued restraining the defendant whether by themselves, their employees, agents, workers, and or servants or anyone claiming through them from interfering with plaintiff's occupation and use of plot number Busia/Municipality/125, pending the hearing and final disposal of this application," read the magistrate's order.
The Standard
met Olaka in Ochude where he is staying with his grandson, Hassan Juma. He narrated how he acquired the property before independence. "What have I done to warrant all these mistreatment?" he asked. Olaka wants the National Land Commission to determine the rightful owner of the property. He said he has prostate cancer and has been relying on the rent he collects from his property for his medical expenses.
SEE ALSO: Former 'Standard' editor dies after long illness
"I did a lot for the people of Busia in my heydays. I get disturbed when someone starts claiming property that I personally bought," said Olaka. One of Olaka's sons, Hoskin, told The Standard that one of his brothers took the documents of the property and disappeared in 2014. "We suspect our brother colluded with some people and sold the property. We will fight in the corridors of justice to ensure that nobody takes away what is genuinely ours," said Hoskin. Juma said he decided to stay with his grandfather after he was thrown out of his house. "Where is the Government when such things are happening? It should protect the old man from this type of injustice," said Juma. "Interestingly, the court has ordered that mzee returns to his property but his house and other rental and commercial houses are still locked by the businessman," he maintained.