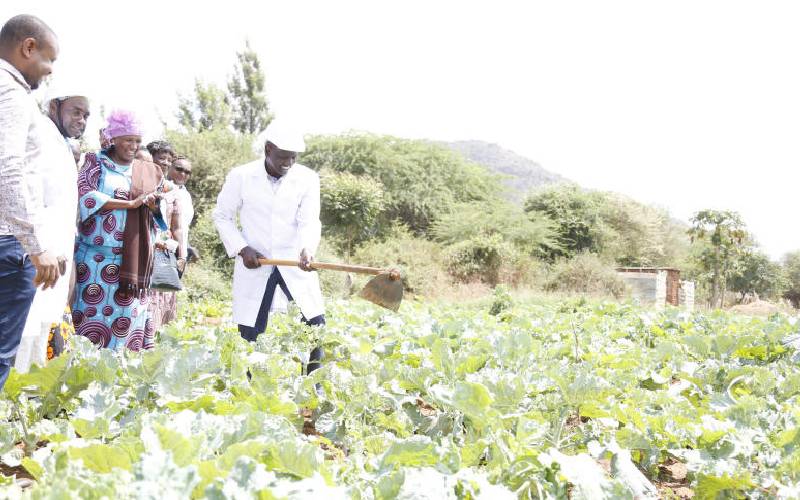 Deputy President William Ruto has declared that Taita Taveta County will not be dissolved as being pushed by Governor Granton Samboja. Dr Ruto who concluded his two-day tour of the county yesterday, met ward reps hostile to the Governor Samboja who has stayed away from the DP's meetings. Besides Samboja, all governors and most Coastal leaders gave Ruto's tour of the region that began last Thursday, a wide berth. On Sunday, Ruto urged Samboja and MCAs to negotiate a settlement to their three-month stand-off over the 2018/2019 budget, that has stalled operations of the county government.
SEE ALSO: Governors seek to resolve boundary dispute
He challenged the county leadership to sort out their problems instead of going to Nairobi to seek political support. "We cannot dissolve the county and we do not want to be part of the quarrel. We do not also want to be part of the problem. Let the executive and MCAs sit and immediately sort out the problem to keep the county going," said Dr Ruto. Speaking at Buguta trading centre in Voi where he presided over a fundraiser at Kasigau Community Christians Association, the DP asked the two arms of government to stop fighting. "It is difficult to dissolve the county. The executive and MCAs should sit down and address the matter," the DP told the county leadership. He added: "It is the constitutional right for the residents to get services. Those who want to dissolve the county should wait for 2022 when the voters will decide on the destiny of the county instead of pushing for dissolution," said Dr Ruto.
SEE ALSO: Battle of wits and tactics as Uhuru and Ruto eye 2022
Samboja was conspicuously absent at the function. "Why are you coming to Nairobi to sort out your problems? Stop playing around with the lives of the people. We do not have time to waste on pettiness," Ruto told local leaders. He told local leaders that they should learn from President Uhuru Kenyatta's wisdom when he declined to dissolve Makueni County Government. "We rejected the dissolution of Makueni County and we will not do it in Taita Taveta County. We cannot dissolve the county and we do not want to be part of any quarrels," he said. Samboja has so far collected more than 52,000 signatures to petition the president to dissolve the county. This is after the MCAs slashed the executive budget and allocated over Sh833 million for the ward development fund.
SEE ALSO: Another Ruto ally booted from helm of parliamentary caucus
MPs Jones Mlolwa, Khatib Mwashetani, Damson Mwashako and Woman Rep Lydia Haika accompanied the DP. Among the MCAs present include ODM chief whip and Kasigau MCA Abraham Juma, MCAs Paul Waweru, Maria Chao, Rose Shingira, Beatrice Mwabili, Godwin Kilele, Abednego Mwanjala and Nairobi's Kiamaioko MCA James Mwangi. Ruto further disclosed that the Government has set side Sh1.2 billion for rural electrification in the county.