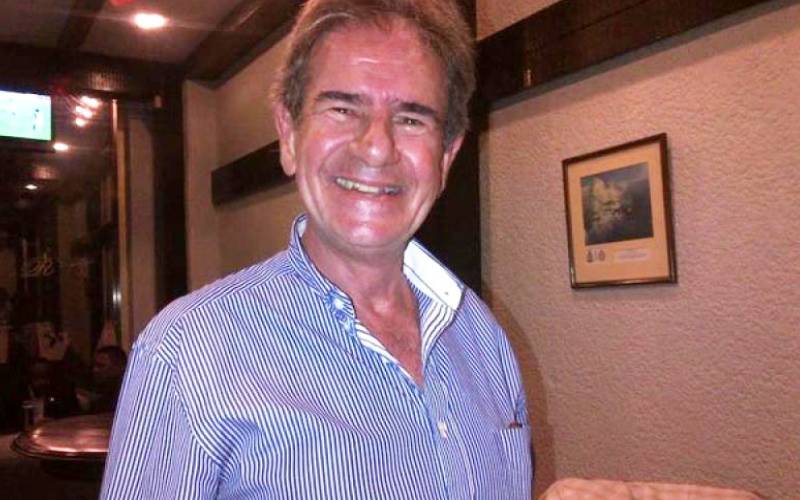 At least four suspects are on the run following the killing of Dutch businessman Tob Cohen at his home in Kitisuru, Nairobi. Two suspects have been arrested in investigations into the killing. Police say more suspects participated in the killing, either directly or indirectly, and that some of them are on the run. According to police, a valuable witness, initially held as a suspect, informed them that a linkman was used to hire the killers who waited for Cohen in his house on July 20, and killed him. The same suspect is said to have led police to the scene where the body was found. Police told the court that preliminary investigations had indicated that some witnesses were coached to give false testimony on the movement of Cohen.
Another suspect
Another suspect on the run is a man believed to have been drinking with Cohen at a club in Westlands on the same day he went missing. Cohen is also said to have met two women known to him over lunch at the club. The women were questioned by police and said they parted ways with Cohen at about 3pm. That is the time his mobile phone was switched off. Cohen is said to have stayed at the club till late, and with a man who is yet to be found. The man, so far known to police, later dropped Cohen home at night. Police say the Dutch businessman was killed the same night. His wife, Sarah Wairimu, who is a suspect in the killing, is set to appear in court again today. Police have so far placed more suspects at the scene of crime on the day Cohen is said to have been killed.
Refused to reveal
Director of Criminal Investigations George Kinoti refused to reveal more details on the suspect turned witness in the case, only stating that police had two suspects in custody and that they were looking for more. "We have two suspects so far and we are going to arrest more. Anybody who was involved in this gruesome murder shall not be spared. But there are more who are involved, not just two," he said. Kinoti said Cohen's house remains a scene of crime since the time the incident was reported to them. Police suspect he was killed inside the house. "We never wanted to leave anything to chance. We have widened the net to make sure this crime is not covered at all. There is no perfect crime," he said. Police found the body of Cohen, 69, in a septic tank within his home's compound on Friday, September 13, after he went missing on July 20. Physical analysis at the scene showed he was tortured and his hands tied to the back before he was strangled, his body wrapped in a nylon paper and blanket and stuffed in the septic tank that was sealed with cement. A postmortem examination is planned today. Parties in the matter were yesterday alerted of today's postmortem examination and subsequent burial tomorrow. Reports indicate that Cohen wished to be buried 36 hours after his death, hence the plans to bury him soon after the tests. Lawyer Philip Murgor, for Cohen's widow, said they intended to be present during the postmortem examination to, among other things, establish the time he died. "Experts will tell how long the body had been at the scene or probable day the man was killed. We understand police picked the cement that covered the septic tank for further analysis," said Murgor. The lawyer has also protested the involvement of former Gatundu South MP Patrick Muiruri in the matter, saying he was intimidating Wairimu's workers.
Frightened workers
"They informed me that they were ordered by Mr Patrick Muiruri to vacate the house, and go back to where they came from. They seemed very frightened by what Muiruri told them. I asked them to stay until proper arrangements had been made to secure the property," he said in a message to Director of Public Prosecutions Noordin Haji. He questioned the authority of Muiruri to give orders about a property that did not belong to him. Muiruri said he had known Cohen for more than 30 years and was very close to him. He said they played golf together. He added that he talked to Cohen for 15 minutes on the night he went missing. Peter Karanja, the other suspect who has been in custody since Friday, is expected to be presented in a Kiambu Court. Karanja, a former husband to Gilgil MP Martha Wangari, was arrested following information that he was in contact with Wairimu and that at some point she sent him Sh40,000. Police are investigating whether this had anything to do with the killing. His family has protested and complained that he has been held beyond the constitutional period. Karanja's lawyer, Ham Lagat, said he was arrested on Tuesday and wondered why he had not been presented in court. Mr Lagat said Karanja was known to and enjoyed business relationships with the Cohens. "He is a victim of circumstances. He has never committed any criminal offence. Let the police take note of his businesses. He is not a flight risk," said Lagat. He claims Karanja recorded a statement under duress. "He was under pressure when he recorded the statement. Can a person of his stature receive Sh18,000 to commit the said crime?" said the lawyer. According to the lawyer, there was no court order or holding charge on his client. "He is being detained illegally. We intend to make an application for his production in court," he said. Lagat claimed Karanja was first taken to Eburu Forest, where he was threatened and harassed to sign documents. Murgor has protested the prosecution's handling of the scene, saying there is a possibility that Cohen's body was planted there. Wairimu has also denied police claims. Police are further investigating letters Wairimu produced claiming they were from her husband before he was killled. The letters indicated that Cohen was withdrawing complaints he had made to police against his wife and a divorce case he had lodged. Police suspect the letters were forged. Wairimu told police that Cohen indicated he was heading to Thailand for medical checks on the day he went missing.
Personal belongings
Wairimu had also told police her husband packed his personal belongings on the material day and drove out of their compound in a taxi. The couple was battling a divorce case that Cohen filed last December. At the centre of the dispute was their matrimonial home. The Dutch embassy in Nairobi reported Cohen missing to police after his family approached the Dutch police saying they could not reach him on his mobile phone. Cohen had lived in Kenya for more than 30 years. Workers at his home told police Cohen removed security cameras at his home days before he went missing. Wairimu is said to have replaced them two weeks later. Online, Wairimu once posted a video on Youtube in which she painted Cohen as a cruel man who abused alcohol and other substances. "He is a chain smoker and that is slowing him down. And for a long time Tob has been abusing substances and that is why, unknown to many, he had all this aggression and couldn't handle situations," she says in the video.