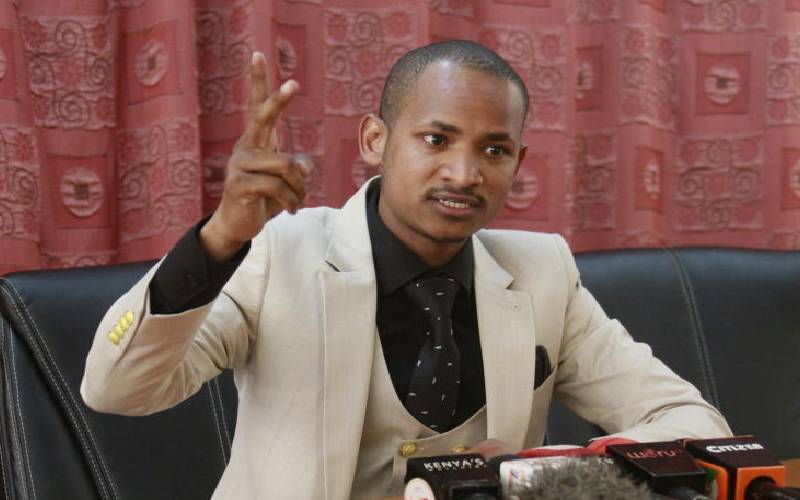 Gatundu South MP Moses Kuria has slammed Embakasi East MP Babu Owino over his 'Raila Odinga must be president in 2022' remarks. Kuria took to his social media account to condemn the remarks, terming them a threat to peace and urged ODM leader Raila Odinga to come out and reprimand one of his foot soldiers. "Hon Babu Owino has publicly said that we should change the constitution so that Raila Odinga can become President, failure to which there will be bloodshed in 2022," he said. He said similar remarks are also emanating from Rift Valley where some communities are being threatened to vote in a certain way or face the music in 2022.
SEE ALSO: Plan to kick out Ruto allies aborts after Uhuru and Raila men clash
"In the Rift Valley some communities are threatened with fire and brimstone if they do not vote in a certain way in 2022," the Gatundu South legislator said. Babu on Friday posted on his twitter account that Kenyans must brace themselves for a referendum and vote for Opposition chief as President to avert the destruction of property and loss of lives. "We must change the constitution and Raila MUST be the PRESIDENT in 2022. Kenyans must prepare for a Referendum to avoid loss of lives and destruction of properties after elections." Kuria, however, feels that Babu's comments border threats and could be misinterpreted by the masses to mean it either Raila or death and destruction. He has appealed to the former PM to come out publicly and condemn such comments, saying they could be misconstrued as Kenyans begin the referendum debate.
SEE ALSO: I'm fine after surgery, Raila assures Kenyans
"I am still waiting for Raila to contradict his ODM party MP," Kuria posted on his Facebook account. Last month Kuria also condemned Kapseret MP Oscar Sudi over similar remarks. Sudi had accused President Uhuru Kenyatta and other forces in government for trying to block Deputy President William Ruto from becoming President in 2022. "Your comments make many people wonder how you would behave if you are allowed 50 kilometres radius from a future State House," Kuria told Sudi. The remarks come at a time when the push for a referendum is gathering momentum.