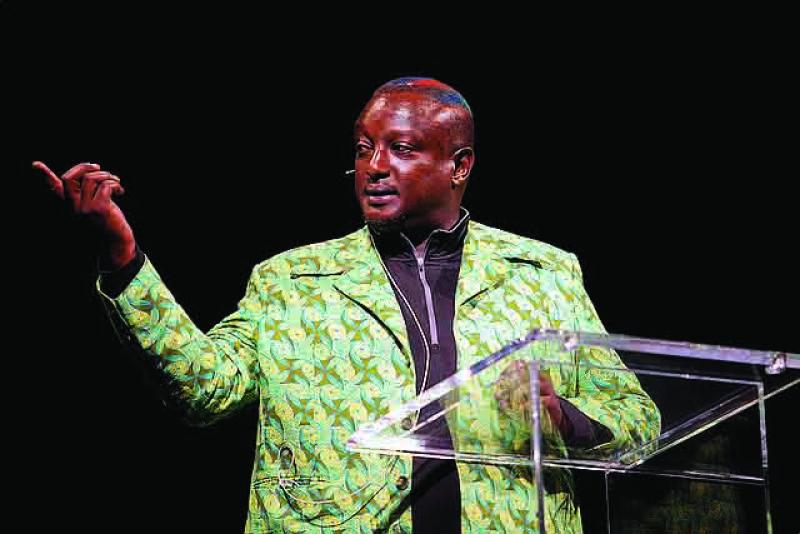 Arts & Culture
He represented a new generation of Kenyan writers who forced their way onto the literary landscape at the turn of the century
He represented a new generation of Kenyan writers who forced their way onto the literary landscape at the turn of the century, winning a Caine Prize for Africa Writing in the process
He was a great Kenyan. Like Chinua Achebe before him, Binyavanga will be remembered for helping to initiate and promote literary production by a new breed of Kenyan and African writers.
I learned of the departure of Binyavanga Wainaina from the face of this earth with shock and sadness. Binya, as we loved to call this fine spirit of a Kenyan, was best known as a short story writer and essayist. Binyavanga represented a new generation of Kenyan writers who forced their way onto the literary landscape at the turn of the century. Self-driven, ebullient, even boisterous, and known for their experimentation with writing, this new breed of writers was variously dismissed upon arrival in town by Prof Egara Kabaji as "literary gangsters" and by Prof Chris Wanjala as "inebriated" youngsters who did not take literature seriously. In 2002, a Kenyan won the Caine Prize for African Writing. That Kenyan was Kenneth Binyavanga Wainaina, born and bred in the old settler town of Nakuru.
Online journal
As a boy, I had heard it said that Nakuru was once the cleanest town in Kenya; whether this claim was associated with the settler community or not, I never got to ask Binyavanga, but he loved his hometown, and wrote proudly about it. Binyavanga brings the landscape of the Rift Valley, and Nakuru, to life; the escapements, rivers, lakes, mountains, hills, food, and the people. When Binyavanga was awarded the Caine Prize, he had been writing for online journals, the new frontier in literary productions. Then, the internet was beginning to revolutionise communication, and Binyavanga, having abandoned his studies at Transkei University in South Africa, took advantage of this new medium to realise the gift of a beautiful literary mind nurtured through reading, but which had long been suppressed by other competing human interests such as commerce, which Binyavanga had been sent to study in South Africa. The Caine Prize came with money, fame, a literary agent, and more money, from commissioned work and travel. Binyavanga used the Caine Prize to organise and mobilise writers, mostly of his generation, but he did not eschew working with those who had come before him. For as in the words of Prof Ngugi wa Thiong'o when I invited him as guest on the premier literature programme,
The Books Café on KBC English Service: "literature is a conversation with those who were there before us, those who are with us and those who will come after us."
"Writing," Binyavanga would say, "keeps me close to people." Thus, Kwani Trust was born in 2003 to collect and promote the work of African writers. A perpetual student of African literature, Binyavanga took instruction from the antecedent tradition where professional groups, literary or cultural, had played a major role in harnessing artistic expressions on the continent. In Kenya, one recalls Chemichemi, founded by South African writer Ezekiel Mphahlele, Paa ya Paa, founded by Tanzanian painter Elimo Njao, Kenya Oral Literature Association (KOLA), associated with university dons. These organisations were not only incubators and hubs; they were in fact a platform for intellectual discourse and artistic expression outside of the university lecture halls. Indeed, when Kwani was born, there was literary activity which you find among the Kenya Women Writer's Foundation who continued to publish anthologies of oral narratives, poems, and short stories, such as
The Survivors (2002), edited by the late Asenath Bole-Odaga and Habel Andati Shiloli.
Prof Wanjala continued to travel around the world, to give lectures on African literature; our universities continued to attract literary scholars such as Prof llieva Emilia, and David Maillu continued to write. Yet Kwani was something new, it was experimental, it was urban, it was happening, it was being felt. Kwani organised poetry events, writers' workshops, literary festivals, summer literary seminars, competitions, and it launched the Kwani? Journal, a publication of poetry, short stories, travelogues, and cartoons, and Binyavanga was its founding editor. Once again Kenya became a destination for lovers of literature, and a home for academic fellowships. There were many people visiting Kenya. Binyavanga was a visionary. Binyavanga was a great Kenyan. Like Chinua Achebe before him, Binyavanga will be remembered for helping to initiate and promote literary production by a new breed of Kenyan and African writers. Achebe was central in initiating the Africa Writers Series, and Kwani? would aspire to playing this role at the beginning of the 21st century. It's only Binyavanga who could bring together Yvonne Adhiambo-Owuor, Parselelo Kantai, Dipesh Pabari, Tony Mochama, Billy Kahora, Khainga O'Okwemba, David Kaiza, Shalini Gidoomal, Philo Ikonya, Stephen Partington, Keguro Macharia, Stanley Gazemba, Monica Arac de Nyeko and Chimamanda Ngozi-Adichie. Binyavanga was a magnet, but only in the sense of pulling other writers to work with. I first met Binyavanga in 2006. I had just read some poems at a poetry event from the manuscript of what would later blossom into
Smiles in Pathos and Other Poems. Binyavanga was seated at a table with lawyer Mugamba Kiai, enjoying his tipple.
He motioned me to join them. "Khainga, that was beautiful poetry; there is a residency writers programme founded by Prof Ayi Kwei Armah, I would like to see you attend that programme," he said. This was just our first encounter, yet Binyavanga saw in me, only a writer-colleague who deserved a place at Ayi Kwei Armah's Site of Knowledge. You remember the Ghanaian for his indictment of African leaders in that rather unforgiving novel,
The Beautiful Ones Are Not Yet Born.
But I know Ayi Kwei Armah, as one the few towering Egyptologists from the continent alive. This is the company Binyavanga kept, and he was always ready to grow it by bringing in more writers, young and old. Binyavanga did not look at me from the depravity of a tribal bigot which is the bane of the Kenyan intelligentsia. To him I was a Kenyan, a writer. And I saw him as an elder brother, who had turned upside down that denigrating statement by Albert Schweitzer when he said, "the African is indeed my brother, but my junior brother." Do we not as Kenyans wallow in unfounded stereotypes about this tribe and that tribe? When did you stop to see the other tribe as "junior" incapable of political leadership? Then Binyavanga had relocated to USA and he hoped the new administrators at Kwani?? would follow this through, which they never did. I would go to Senegal years later through the network of colleagues at PEN International, thus fulfilling Binyavanga's wish. In 2008, Kwani organised one of its biggest literary events. Within that literary jamboree, there was what used to be known as the Summer Literary Seminars, thanks to the partnership of Kwani and Russian literary scholar Prof Mikhail Iossel of Concordia University, Canada. I was walking to one of the classes holding Peter Abrahams' novel
A Wreath for Udomo, when I bumped into Binyavanga in the company of Sierra Leonean novelist Aminata Forna. Binyavanga looked at me and said, "Do you
know Kenyatta is the Udomo in that book?"
Simple and elegant
"If there is a miracle in the idea of life, it is that we are able to exist for a time, in defiance of chaos," Binyavanga writes in his memoir,
One Day I Will Write About This Place. Binyavanga is simple and elegant. He writes in the present tense.
He is a rebel, an avant-garde writer whose style runs contra to Achebe's, he does not romanticise the art of telling stories and he is aware the old guard consider his writing "improper, unseemly."
But he is just a good communicator and he tells the African story powerfully. So, when Binyavanga writes of the refusal by the Kenyan politician to grow, you are reminded of Chinua Achebe's allegorical reference of Nigeria as a child, only that there's hope when that metaphor of a child is wrought, for did not Gabriel Garcia Marquez say that: "Before adolescence, memory is more interested in the future than the past." The Kenyan politician behaves as though he or she is an adolescent; this politician has refused to learn from the past and imagine the future. Self aggrandisement is all he or she knows. So, Binyavanga warns
us in the introduction to the journal, The Fire This Time.
- The writer is the Presenter of The Books Café on KBC English Service Radio.
[email protected]