Nairobi
If nationalisation process is adopted, the government will be forced to buy out the 51.1 per cent worth of shares owned by outsiders.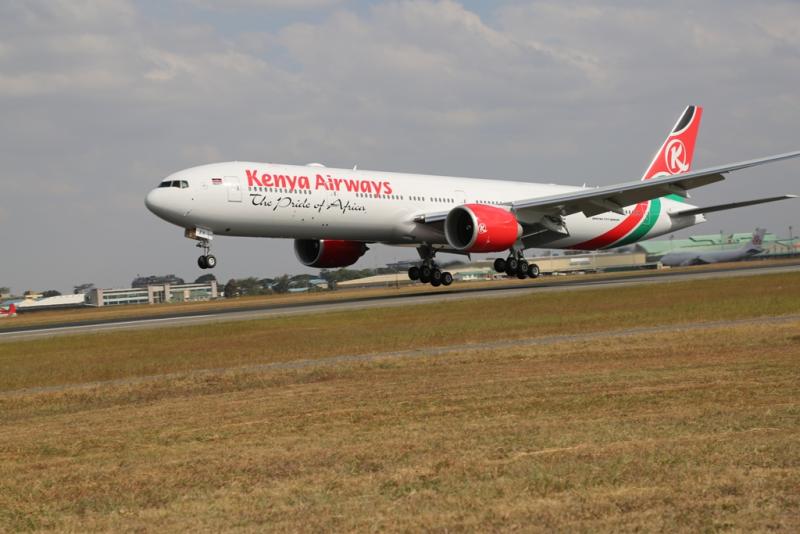 Nationalisation of the troubled Kenya Airways and creation of four other aviation-related subsidiary parastatals are among details of far-reaching recommendations to save the debt-ridden national carrier. A report presented to Transport Cabinet Secretary James Macharia also recommends the formation of a holding company that will bring together the five parastatals into one holding company. The report by the National Assembly Transport committee has asked the government to have Kenya Airport Authority (KAA), Jomo Kenyatta International Aviation (JKIA) and Kenya Civil Aviation Authority (KCAA) and another one formed as hospitality agency as parastatals that will serve together with KQ in a horizontal mutually beneficial platform.
SEE ALSO: Brands that Covid-19 ate
Transport CS James Macharia yesterday told Sunday Standard that he had seen the summary report and is studying it. "We are still looking at the recommendations," said Macharia. The sharing of the documents between a parliamentary committee led by Pokot South MP David Pkosing and the ministry is part of the consensus process meant to shorten the legislation journey in the bid to save KQ. The five subsidiaries in the recommendation are modeled on the Ethiopian and Egyptian aviation management and proposes for the creation of the Kenya Aviation Holding Group (KAHG) -- an umbrella body that will house JKIA, KQ, JKIA, KCAA and the hospitality agency. "We want to see the KAHG handle 30 million passengers in the near future from the seven million they are doing now. This will mean more jobs for our youth and billions of money in revenue that will accrue from the passengers' spendings," said Pkosing. Under its hospitality wing, KAHG will run taxi business and hotels to boost its income.
SEE ALSO: Uhuru men fight to save Ruto ally
Foreign stake
If the nationalisation process is adopted, the government will be forced to spend hundreds of billions to buy out the 51.1 per cent worth of shares owned by outsiders. Kenya Airways is currently 48.9 per cent owned by government, 7.8 per cent by KLM, 38.1 per cent by a group of 10 local banks while KQ employees and other Kenyan investors hold 5.2 per cent. The local banks -- KCB, CBA, I&M, Chase, National, Cooperative, Diamond Trust, NIC, Ecobank and Equity -- had advanced a Sh17.5 billion loan to the airline. That loan was converted into shares following the restructuring of KQ in 2017. The national carrier took another sovereign guarantee Sh52 billion from the US Exim Bank. In the event of the collapse of KQ, insiders say the airline's creditors, including the Exim Bank of US and local financiers, would claim their money in a move that will effectively ground the airline.
SEE ALSO: Court freezes two KQ accounts over Sh10 million row
"The same banks that are part owners of KQ with a 38 per cent stake are still charging the national carrier interest of about Sh2.8 billion every year, so everyday the tax payer continues to lose money," said a member of the committee. The proposals in the Pkosing Report are a culmination of a two-week public inquiry last month after a botched controversial bid to take up control of the Kenya Airport Authority (KAA) by Kenya Airways to boost its dwindling fortunes. Late last year, it emerged that the Cabinet had given a nod to a deal where KQ would take over running of JKIA under a Privately-Initiated Investment Proposal (PIIP) to help raise its liquidity. The deal raised uproar among Kenyans and in Parliament, with many questioning how a loss-making private firm would run a profitable government parastatal, whose annual collections amounted to Sh12 billion. The Pkosing Report recommends that KQ be exempted from paying airport fees and to stop paying fuel and railways levies that were holding it down as it seeks ways to revamp itself.
SEE ALSO: Administrators deny South African Airways set to start flying
Preferential treatment
If adopted, the airline will save Sh5 billion on handling services, maintenance and other services it paid JKIA for last year. During the public inquiry presentation, KQ chief Executive Officer Sebastian Micosz pointed at fuel prices, costs of staff, fleet ownership leases, finance costs, landing and navigation costs as the main reasons for KQ's fall from grace. Now, the parliamentary committee wants the national carrier given preferential treatment in its own hub of operation, particularly because it was responsible for around 50–60 per cent of overall traffic at JKIA. The committee noted that this was standard practice in airlines like the Emirates and Ethiopia, where holding companies benefited from airport infrastructure, fleet expansion, new destinations, partnerships and acquisitions and marketing and traffic growth.