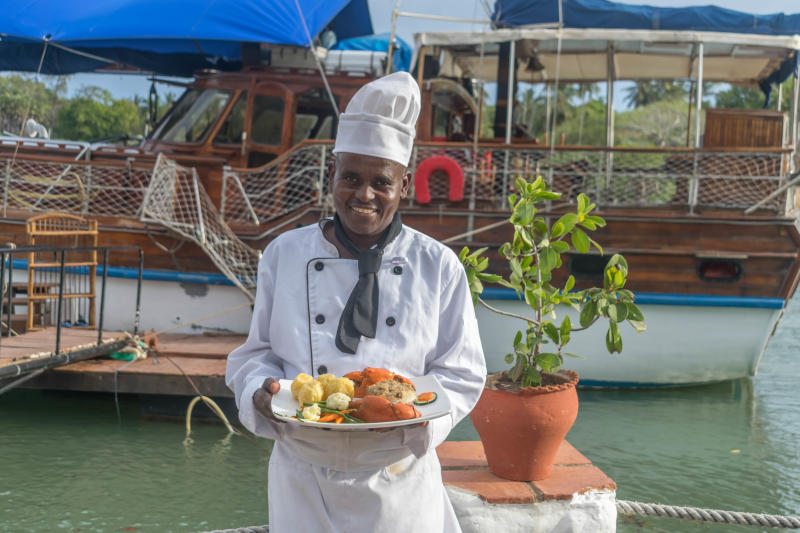 Coast
Alice states that for non-seafood lovers, La Marina have unique fillet of steak dishes, chicken, pasta and pizzas.
La Marina Seafood Restaurant- the 150 plus fine dining eatery on the edge of the meandering Mtwapa Creek is putting nothing to chance as it spices up special Easter dining for food lovers. According to the restaurant Sales and Marketing manager, Ms Alice Githumbi Gacheru, they are targeting the domestic market after increased inquiries. ''We will be serving ala carte menu that is becoming popular by the day due to the various choices of foods they offer. For seafood lovers, we have quite a large selection of prawns, mouth-watering big lobsters, crab dishes, seafood platters not to forget our signature seafood mazee,'' she said. Alice states that for non-seafood lovers, La Marina have unique fillet of steak dishes, chicken, pasta and pizzas.
SEE ALSO: Senator vows to back Uhuru, tells off critics
There are also a wide selection of affordable cocktails and a wide range of good wine that makes patrons enjoy the good ambiance as they sip their favourite drink. La Marina Restaurant director, Mrs Rita Zarnack said that they are buoyed by very good reviews from customers to continue offering unrivalled culinary cuisine that is both delicious and appetising. Last December, President Uhuru Kenyatta and members of the first family patronised the premises. ''We are still basking in the glory of Presidential visit .We all had an opportunity to serve and interact with him at very close range,'' Rita said. She added that La Marina Restaurant is a great place to eat, combining an intriguing atmosphere with excellent and interesting array of food.
SEE ALSO: Uhuru: Why it can't wait any longer
''Since the customer is always the King, we aim to give clients not only great tasty food but also offer efficient and friendly services,'' Rita said. La Marina Restaurant has comfortable furnishings and decor with soothing warm tones. The lounge has comfy couches and antique love seats with a softly lit bar overlooking the creek waters. Rita said that La Marina Restaurant is the perfect place to stop in for a bite to eat, for a drink or for a small business meeting. ''Our menu is inspired from different countries' specialties and appeal to a diverse clientele. Our greatest asset remains all the key staff who toil hard to make what La Marina is today,'' Rita added.
SEE ALSO: A national day like no other as Kenya celebrates self-rule amid pandemic
The lounge and restaurant is open seven days a week serving hearty meals.