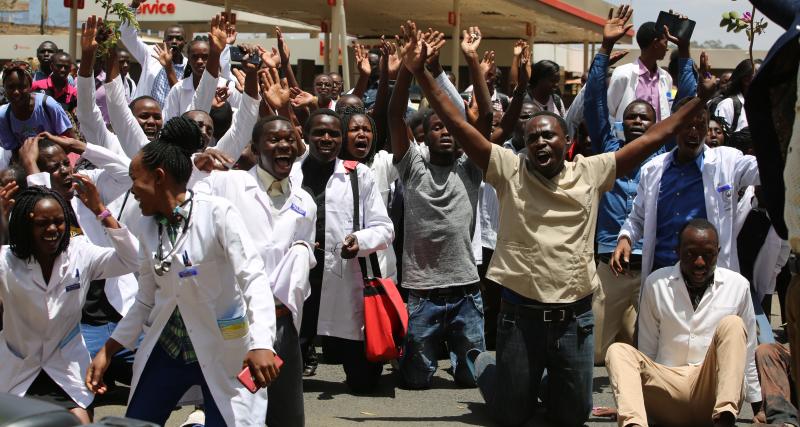 A university student who was hacked to death in Eldoret was romantically involved with a 29-year-old man suspected of killing her, a woman has claimed. The woman, who claimed to be the suspect's mother, told The Standard her son had on numerous occasions showed her photos of the victim, Ivy Wangechi. Ms Wangechi was slashed to death yesterday outside the Moi Teaching and Referral Hospital (MTRH), Eldoret, as she walked with her friends. "They had been in a relationship even before my son got a job and the woman joined school. He even wanted to marry her, but it seems they began having issues," the woman said.
SEE ALSO: DCI mulls inquest on children found dead in car
She added: "I have never met the lady, but he used to show me her photos on phone... but recently, he came to me saying they had parted ways, a move which I told him was in the right direction because of their relationship issues." The woman said her son had never shown signs of being temperamental to the extent of killing someone and she was shocked by the incident. "It is so unusual of him because he cannot do such an act. What perturbs me is that he did not share with anyone about his trip to Eldoret, yet we were with him yesterday in Nairobi at 8pm and he had not closed shop at a business where he works," she said. She suggested that the two might have tried to work out their differences before the incident. "He is my firstborn son and he has been working hard to earn a living. I am yet to come to terms with what he did. His father and uncle are on their way to Eldoret to piece up details of the incident," she said yesterday.
SEE ALSO: How business woman was lured to her death
The suspect's brother, a patient at MTRH, confirmed there having been a relationship between the killer and Wangechi. "I have never met her, but my eldest brother used to speak about her saying she is in Eldoret. He had photos of them in his phone," he claimed. The suspect is said to have hacked Wangechi with an axe and a knife. The student succumbed to her injuries in hospital. According to witnesses, Wangechi finished doing ward rounds at MTRH at about 10am and she left the facility in the company of her friends when the assailant accosted her from behind. The assailant cut her on the neck using a knife and when boda boda operators who were nearby tried to intervene, he fished out an axe from a white gunny bag.