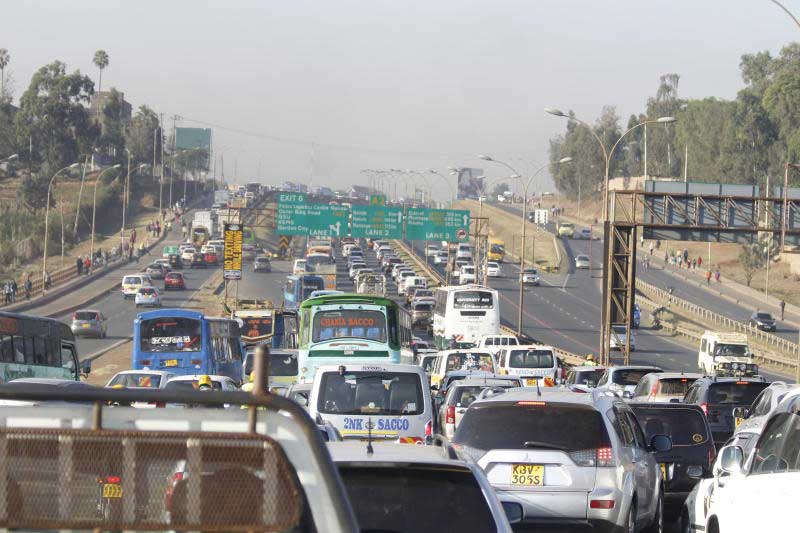 No sector in Kenya is defined by chaos more than the public transport sector. Sadly, because they don't exist in a vacuum, this survival-of-the-fittest culture has rubbed off on many Kenyans.
Indeed, the story of the matatu sub-culture is one of how the drive to make a quick shilling was let to override courtesy, common decency and even the law.
It is typical of the matatu driver to get ahead of everybody without a care of the inconvenience caused to others. In their rush to pick and drop off passengers, they will obstruct, cut in, swerve into, stop abruptly on any side of the road.
Government authorities, including the ministries of Interior and Transport, want to topple that culture once and for all.
Interior Cabinet Secretary Fred Matiang'i and his Transport counterpart James Macharia face a severe test when a countrywide crackdown commences today.
Do they have the staying power?
To be sure, this will be like no other crackdown. In the crosshairs will be PSV operators, private motorists, insurance companies that issue dubious covers, motor vehicle dealers and fabricators for substandard body works and even passengers.
If for nothing else, Dr Matiang'i and Mr Macharia should hang on in there because to give up will be letting down the 3,000 Kenyans who needlessly die on our roads each year due mostly to recklessness of the matatu drivers.
Mark you, they will be rising up against a way of doing things that has lasted nearly 30 years.
Make no mistake, public transport sector is a key driver of economic development. Hundreds of thousands of workers rely on matatus to get to work daily. The sector also employs thousands.
In developed economies, public transport is rarely left to private operators, as is the case in Kenya. Because of the low margins, exploitation is rife. To curb that, the State is an actor through joint ventures with the private sectors or where it is absent, it extends heavy subsidies. We believe exploitation is part of the reason for the clampdown.
Besides flouting the rules and thereby causing death and maiming others, matatu operators collude with insurance companies not to compensate and as Dr Matiang'i put it; "the dance goes on in the courts."
Kenya is touted as a leading investment destination in East and Central Africa, but a lack of an efficient, cheap and well-organised public transport system undermines those prospects.
In fact, Kenya Airways' direct flights to New York that were launched last month could be in peril because of the chaotic public transport in the capital, Nairobi. The savings in time from the layovers in London or Amsterdam could all be wiped out by a two-hour traffic gridlock on Mombasa Road.
So today, there is a possibility that thousands of Kenyans will walk to work, government offices, school, and hospitals or find alternative transport as matatu operators withdraw their vehicles from the road to protest the enforcement of regulations meant to bring sanity into the public transport sector.
Yet despite their protests, Kenyans should never allow the matatu industry to hold them to ransom again. They ought to say enough is enough.
The Government to make it clear that matatu owners should play by the rules or ship out and make way for a State-regulated public transport sector.
The late John Michuki injected some sanity in the sector when he was Transport minister hence the popular Michuki rules. The results of his efforts were instantaneous. Indeed, there were fewer accidents reported when the Michuki rules were in force. In addition, law and order prevailed.
However, Muchuki's gains were whittled away when he was moved from the Transport ministry and an impotent leadership bowed to the whims of the industry operators once more.
Matatu operators should be made to know that they cannot be a law unto themselves.
They should be made to realise that making money should never be a means to an end; that they ought to care for customer safety and satisfaction, first.
Beyond this new campaign, the Government should spell out broader plans on how to manage traffic congestion especially in urban centres. This should include educating motorists about speed limits, proper use of lanes and respect for traffic lights. The Government should also revise speed limits bearing in mind advances in the motoring industry.
Motorists should be sensitised that unless overtaking, they should stick to the left lane. Traffic flow is severely hampered by motorists driving on the wrong lanes.
Similarly, Nairobi County should be at the forefront of developing an efficient urban transport system because the daily gridlock experienced in the capital is sure to make entrepreneurs think twice about investing here.