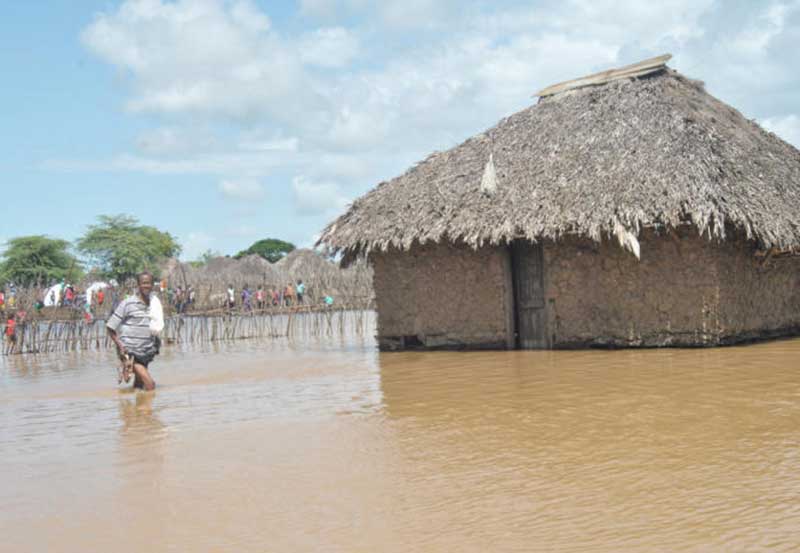 Floods have cut off Kipini West in Tana River county, causing a humanitarian crisis for at least 64,000 people.
Reports yesterday indicated that more than 5,000 internally displaced people have no access to food and health services, as the only route to the area was destroyed, making humanitarian intervention difficult.
The area has experienced an outbreak of diarrhoea, but health facilities have no drugs, forcing victims to use neem tree leaves as a remedy.
Areas worst hit include Odole, Handaraku, Samicha, Mwanja and Kikono. They have been turned into an island. This is the area where the River Tana enters the Indian Ocean.
Victims who were living in camps had to return to their already flooded homes for lack of basic facilities for survival such as tents and blankets.
Residents said they had not received any support from the county or national government for several days since they were displaced.
They said only the Kenya Red Cross Society supplied non-food aid, but could not assist all the victims, making them to break camps and return temporary shelters near their flooded homes.
At Odole village, with 365 households, residents are surrounded by water and have no sanitation facilities.
Bakari Sangale, a resident, said they had not received any support from the national or county authorities.
Outbreak
Mr Sangale said diarrhoea cases were alarming due to the lack of sanitation facilities, as most toilets had sank or been washed away by the floods.
Ari Iyesa, a village elder, said they fear that the outbreak of diarrhoeal diseases could lead to deaths if quick action was not taken.
Musa Wario, the area MCA, wondered how money allocated by the Government to assist victims of floods in Tana River, Kilifi and Solai in Nakuru County had been used.
"There is an outbreak of malaria and typhoid, one has to travel to Oda, which is 20 kilometres away at a cost of more than Sh1,600," said Mr Wario.
Elsewhere in Malindi sub-county, more than 20 families from Jilore village risk starvation after their farmland and homes were destroyed by flood waters last month.
Esther Robert, who is among the affected, told journalists at a camp in Jilore that their only means of survival were washed away when the floods destroyed thousands of acres of their farms, which had maturing crops.