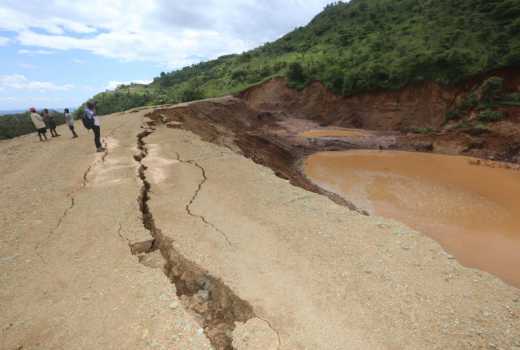 Up until waters gushed out of his dam and swept tens to their deaths, Mansukul Patel was the god of Solai trading centre. Outside Solai, however, not many knew much about the owner of the 3,000-acre farm in Kabazi, Nakuru County. By most accounts, he'd like to keep it that way. A Kenyan of Asian descent with deep roots in Nakuru is said to be a politically connected man. Those who know him well say Patel was close to the top Government officials in former regimes and has friends in high echelons of the current administration.
SEE ALSO: Floods destroy key seed farms
"Were it not for Patel, Solai would not have existed. He offers employment opportunities to hundreds of residents in his expansive farm, makes sure that roads are passable and builds schools in the area. In fact, people call him the god of Solai," said Shadrack Cherogony. Mr Cherogony, an elder, was a member of Endao Farmers Group that owned 211 acres that now forms part of Patel's farm. He describes Patel as a philanthropist who has given his all to ensure Solai residents live well. "Patel is not a small man or just another farmer. He has friends in high places," said a politician who did not want to be named. He has been in Solai for more than three decades as a farmer and philanthropist. His coffee, cut flower and dairy farming ventures employ more than 1,000 residents and have helped build at least two schools and a hospital. "This is a man who had business connections with the late Saitoti (George) and Nicholas Biwott," revealed Shadrack Koskei. Koskei says there was a time Patel's farming business was linked to the two politicians.
SEE ALSO: Acid test for 'Yatanomics' as national shocks triple
Ignored warnings
In the early 1980s, the Patels owned only the Tinderess farm, but later expanded by purchasing Endao (211 acres) and Milmet to form their current establishment that is estimated to be 3,000 acres. Although the estate's General Manager Binoj Jayakuma declined to give details on the ownership of the farm, he was remorseful over the tragedy that befell his workers and their families in two villages outside the farm. "I am truly sorry for the families that lost their loved ones in the tragedy. We did not wish for any of this to happen because they are all family," Mr Jayakuma told Saturday Standard at the farm. He refuted claims that the dam whose walls collapsed was illegal, saying the Government was aware of its existence. "Government officials have been at this farm several times and inspected the dam. I do not know why they are now saying it is illegal," he said, but did not show any proof that the dam had been approved by relevant State agencies. His claims contradict the position taken by Government officials, particularly the Rift Valley Regional Water Resource Management (Warma) manager Simon Wang'ombe.
SEE ALSO: Motorists stranded as Nairobi- Nakuru Highway underpass floods
He told journalists a day after the tragedy that the farm had ignored several warnings that the dam was structurally unsound because it lacked spillways. The farm has five dams and two water pans that hold millions of litres of water. According to an official at the farm, Milmet, Main House, Moi, DO and Tinderess dams have a capacity of over 600,000,000 cubic metres. Milmet dam that collapsed on Wednesday had a capacity of more than 200,000 cubic metres.