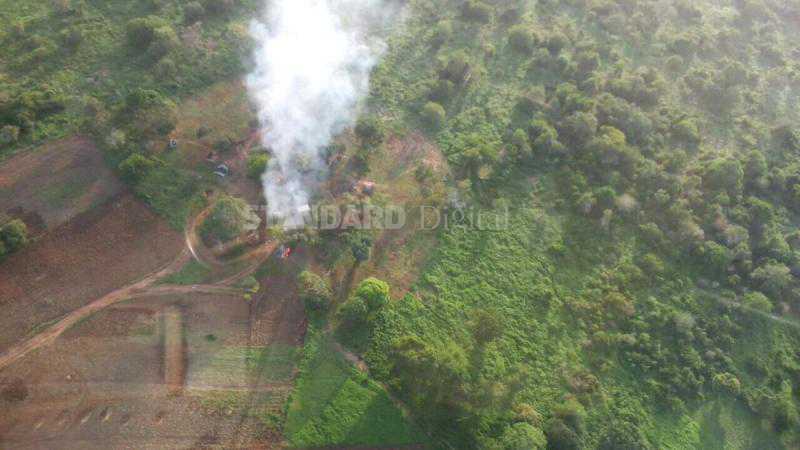 Coast
Several police guns and ammunition lost in the attack were also found in the bushes.
Heavily armed militants occupied Ishakani Police Station in Lamu and hoisted an Islamist flag there for several hours yesterday before withdrawing. The incident comes less than two weeks after police officers fled the station, fearing an attack. And there are growing fears that militants in Somalia, who mounted attacks on Kenyan forces in Somalia in 2016 and 2017, could be preparing a large-scale attack and could be using recent smaller raids in Lamu as a diversionary tactic. Area residents told The Standard that the insurgents were in the village for hours and left around 8am. Some of the militants wore balaclavas and jungle uniform.
SEE ALSO: Meet Afghani mum breastfeeding 20 new-borns after terrorists killed their mums
Explosives devices
As they left the village and went towards the international border, the militants planted improvised explosives devices, one of which exploded and destroyed a military truck carrying Kenyan soldiers who were pursuing them. There were reports that dozens of the insurgents surrounded the village as some stormed the police station to tear down the Kenyan flag and hoist an Islamist one. Last evening, reports indicated that the local primary school had been shut after teachers and residents started to flee south to Kiunga. Al Shabaab allegedly confirmed the attack but Kenyan authorities insisted that no one was injured in the IED explosion.
SEE ALSO: Italian aid worker kidnapped in 2018 freed
Mohamed Abdalla, an elder, told The Standard on the phone that the militants invaded a mosque in the wee hours of yesterday and pulled out four elders for discussion and later returned to tell the worshippers that they were not there to harm them. Abdalla said the militants, who appeared not to be in a hurry, herded the villagers into the mosque and preached their ideology to them. Reports indicated that between 30 and 40 armed militants crossed from southern Somalia into Ishakani village. The infiltration, which began on Saturday night and progressed into early yesterday, came within hours of a militant attack on a security patrol at Lango la Simba on the main highway from Lamu to Mombasa on Saturday afternoon. A local fisherman who asked not to be identified told The Standard that some local residents who had woken up early to attend prayers fled towards the ocean, fearing a violent attack.
SEE ALSO: Kenya to Somalia: We need answers on downing of our plane
Ishakani lies in a remote and underdeveloped area of Lamu where Kenya's border with Somalia meets the Indian Ocean and is historically insecure and prone to insurgent infiltration despite the presence of Kenya's soldiers in the immediate vicinity and a few kilometres inside Somalia. Lamu County commissioner Gilbert Kitiyo said security forces responded in time and added that the militants had fled the village by mid-morning. Separately, the director of Operation Linda Boni, Joseph Kanyiri, declared that the authorities were winning the war against insurgents and promised new armoured vehicles for the forces. And an Administration policeman who went missing after an insurgent attack on a police patrol in Lango la Simba in Lamu on Saturday has been found alive but injured.
Arms recovered