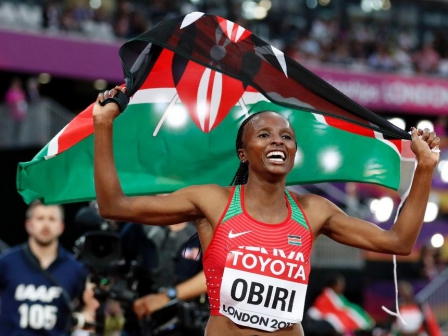 Kenya
On the backdrop of huge controversy over some of those given presidential awards on Jamhuri Day, with critics pointing out the country boasts of other deserving award winning sportsmen and women, talented doctors, passionate trade unionists, firm religious leaders, The Standard suggests some of those who could merit to get the awards.
On the backdrop of huge controversy over some of those given presidential awards on Jamhuri Day, with critics pointing out the country boasts of other deserving award winning sportsmen and women, talented doctors, passionate trade unionists, firm religious leaders, The Standard suggests some of those who could merit to get the awards.
1. Edith Dorothy Ong'onda
Edith was in the group 170 Kenyan medical practioners who travelled to Sierra Leone when the West African country was ravaged by Ebola in 2015. She contracted meningitis on while on assignment, before being admitted and airlifted back home sick. She died after weeks in various hospitals.
2.Dr Kakenya Ntaiya
SEE ALSO: Mr President, start with extending curfew to 10pm
In 2009, she founded Kakenya Center for Excellence to educate girls, end harmful traditional practices and uplift her Maasai community in Enoosaen – Narok County. For her role in changing the traditional path and life that involved FGM and early marriages, she has been celebrated among CNN Heroes, emerging a finalist.
3. Patrick Mwalua
He is a conservationist who has taken upon himself to provide water to starving wildlife at Taita Hills Sanctuary. Using his bowsers, Mwalua delivers water to watering holes in the vast conservancy, helping preserve the wildlife that are a central pillar to the critical tourism sector.
4. Esther Neema Onyari
She lost her life in a school fire where she heroically risked the inferno to save other girls in September. Neema won the hearts of Kenyans for her actions that night. She later died besides eight colleagues.
SEE ALSO: I gave my son a dressing down for breaking Covid-19 rules, says President Uhuru
5. Elijah Manangoi
After settling for silver medal at the 2015 World Championships in Beijing, Elijah Manangoi,24, won gold this year in London last August. Earlier in the year, at the Monaco Diamond League, Manangoi set the fastest time in 1500m, crossing the line in 3:28.80. He was also nominated for the IAAF Male Athlete of the Year Award which he did not win but topped the online voting platform.
6. Bishop Cornelis Korir
The late Bishop of Eldoret Catholic Diocese played a key role in promoting peace in the North Rift. He will go down in history as a man who fought for peace and unity.
7.Mary Rapando
SEE ALSO: Kindiki affirms loyalty to President, appeals for compensation for region
She is an IT wizard at Lwanya Girls Secondary and has helped her school emerge best regionally and second runners up in this year's in Information Teacher of the Year Award (Itoya), an ICT competition for secondary schools.
8. Mary Makokha
The director of Rural Education and Economic Enhancement Programme (REEP), Ms Makokha has defended the girl child against sexual abuse and fought for their rights in Butula Constituency for over 10 years.
9. Hellen Obiri
The Kenya Defence Forces runner had a scintillating 2017 season and capped it with her first global title in her fourth attempt when she blew away Ethiopian defending champion, Almaz Ayana to bag 5,000m gold in 14:34.86 at the London World Championships. Obiri, 28, also added the IAAF Diamond League crown by winning the second series final in Brussels in 14:25.88 besides running world leads and national record of 14:18.37 (5000m) and 8:29.81 (3000m indoors) this year. She was also nominated for the IAAF Athlete of the Year Award.
SEE ALSO: Covid-19 impact: Madaraka Day celebrations to be marked virtually
10. Lusaka Laurence
He is a nurse at Port Victoria hospital in Budalang'i. He walked through the swamp for five days during polio campaign in Budalang'i to reach many children as possible and administer the vaccine.
11. Eboso Kihima
The head teacher of Mululu Primary School in Vihiga County has been consistent in producing good results over the years in the only public primary school that sends many candidates to national schools.
12. Rachel Maru
SEE ALSO: Down but not out: Ruto is a lion feigning a cat
She has for the last five years been a first Red Cross responder to victims of accidents along the Salgaa killer stretch. She has helped save many lives in the process. She has been recognized by Nakuru County Governor Lee Kinyanjui for her efforts to save lives.
13. Vitalis Kahenda
He is the founder of Hopewell School that help bright but needy children. With the help of donors, he established the institution but later handed it over to the government. He has established a second one at Kapkures in Nakuru West thus giving opportunity to needy children to access education.
14. Phyllis Omido
She has spearheaded health /medical rights of the poor in slums in Mombasa and combated investors accused of promoting pollution in these areas. She has, specifically, fought lead poisoning in the slums, often at immense personal risk, and has won recognition by the UN, WHO and other global bodies.
15. The late Sheikh Mohamed Idriss
The former Council of Imams and Preachers of Kenya chairman preached moderation and promoted peace and cooperation between and among religions. He opposed religious extremism and terrorism without equivocation and fell to the bullet of an assassin, suspected to be a religious fanatic.
16.Father Wilbard Lagho
Fr Lagho, of the Mombasa Catholic Church, based in Mombasa is the face of interfaith dialogue and tolerance.
17. Baya Mitsanze
He risked to house and rehabilitate elderly men and women, banished from their homes for allegedly practicing witchcraft. He established Kaya Godomo, a sanctuary in Kilifi to house them, at great personal risk in an area where suspicion of witchcraft invites death and attacks.
18. Father Gabriel Dolan
He has been a leading rights crusader for many years. He lives among the poor in Bangladesh slums. He has fought for the poor especially against extrajudicial killings, police brutality, gang warfare and land grabbing in an area where these crimes are common.
19. Father Anthony Kaiser
He went beyond the call to priesthood, standing up against politically instigated ethnic violence and justice for the girl child. Fr Kaiser is credited with saving the lives of two school girls who claimed to have been raped and impregnated by a prominent personality. His firm stand may have led to his controversial death in August 2000, after he was shot in head. His death formed the story of a 2011 Kenyan movie, The Rugged Priest. He deserves to be recognized posthumously.
20. Patrick Njiru
He is an icon in motor racing fondly, known as Safari Rally, helping put Kenya on the global map of the sport. Njiru,60, retired 15 years ago but his name is still synonymous with the sport following his successes. Safari Rally was part of the international circuit World Rally Championship.
21. Prof Okoth Okombo
Until his death last month, Prof Okombo was a distinguished scholar generally regarded as the father of sign language studies in Africa. He was the founder of the Kenyan Sign Language Research Project, based at the University of Nairobi. He deserves recognition for his works.
22. Jim Nyamu
He has walked more than 5,000 kilometers advocating for the end of elephant poaching and ban on ivory trade, including from Boston to Washington DC. His message of Ivory belongs to elephants got him global recognition for protecting the wildlife - an important resource for Kenya. The list is not exhaustive and we invite nominations, from the public, on other unsung heroes and heroines.
[email protected]