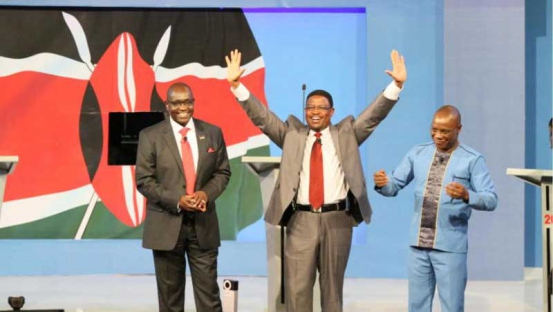 Runaway corruption, negative ethnicity and poor leadership dominated the first phase of Monday's presidential candidates' debate.

Three out of six candidates, who turned up for the event, took turns to castigate the ruling Jubilee Party and National Super Alliance (NASA) leaders, whom they accused of presiding over graft in the country since independence.

Dr Ekuru Aukot (Thirdway Alliance), Dr Japheth Kaluyu (Independent) and Prof Michael Wainaina said the only solution to ending woes afflicting Kenyans is to vote out those who have been in leadership.

While articulating their plans to make the country better, the three presidential candidates pointed out why they are the best bet for the country's prosperity.
Dr Aukot said the current leadership had failed to fight graft, stating that his administration would be ruthless with the corrupt.

"It is a question for leadership not policy. If you have a president who throws up his hands asking what he should do therein thieves would creep in. We are sanitizing corruption. It should be called theft so that we jail the corrupt. Kenyans must remove the cancerous tumor of corrupt leaders. Jailing corrupt people," said Aukot.

He pointed out that the country is losing close to Sh1.4 trillion as the national government and counties lose Sh700 billion annually while the corporate world also loses a similar amount.

Prof Wainaina shared similar sentiments, noting that the two main coalitions are flooded by corrupt individuals who fleeced Kenyans through major scandals like Anglo Leasing, Goldenberg, Kazi Kwa Vijana and the recent National Youth Service.
"The leaders in the two coalitions are corrupt. They called each other tribalists, thieves and can't point a finger at us," he said.
Dr Kaluyu said he has a good chance to end corruption because he is not tainted.
"I don't belong to any of the interest groups nor cartels. I am uncompromised and I am fresh in politics and ready to provide fresh leadership. I will only be thinking about service to Kenyans," Kaluyu said.

The candidates also accused Jubilee and NASA for excluding many Kenyans by practising negative ethnicity, where they use tribes to mobilise people for their selfish gains.

"Kenyans can be mobilised politically without looking at the negative aspects of ethnicity. Jubilee and NASA are using tribalism to include or exclude. We want to get rid of tribal kingpins in Jubilee and NASA. The best way to cure Malaria is to kill the mosquitoes," Wainaina said.

Dr Aukot said he will not mobilise Kenyans around negative ethnicity.
"Within the first 100 days I will ensure there is ethnic and regional balance. We want to end negative ethnicity by including everybody in the running of the country's affairs," Aukot said.

The three said they want to be the pioneers of the much-needed generational change in the country's leadership to spur it to greater heights by investing in the youth and women.

"We want to inspire the youth and investing in the new generation of the youth. I don't know of any other way of re-inventing the country rather than through the youth. What we have currently is politics of ethnicity, mediocrity and tribalism," Wainaina said.

He added, "The question of leadership is inclusion. NASA and Jubilee think inclusion is tribes. My inclusion is taking on board the 70 per cent of youth and 54 per cent of women are no longer last in our discourse."

The fringe candidates further made their promises to the country in improving the education sector by abolishing school fees and modernizing the current infrastructure.
"I will allow university students to change their courses based on their ability as opposed to today where are they are forced to pursue courses they are not interested in. I will encourage courses to tackle specific regional problems," Kaluyu said.
Aukot promised that his administration would abolish school fees upto university level.
The debate that lasted 90 minutes was skipped by Abduba Dida (Alliance for Real Change), Joseph Nyagah (Independent) and Cyrus Jirongo (United Democratic Party).