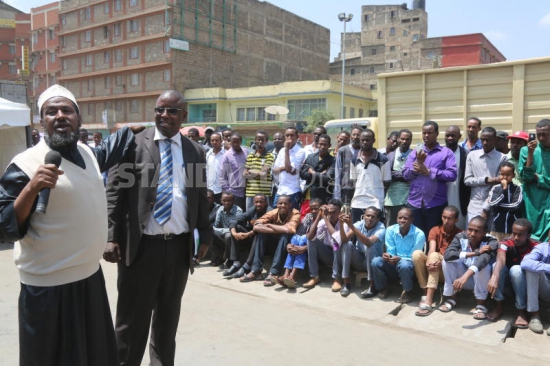 The Nairobi Muslim Clerics (NMC) have launched a peace caravan that will preach against terrorism and radicalisation of youth.
The caravan will visit the 47 counties spreading the message of peace, love and cohesion among Islamic youth starting with Nairobi and Mombasa.
Speaking at the launch Thursday in Eastleigh, Nairobi, NMC leader Ibrahim Abdullahi said terror attacks have divided Kenyans against religious lines and the initiative is a way of showing that Muslims are against it.
"Islam means peace and whosoever is compromising it, does not uphold the true values and teachings of the religion," he said.
Abdullahi condemned terror activities saying that terror groups are using divide and rule to create religious stereotypes which are victimizing Muslims. He raised concern over the increase of disappearing Muslim youth who he says are being used by extremists to spread terror.
"Their families have been insinuating that there are security agents who have a hand in their disappearance and therefore we ask the government to come out and look into this matter," said Abdullahi.
NMC called on the government to ensure that police are friendly to them so that they could can be able to help them fight terror. They say police harass them even when they go to give them information about possible terror attacks.
The launch was attended by several Christian representatives who have worked closely with NMC to create ways of eradicating youth radicalisation. They expressed their support for the initiative saying it will go a long way in the fight against terror.