State should relocate survivors of floods, help them rebuild houses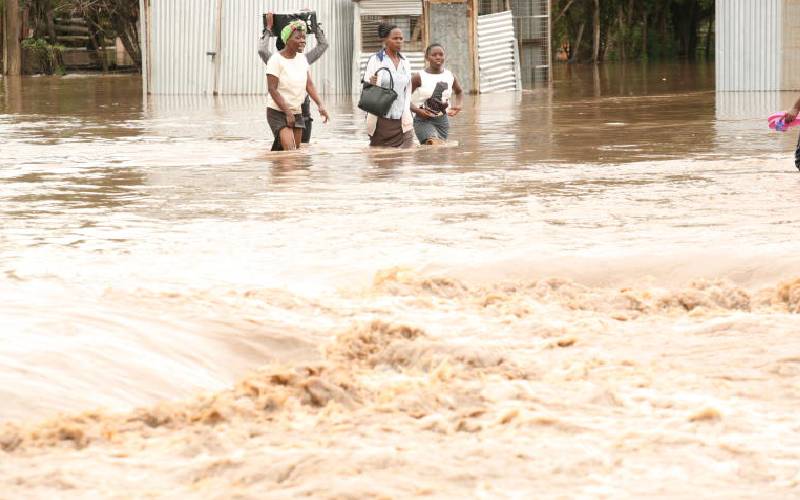 Projections by the Meteorological department that flooding could continue to the end of June can only spread despondency. There is enough of that already, and the government, battling Covid-19 on one hand, seems overwhelmed.
As one would expect, some politicians are out making mileage out of a hopeless situation by picking on the government rather than offering solutions to this perennial problem. Of course, government takes the largest share of blame for constantly ignoring early warnings by the weatherman and not having an effective emergency strategy despite several happenings that should have made it proactive.
The death toll from floods ravaging many parts of the country has risen to 219 from 194 last Friday, with the possibility more fatalities as rains continue relentlessly, especially in West Pokot, Elgeyo Marakwet, Garissa, Tana River, Kisumu and Western Kenya. In Western alone, 58,000 people have been displaced and 3,300 acres of cash crops washed away.
Those who bear the brunt of the floods live along River Nzoia in Budalang'i, Busia County, along River Nyando in Kisumu County, River Ewaso Ngiro and Tana River. Heavy displacements have occurred in these areas, forcing survivors to seek refuge in churches, school compounds and at market centres where, having escaped the floods, they are exposed to illnesses like malaria, cholera and even Covid-19.
In the confusion of seeking a place to rest and reuniting with family, it is unlikely the victims will be keen on observing social distance, wearing facemasks and washing hands as measures to contain the spread of coronavirus.
The government and some politicians have offered help in the form of face masks, sanitisers, food provisions, blankets and mattresses, but it is hardly enough for those who require such assistance. In the midst of floods, there is a shortage of clean drinking water, and this could herald spread of water borne diseases as latrine contents are brought up by floods and spread to many areas.
The need for a permanent solution to the flooding menace and destruction of lives and property cannot be overemphasised.
The government must take the bull by the horns, evacuate people living along river banks and those obstructing waterways by allocating them land in safer areas.
Doing so and giving people financial help to rebuild will override any resistance to being moved. The long term benefits outweigh any pain in the short term.