Malawi's new President promises to free the country from corruption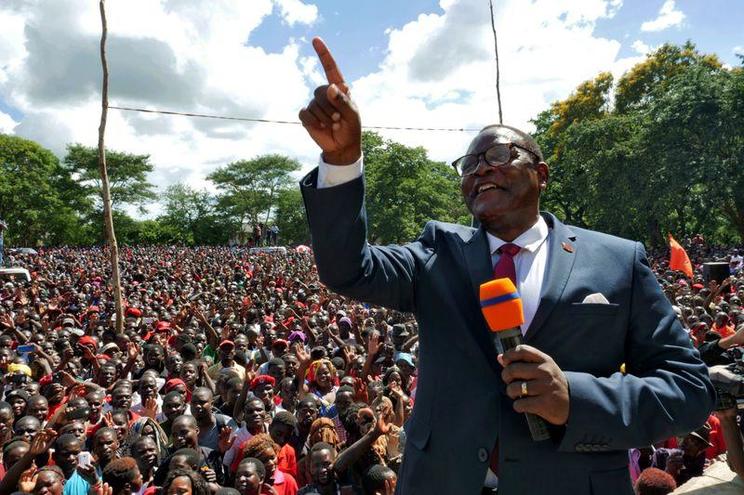 The new President of Malawi Lazarus Chakwera has promised to rebuild Malawi again by freeing the country from the thorns of corruption, passivism, donor dependency and impunity.
Speaking during his invite-only inauguration ceremony the Malawi's head of state has a huge task awaiting him.
"In joining that cohort as the sixth President of Malawi, I am fully aware that I may very well be the last member of that fading generation to hold this office. I am fully aware that it has fallen to me to complete the transfer of this mantle of nation-building to a rising generation of Malawians born free," he said.
Chakwera who was sworn in on Saturday after unseating Peter Mutharika in a historic re-run election had ordered his inauguration ceremony be scaled down amid a surge of coronavirus cases.
This was a change of heart for the country that had previously held a full blown election campaign amid the coronavirus pandemic.
"It is no secret that we have had one administration after another shifting its post to the next election, promising prosperity but delivering poverty; promising nationalism but delivering division; promising political tolerance but delivering human rights abuses; promising good governance but delivering corruption; promising institutional autonomy but delivering state capture," said the head of State.
He further added that, "And now, after 26 years of false starts and stale finishes, it is no secret that my generation has not only left our homeland unbuilt, but also in ruins. It is because of these ruins that our first task in building a new Malawi is clearing the rubble.
Furthermore, the president has now called upon the Malawians to take charge and be responsible so that Malawi can become a greater country.
"I put it to you that there can be no new Malawi if the only people deemed guilty of ruining this country are those who lost the recent election. I put it to you that there can be no new Malawi if the only people deemed responsible for fixing this country are those who won the recent election. I put it to you that there can be no new Malawi if the only people to build it are Chakwera and Chilima. No! So long as I am President, I will insist that no new Malawi must be built except that which is built by Malawians."
President Chakwera has also stated that he will do things differently during his tenure bearing in mind that the country had taken a different turn during the campaign period.
"I will go to Parliament to be questioned by the People about my handling of state affairs; I will propose legislation to reduce the powers of the presidency and empower institutions to operate independently, including Parliament and the Anti-Corruption Bureau; I will meet with the Leader of Opposition personally every three months to listen to alternative ways of running government affairs; and I will operationalize the Access to Information Act in order to end the era of government secrecy and usher in the dawn of government accountability."

"I will challenge our development partners to respect our vision and plans for our own country and to partner with us in ways that respect our dignity and sovereignty, not ways that undermine it," said Chakwera.
Chakwera has also urged Malawians to work because time is up for free loaders and noise makers.
"We have a country to build and not a moment to waste. So, let's all get to work."