Tshisekedi gets backing of rival Vital Kamerhe but will it work in favour of Shadary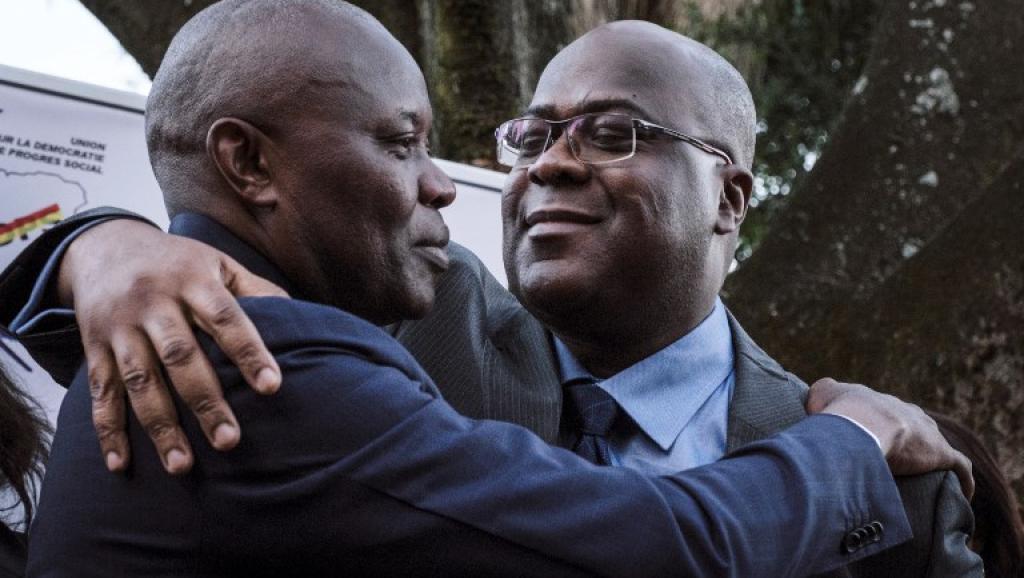 One of the main opposition contenders in the December 23 presidential elections in Democratic Republic of Congo has withdrawn from the race in favour of Felix Tshisekedi.
During a press conference held in Nairobi on Friday, Vital Kamerhe of Union for the Congolese Nation (UNC) in Nairobi announced that he would back his Union for Democracy and Social Progress (UDPS) presidential candidate.
This is after the two entered into a coalition deal that was signed at a joint press conference.
Tshisekedi will now compete against President Joseph Kabila-backed former Interior Minister Emmanuel Ramazani Shadary of People's Party for Reconstruction and Democracy (PPRD) and businessman Martin Fayulu of Engagement for Citizenship and Development (ECiDé) party as Kamerhe becomes his running mate.
"I decide today to support Tshisekedi as president of DR Congo on December 23," said Kamerhe. "This is the winning ticket."
Kamerhe will now be the national director of elections and would assume the post of prime minister should they win.
The two were among seven opposition candidates who had agreed on November 11 under the Lamuka coalition to support Fayulu in a rare moment of unity for Democratic Republic of Congo's splintered opposition but later backed out. The two blamed the withdrawal from coalition on grassroots opposition from their parties, which caused protests from their supporters in the country.
Formidable force
"My brother Kamerhe and I will work together to ensure that peace is restored in Congo. It is not just about being president but bringing the country together," said Tshisekedi, 55, who called upon other opposition politicians to back him and form a formidable opposition.
Tshisekedi is the son of DR Congo's most famous oppositionist, Etienne Tshisekedi, while Kamerhe, a former National Assembly president, ran against Kabila in 2011.
The backing of Tshisekedi by Kamerhe is seen as a shocker to Shadary and increases the opposition's chances of winning the elections.
Recent polls placed Tshisekedi at number one, at 36 per cent ahead of Kamerhe at (17), Shadary (16) and Fayulu at 8 per cent.
The poll, jointly conducted by BERCI consulting, a Congolese organisation, and the Congo Research Group at New York University, put Shadary in third place and Fayulu second.
But asked by journalists if forming another coalition may lead to a weakened opposition and reduce chances of winning elections and instead work in favour of Shadary, the two denied.
"No it is not true; the opinion polls have proved that we are the winning side, we are now stronger and so long as elections will be held in a free and fair manner, we are confident to win," said the two.
They promised to address issues of insecurity in the eastern and central parts of Congo, reconcile the Congolese, fight impunity and corruption when they win.
The eastern region has been ravaged by decades of inter-ethnic bloodshed and militia violence, and has recently been hit by a deadly Ebola outbreak.
The candidates, who also promised to hold a major political rally in Congo next Tuesday, plan to remove Kabila's regime from power of the volatile, mineral-rich, poverty-stricken nation.
So far, 21 candidates are registered to contest in the race to replace Kabila, who has ruled since his father, president Laurent-Desire Kabila, was assassinated in 2001.
Kabila, 47, has ruled the nation with an iron fist and yielded to international pressure and threw his weight behind Shadary after deadly protests ended in August.
Shadary is among 15 Congolese individuals under European Union sanctions, accused of human rights violations between December 2016 and early 2018.