Liberia's Sirleaf: Africa's first elected female leader
AFRICA
By AFP | January 22nd 2018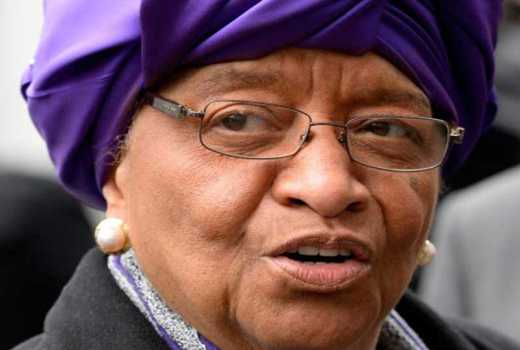 Ellen Johnson Sirleaf, who shared the 2011 Nobel Peace Prize as a champion of women's rights, is stepping down after making history as Africa's first elected female president in Liberia.
Taking the reins of a nation that had just emerged from a civil war leaving an estimated 250,000 dead, Sirleaf will be remembered for maintaining peace and attracting massive donor funding as she rebuilt her country from scratch over 12 years in power.
"We were a nation exhausted from three decades of conflict. We were starting from zero, with the complete destruction of our national infrastructure, a collapsed economy, and a state incapable of providing services to its people," she recalled of her 2006 inauguration in a final speech to the nation on Wednesday.
She will today hand power to former international footballer George Weah, representing the West African country's first democratic transfer of power since 1944, and will leave behind a mixed record of peace and freedom of speech cherished by the population, but stubbornly low living standards.
Sirleaf, 79, presided over the 2014-16 Ebola crisis during which more than 4,000 Liberians died, and struggled to counter the effects of plunging commodity prices in a nation highly dependent on exports of iron ore and rubber.
Sirleaf noted in her final address Liberia "reflects the changing face of the continent, where rule of law, human rights, good governance, and accountability are demanded by its citizens. This is Africa's future, and Liberia is one of its enviable democracies."
Sirleaf made use of her international cachet as a Harvard-trained economist, former finance minister, and an executive at the World Bank to get a massive chunk of Liberia's debt written off in 2007.
Sirleaf also attracted investments in the mining, agriculture, and forestry sectors and offshore oil exploration.
High profile
Her high profile abroad as a symbol of post-war reconstruction has not saved her from messy politics at home, where she has faced criticism over the absence of prosecutions for war criminals and allegations of nepotism surrounding the employment of her sons.
"When Ellen came to power, the expectation of the Liberian people was high, so high that she could not meet such expectation," said political science professor Emmanuel Nimely.
"That does not mean that she did not try, she did try but could just not do it all."
Born Ellen Euphemia Johnson on October 29, 1938, in the capital Monrovia, she wrote in her memoirs that an old man predicted days after her birth that she would grow up to rule.
The sprightly grandmother, who is equally at ease in flowing robes and headdresses while charming financial institutions, and in a comfortable pair of jeans and a cap on the streets of Liberia, married at age 17, but later divorced after the relationship turned abusive.
She has four sons and 11 grandchildren.