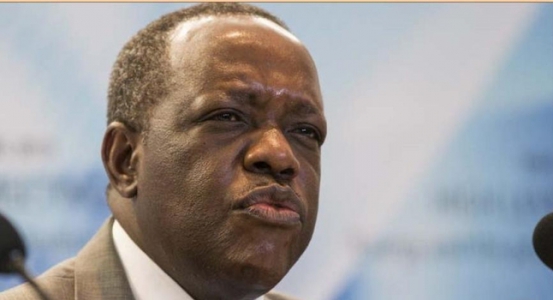 Dar es Salaam: Tanzania's Energy and Minerals Minister Sospeter Muhongo resigned on Saturday amid a graft scandal that has rocked the gas-rich country and led Western donors to delay aid, though he called himself "incorruptible" and denied wrongdoing.
Muhongo became the third cabinet member, after the attorney general and the minister for land, to lose his job over the scandal, which involves the transfer of at least $122 million.
"I have decided to resign to bring a conclusion to this never-ending debate so the nation can focus on other important issues for national development," Muhongo told a news conference. "I did not do anything wrong and I did not steal any money. My record speaks for itself, I am incorruptible."
Tanzania is estimated to have 53.2 trillion cubic feet (tcf) of gas reserves off its southern coast, but its energy sector has long been dogged by allegations of graft.
Read More
Muhongo, a geology professor with no previous experience in politics, was appointed in 2012.
The scandal erupted last November when lawmakers concluded that senior government officials had fraudulently authorised the transfer of public funds to a private company.
The funds came from an escrow account held jointly by state power company TANESCO and independent power producer IPTL and went to IPTL's owner, Pan Africa Power (PAP), in 2013.
The officials denied anything improper and PAP said the transfer was legal.
Tanzania's attorney general, Frederick Werema, resigned and Tanzanian President Jakaya Kikwete sacked lands, housing and human settlements development minister Anna Tibaijuka for accepting a $1 million payment from a Tanzanian businessman linked to the energy scandal.
Cabinet reshuffle?
The country's anti-graft watchdog this month filed corruption charges against five other senior government officials over allegations tied to the energy deal. They deny the charges.
Kikwete is expected to reshuffle the cabinet and appoint a new energy minister in the next few days, government sources said.
The scandal has tied up payments to aid-dependent Tanzania, with a group of 12 international donors saying they will not pay outstanding budget support pledges worth nearly $500 million until the government responds to the allegations appropriately.
Analysts said changes within the energy ministry would further delay the development of the country's gas industry.
"The top-level changes at the energy ministry will only worsen the decision-making and planning processes," said Ahmed Salim, senior associate at consultancy Teneo Intelligence.