Uhuru invites Suluhu to Kenya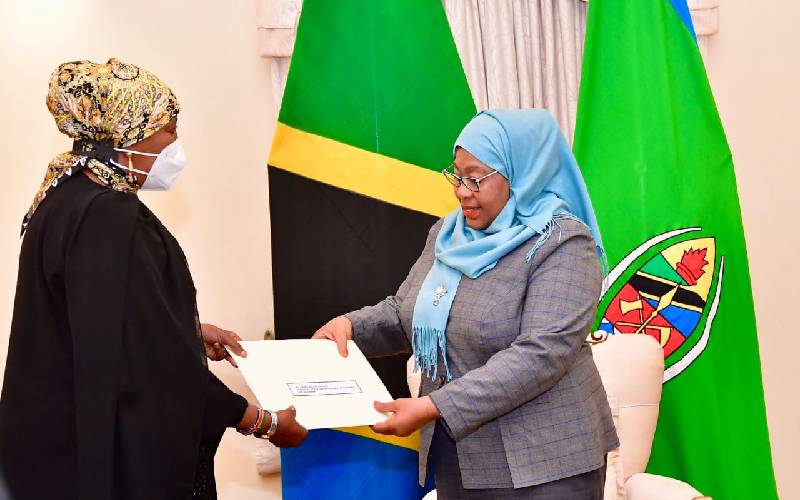 President Uhuru Kenyatta has invited his Tanzanian counterpart, Samia Suluhu, to Nairobi.
The invite comes amid efforts to amend frosty relations between Dar and Nairobi, which escalated under the reign of former President John Magufuli, now deceased.
On Saturday, April 10 President Kenyatta sent Sports Cabinet Secretary Amina Mohamed to Tanzania to formally deliver Kenya's invite to President Suluhu.
"Today, President Suluhu has received a special delegation from the President of the Republic of Kenya, led by Sports minister Amb. Amina Mohamed," read part of a press statement by State House Spokesperson Gerson Msigwa.
Msigwa said Amina's visit to Tanzania was aimed at delivering President Kenyatta's goodwill message to Suluhu amid a strained relationship between the two East African neighbours.
"President Kenyatta has assured President Suluhu of Kenya's commitment to cooperate with Tanzania for the betterment of the two nations," said Msigwa.
Suluhu said her Government was ready to resolve all the differences – perceived or real – that Tanzania has with Kenya.
The Tanzanian leader said the two countries share a rich history, and that the ties should not end over issues that can be resolved.
Suluhu said Tanzania and Kenya should revive the Joint Permanent Commission (JPC), which she suggested would play a crucial role in strengthening bilateral ties.
The Commission, which has a membership comprising representatives from Kenya and Tanzania, has not met since 2016.
Tanzania is one of Kenya's close partners in trade, security, education, agriculture and energy.
Of late, the two nations have had to endure frosty relations, with each country accusing the other of unfair trade practice. The rift widened during the reign of the Late President John Magufuli.
Though Magufuli and Kenyatta publicly displayed a semblance of harmony, tensions continued to simmer, especially after Covid-19 pandemic brought new modus operandi on matters international relations.
Unlike Kenya, Tanzania downplayed the seriousness of Covid-19, resulting in a heated dispute at the borders, effectively affecting trade and transport into and out of the two countries.
However, with Suluhu at the helm of Tanzania's Government operations, it remains to be seen whether the relationship between Dar and Nairobi would be cordial, once again.