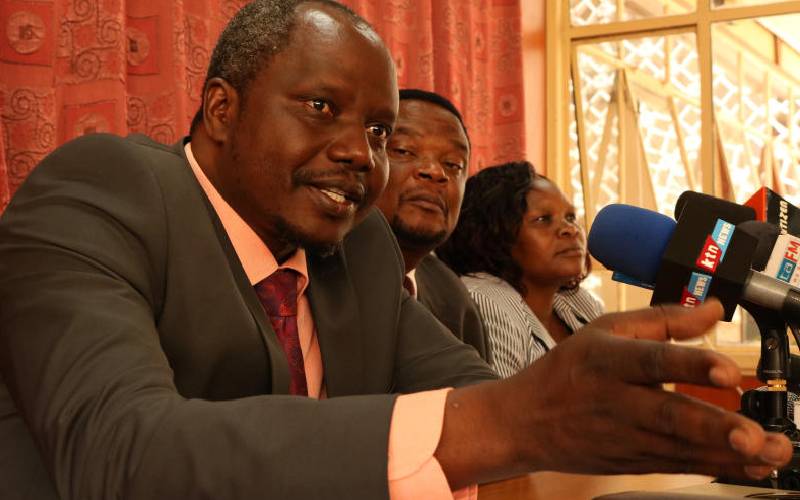 Former Mt Elgon MP John Serut (now deceased) and the sitting MP, Mr Fred Kapondi, have dominated the constituency's politics for about two decades.
Mr Serut was elected in 2002 on a Kanu ticket, defeating the then MP Joseph Kimkung. However, months to the 2007 General Election, he ran into trouble for pushing the government to allocate land to squatters in the controversial Chepyuk Settlement Scheme.
This is after more than 600 people were killed by the Sabaot Lands Defence Forces (SLDF). Mr Serut and his arch-rival, Mr Kapondi, were adversely mentioned — but never charged — over the 2006-2008 tribal clashes.
Mr Kapondi was detained briefly but when he came out of the cells, he was handed the ODM ticket and defeated Mr Serut with a big margin.
Mr Serut, who ran as an independent candidate, would bounce back in 2013, beating Mr Kapondi hands down.
In 2017, the Jubilee Party political wave sweeping across Bungoma County handed Mr Kapondi a lifeline and he trounced Mr Serut in a hotly-contested race.
With Mr Serut deceased, eight aspirants have declared interest in the seat and they are keen determined to unseat Mr Kapondi in the August 9 polls. For the first time, a woman, Ms Jane Chebet, has thrown her hat in the ring. She is currently the Cheptais ward representative, and earlier served as Bungoma Deputy Speaker between 2013 and 2017.
Ms Chebet was elected on an ODM ticket in 2013 but switched to Jubilee Party in 2017. She has since defected to Ford Kenya and promises Mr Kapondi a run for his money.
She is prepared to break the glass ceiling and become the first female MP to represent Mount Elgon.
"There is no reserved position for a particular gender. The leadership of Mt Elgon is controlled by the voters," Ms Chebet said yesterday, and urged more women to go for elective seats.
She is championing the rights of women and girls in the area, economic empowerment, education and infrastructure development.
Others in the race are Messers Robin Kesis, Kawon Kirui, Evans Chemwotei, Silas Cheren, Moses Cheshari, Moss Ndiema and Allan Chemayiek.
But political analysts say the contest could be a two-horse race between Mr Kapondi and Ms Chebet.
"If Kapondi does not play his cards well, then he should prepare to retire from politics after the August 9 polls. But remember, he is a clever politician and the power of incumbency gives him added advantage you cannot underrate," said Mr Hillary Barasa, a political analyst.
Mr Kesis, who has indicated that he will vie as an independent candidate, said he has what it takes to clinch the seat.
According to him, the incumbent has failed to address the challenges facing the electorate and resorted to politicking.
Mr Kesis had earlier indicated that he would vie on a UDA ticket before making a U-turn, probably out of fear of facing off with Mr Kapondi and others in party primaries.
"We must enter the future with a leadership that understands the challenges of the current generation. This is the highest calling to my people. I will ensure there is equality in resource distribution so that everybody can feel a sense of belonging," said Mr Kesis.
Clan politics
The youthful aspirant avers that time is ripe for the youth from the area to show the old guard how to manage the affairs of the constituency without bickering, favouritism and the clan politics that has impoverished the constituency.
"We have been conditioned to think that we can only be leaders of tomorrow. It is a fallacy youth must reject and take up the challenge in order to bring change in managing our constituency.
"I know it is not going to be a walk in the park but your vote counts. I will vie as an independent candidate. After listening to my supporters, I decided to take that direction. I did not want my star to be dimmed at the party primaries," said Kesis.
Mr Kirui, who is eyeing the UDA ticket, said he is confident he will trounce Mr Kapondi in nominations.
"The only hurdle is party nominations. After bagging the ticket, I will beat my competitors," he said.
"UDA is the most popular party in Mt Elgon, just like was the case with URP in 2013. I am not a greenhorn in politics. In fact, I believe in 2013 I was short-changed after defeating Mr Kapondi at nomination stage. He lost to Mr Serut in the elections."
The aspirant has promised to prioritise addressing historical land injustices in Mt Elgon if elected.
"I will also help improve education standards and end early and forced marriages of schoolgirls," he said.
Mr Cheren, who is also seeking the UDA ticket, is an accountant. He said his experience in the corporate world gives him a comparative advantage against the other aspirants when it comes to management of constituency affairs.
He said he would ensure the area gets lasting peace by uniting all sub-tribes living in the constituency, improving the health sector and ensuring the people have access to clean drinking water.
"I will also use my connections to woo investors who will help us start cottage industries to spur economic growth.
"I will revamp the agriculture sector by promoting coffee and tea farming that fetches good prices at the international market. I have been tested before and it's time to demonstrate my leadership that is development conscious," said Mr Cheren.
Earlier, Mr Kapondi, while speaking at Mulatiwa village in Chesikaki ward, told his rivals to brace for a tough contest.
The lawmaker warned his competitors not to think that he will be a walkover in the race. He said those challenging him for the UDA party ticket will be shocked by the support he will receive from the people.
"I am appealing to those who think they will unseat me to sell their manifesto and stop criticism. I am confident of winning at the nominations stage and even the election," the MP said.