Promise of granite factory in Vihiga remains a pipe dream 10 years on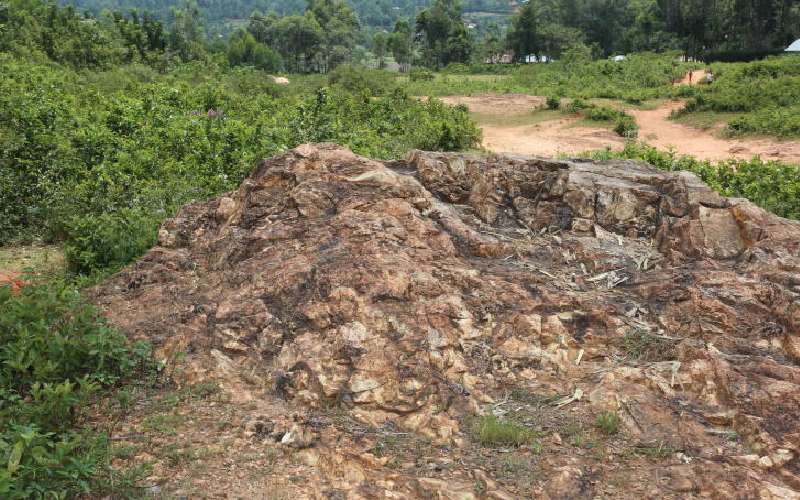 With a landmass of 531.3 square kilometres, Vihiga is the second smallest county in Kenya.
Reagan Sagala, a resident of Mahanga village, has seen the land he inherited from his father diminish after he subdivided it among his four sons, who then subdivided it to their children.
"My father left a fairly big parcel for me and my brothers, but now my grandchildren have all been allocated the land, leaving us congested in one area," said Sagala, 73.
Despite the land being small, almost two acres of the land is covered with rocks.
Like thousands of Vihiga residents, Sagala was optimistic that the rocks would be turned into cash after the national and county governments promised to set up a granite factory.
The project has been delayed for more than 10 years. "How come it is only during an election year that we are promised that the factory will be built?" posed Sagala.
The project sought to attach economic value to stones, boost development and create jobs.
"Vihiga has resources that can turn our lives around. We do not have to move since we can get cash from these stones," said Sagala.
The shortage of farming land has forced some residents to relocate to Kakamega, Trans Nzoia and Nandi counties.
The residents now want the county government to actualise its promise and have the granite factory built.
"It is time the county government acted," said Morris Omwere, a resident from Luanda.
The county government acquired a 10-acre land for the factory at Buyangu, Luanda Sub-county.
Petroleum and Mining Cabinet Secretary John Munyes visited the site on July 26, 2021, and said an Italian investor was ready to pump money into the project.
In 2018, Vihiga Governor Wilber Otichillo announced the granite project was to cost Sh50 million and was to be undertaken by the county government in collaboration with the Ministry of Petroleum and Mining. The project was to be completed in June 2019.
"We are optimistic that we will have this factory running in a year because it has the blessings of the President," said Otichillo on July 26, 2021.
Despite the promise, the factory construction is yet to start, and residents have grown impatient