Man 'slapped' by Didmus Barasa speaks as Simba Arati offers advice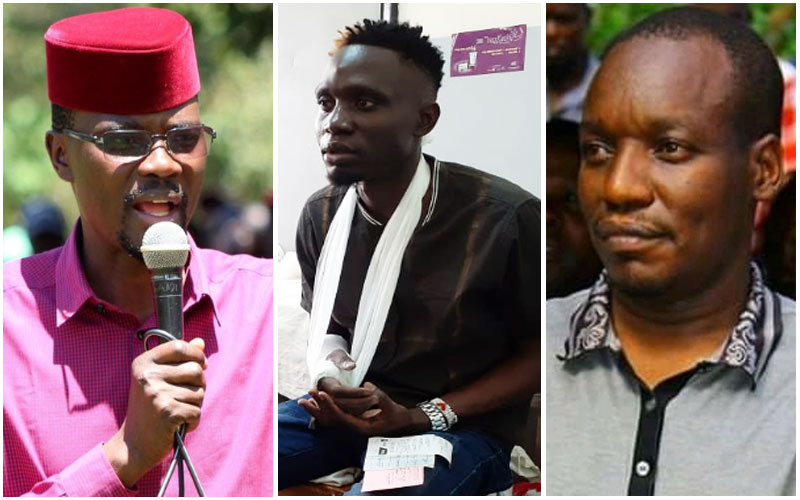 Stephen Masinde, the youthful man who was caught on tape allegedly being slapped by Kimilili MP Didmus Barasa on Friday, has urged police to arrest and charge the legislator with assault.
Barasa is alleged to have assaulted Masinde after he (Masinde) refused to allow the MP launch classrooms until Sh3.4 million owed to him by the constituency was settled.
Masinde had built five classrooms at Lurare Primary School in Kamukuywa Town, Kimilili Constituency, at a cost of Sh4.4 million. He had reportedly received an upfront payment of Sh1 million from the Kimilili CDF kitty, and was waiting for Sh3.4 million to be deposited to his account before handing over the classrooms to the area leadership.
Barasa, however, showed up at the school on Friday to launch the said-classrooms.
A resultant melee, pitting the lawmaker against Masinde, ensued, leading to the alleged attack.
Masinde claims besides being slapped, Barasa's bodyguards caused him serious bodily harm.
The victim filed a report under the OB Number 30/30/07/2021 at Kimilili Police Station, where he accused Barasa of causing him head and arm injuries.
"After filing the complaint, I went to Kimilili Sub-County Hospital, where my broken arm was dressed," Masinde told The Standard, accusing Barasa of handing him over to his bodyguards so that he could be "dealt with more."
Masinde now wants the Directorate of Criminal Investigations (DCI) to expedite the probe into the incident, and bring the MP and his bodyguards to book.
"As the area MP, Barasa sought my construction services. I ensured the work was done in time. However, when it came to paying me, he and his team resorted to violence. It is my right to get paid for the services I rendered," he said.
On his part, Barasa denied assaulting Masinde, saying he was only "alerting" him to "zip up" to avoid the then-obvious "embarrassment".
"He (Masinde) is my friend. I was alerting him to zip up because his fly was open. It appears he'd answered a short call of nature but forgot to zip up," Barasa said at a separate function in Kimilili on Friday, July 30.
"As a result, I approached him with the intention of alerting him to zip up, but he fled, thinking I wanted to harm him."
Masinde, however, denies that his fly was open.
"You all watched the video clip. Does that look like an act of kindness to you?" posed the complainant.
The Standard attempted to reach Barasa on call and text, but he hadn't replied as of the time of publication.
Arati trending
Following the incident, Dagoretti North MP Simba Arati's name trended on Twitter on Saturday, July 31. The Arati-Barasa nexus stems from a November 2019 incident, where Arati allegedly asked goons to attack Barasa during campaigns for Kibra parliamentary seat.
At the time, Arati had gone to campaign for ODM candidate Imran Okoth, while Barasa was vouching for Jubilee Party's McDonald Mariga in the November 7, 2019, Kibra by-election occasioned by the death of office holder, Ken Okoth.
The incident in which Barasa was roughed up by youth in Kibra went viral, with the phrase "we are colleagues" gaining traction on social media.
And now, following the Friday, July 30, 2021 incident, where Barasa allegedly assaulted a contractor, his colleague in the National Assembly, Simba Arati, who was once a political foe, has some words of advice for the Kimilili lawmaker.
"He (Barasa) is my good friend. I hope when I meet him sometime next week, I will teach him a thing or two about how to handle the people who work for him," Arati told The Standard on phone on Saturday, July 31.
Arati, however, advised Barasa to delegate project evaluation tasks to the CDF management committee.
"I know, for a fact, that there is nowhere he, as an MP, is directly involved in the handling and payment of contractors unless things are done differently in Kimilili," said Arati, adding: "He clearly encroached on the CDF and project management committees' mandate."
Arati said he was shocked to learn Barasa's team advertised and commissioned a multi-million-shilling project, yet the CDF coffers were dry.
Barasa's alleged assault on Masinde also caught Arati's attention.
"From the video clip, you can clearly see that the MP was not under any threat or attack, whatsoever. What he did, was uncalled for. You can't [allegedly] assault the person who voted for you," said Arati.
The Dagoretti North legislator said it would have been wise for Barasa to postpone the launch of the five classrooms until the debt challenges were resolved.