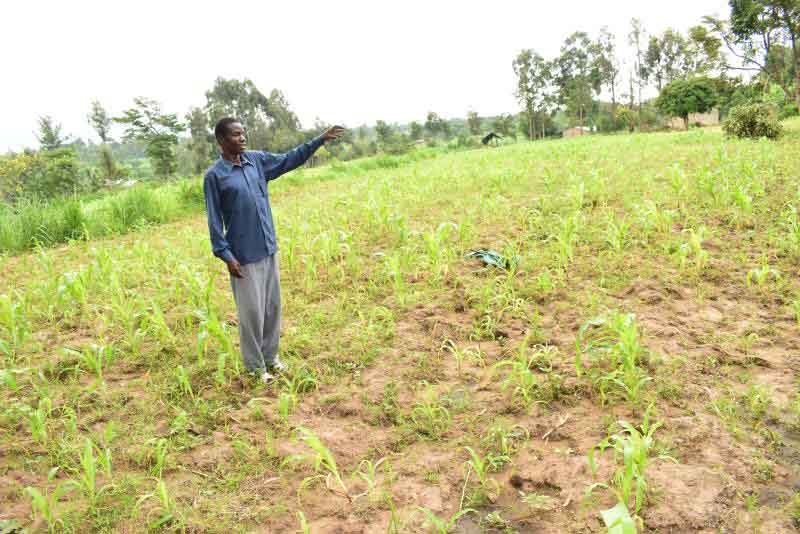 Reuben Kasuti is worried over diminishing yields on his two-acre farm due to declining soil fertility.
Stunted maize with yellowing leaves welcome you on his farm at Namawanga in Bungoma West.
It is a clear indicator that the crop is deficient in some nutrient - more specific, nitrogen according to agriculture experts.
Kasuti, 51, says nothing can be more frustrating than toiling and sweating in an attempt to cultivate barren soils.
"Crops have not been doing well on my farm ever since I uprooted tobacco about 30 years ago. Vegetables and tomatoes wither before they mature while maize turn yellow just after germination and dry up eventually," he says.
Like hundreds of other smallholder farmers in the area, the father of seven believes decades of tobacco cultivation could have taken a toll on the fertility of the soils rendering their farms barren.
The failed crop means farmers have to brace for another round of huge losses and food scarcity crisis.
"I used both farm yard manure and diammonium phosphate (DAP), but I never got the desired results. Look at the yellowing maize, it was all waste of time," says Kasuti.
Jackson Abai, 71, said he resorted to applying lime and even ash on his farm "but there has been no change. We are looking at a very serious problem and one wonders what happened to the agriculture extension officers who used to visit and advise farmers in the past."
Abai, a retired police officer, has spent almost all his savings in trying to make his land fertile again.
"I embraced tobacco farming in 1980 and spared four acres for the cash crop but trouble began when the tobacco firm that used to buy the produce started exploiting farmers. Tobacco farming became untenable and I decided to abandon the crop and focus on alternatives," Abai says.
"The withered traditional vegetables and tomatoes you see on the farms around germinated well, but could not go far, we urge both the national and county government to intervene by helping us rehabilitate our farms."
His sentiments are shared by Beatrice Naliaka. She is one of the farmers and at one point, she was forced to throw away surplus tobacco due to lack of market.
"After that experience, I opted to try other crops because I have a family to feed and children to educate," says Naliaka.
The farmers are concerned that soil testing has been overlooked in the area and other counties.
"Counties have been spending millions of shillings on buying fertiliser and giving it to the farmers without considering the issue of soil testing," said Abai.
"They must help farmers establish the lacking nutrients to be able to give out the appropriate fertilisers."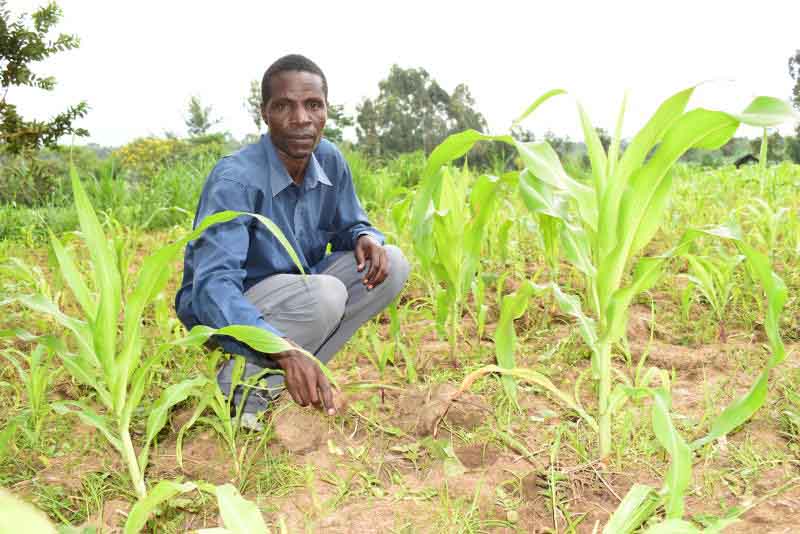 Onesmus Makhanu, the Bungoma County director of agriculture, says farmers are being advised to embrace cotton farming after the revival of Malakisi ginnery.
"The ginnery has opened up two lines and we encourage our farmers to revert to cotton farming because there is guaranteed market for the raw material," he said.
An earlier report by the National Accelerated Agricultural Inputs Access Programme (NAAIAP) on Soil Suitability Evaluation for Maize Production in Kenya identified calcium, magnesium, mangasese, copper, iron and potassium as some of the minerals lacking in the soils in Western.
Dr Caroline Kundu, a soil expert based at Kenya Agriculture and Livestock Research Organization (Kalro) center in Kakamega agrees with the findings.
She acknowledges the fact that tobacco is a heavy feeder, which sucks a lot of nutrients from the soils.
"In Bungoma West, farmers used to get incentives in terms of farm inputs and fertiliser from tobacco firms and would apply a lot of commercial fertiliser on farms because the companies were interested in high production," says Dr Kundu.
Tobacco consumes a lot of potassium, nitrogen and phosphate to remain health, "and it would be challenging for a farmer to embrace crop rotation because the new crop may not flourish," says the expert.
According to Dr Kundu, a farmer who grows a different crop will realise the soils are too weak and lack the ability to supply the new crop with required nutrients.
She says some of the chemicals used to spray pests and diseases ended up accumulating heavy metals like led in the soils, hindering fast uptake of important elements by the crops.
Dr Kundu advises farmers to combine both manure and inorganic fertilisers to be able to reclaim soil fertility "even though it will take some time."
She adds that poultry droppings and cattle manure are rich in potassium and calcium and must be applied by the farmers.
"They should avoid acidifying fertiliser such as DAP which they have been using and go for one that is rich in Sulphur and calcium, mainly compound fertilisers to be able to address the problem they are facing, "says the expert.
She underscores the need for soil testing to establish whether there are heavy metals accumulated in the soils.
Kalro is currently charging Sh1,000 per soil sample tested at the institutions laboratories.
"Usually, four samples would be required from an acre translating to Sh4,000. We encourage farmers to request for soil testing in groups to cut down on expenses involved.
"Kalro would be glad to offer them a discount on testing services and also waive the transport cost," says Dr Kundu.