Four shoplifters arrested in Busia, stolen products recovered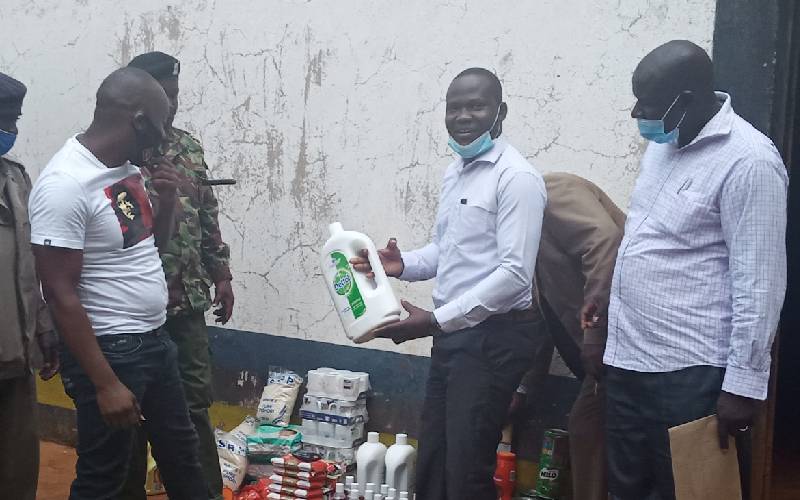 Four women have been arrested in Busia for shoplifting in local supermarkets.
According to police officers the four are part of a syndicate reported to be stealing from chain stores in Western and Nyanza regions.
The suspects who were arrested on Wednesday inside Peshmart supermarket with stolen goods are detained at Bumala police station.
This was the second arrest after they were arrested again in Kisumu on Sunday when they were caught on camera shoplifting.
A private car believed to be used in ferrying the shoplifted goods was also impounded and various goods recovered.
The CCTV camera shows on the same day, they stole at Frankmart Supermarket and Khetias Supermarket in Busia town as well before they were seized in Bumala.
The arrest came following complaints from management of the affected supermarkets. Butula Sub County Police Commander Richard Omanga said the suspects hail from Vihiga county.
The police boss said, "After conducting the search we established the four women had stolen many products from two supermarkets in Busia before they were nabbed in Bumala on Wednesday."
He urged the managers of the supermarkets that lost goods to shoplifters to report so that various charges can be preferred against the four.
The proprietor of Frankmart Frank Maingi said for three months the supermarket has lost goods worth Sh150,000.
"This time round our CCTV cameras captured them while hiding products in their clothes," said Mr Maingi.
Khetias Supermarket branch manager in Busia Edwin Otieno regretted that the women put their lives at risk by stealing from supermarkets.
"The way they execute the theft is so smart that one cannot notice except by help of hidden cameras. It appears they have ready market for the goods they steal from supermarkets," said Otieno.
CCTV footage from three supermarkets showed how the women execute their business. They walk into the supermarket while the getaway car is waiting nearby.
Once they disembark, they divide themselves into two. Their ringleader walks first into the chain store accompanied by her accomplice to scout for the shelve with the products they want.
After a short while, the other two that remained outside and kept a close eye on how their colleagues inside were moving checks in and walks straight to the shelve with the products to be shoplifted.
Here, the stealing is executed so fast that an employee of the supermarket assigned to monitor the shelves cannot notice.
Two women bend like they are picking something from the counter while the other two shield them so that whatever they are doing is not seen.
The goods are then hidden between their legs.