120 students lose bedding as fire destroys Musingu School dormitory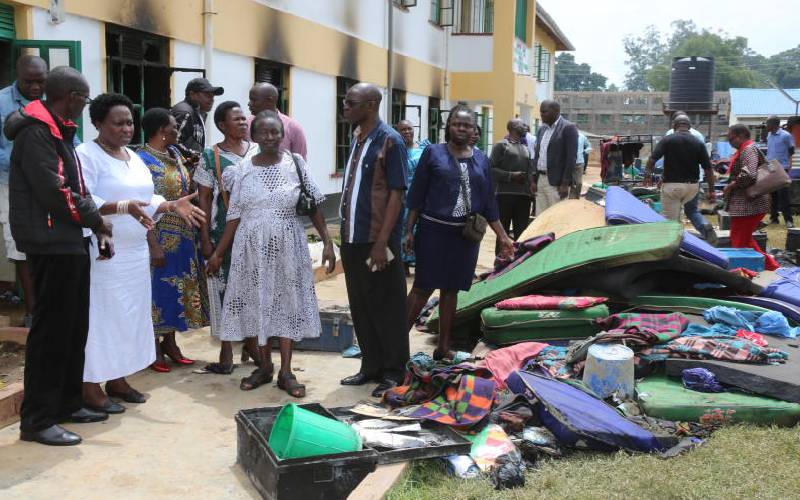 Property of unknown value was today reduced to ashes after fire gutted a Form Four dormitory at Musingu Boys High School in Kakamega county.
According to school Principal Bernard Toili, the fire started at 8.45am when the students were attending a church service.
The cause of the Sunday morning fire could not to immediately established, but the principal suspect it could have been as a result of electrical fault.
Mr Toili said workers at the school saw a cloud of smoke coming from the Oparanya Hostel that houses over 500 students and rushed to the scene, only to find students' bedding and boxes engulfed in a huge fire.
"We called firefighters from the county government who managed to contain the inferno. At least 120 students have lost everything including books, bedding and other personal belongings," said Toili.
He said they have informed Kenya Power to find out the electric connection of the building.
Toili said no student was injured during the incident.
"Though we don't have enough space at the school, we will look for an alternative place to house the students since most of them are supposed to be sitting for this year's Kenya Certificate of Secondary Education (KCSE).
The principal asked local leaders and well-wishers to come on board and help the school repair the dormitory on time in preparation for KCSE.
Toili dismissed claims that the fire might have been started by the students.
Kakamega Woman Rep Elsie Muhanda who was among the leaders who rushed to the school promised to help the students buy personal effects so that learning is not disrupted.
"We will sit with the management of the school and assess the extent of damage and pull resources together to have the dormitory repaired this week. We want the students to settle down since KCSE is around the corner," she said.
Kakamega South Sub County police boss Joseph Chesire, said police have launched investigations to establish the cause of the fire.
Mr Chesire said they have deployed police officers at the school to maintain law and order as the management looks for an alternative place of housing the students.
The dormitory was constructed by the County Government of Kakamega and was commissioned by Governor Wycliffe Oparanya in May this year.