Hay from Mwea gains global recognition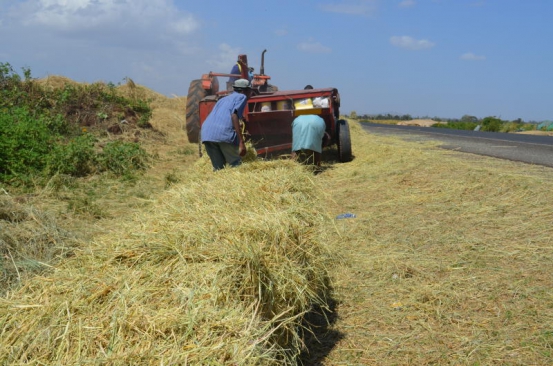 NAIROBI: Hay produced from the Mwea rice stalks has gained international recognition. Thiba ward Member of County Assembly Jackson Murimi from where the hay is produced, says it is shipped to Saudi Arabia where it is fed to livestock.
"Somali traders ferry the hay in trailers from here to the port of Mombasa. The hay is then shipped to Saudi Arabia where there is a huge shortage of animal feed because of the desert environment,'' Murimi said.
To ensure this trade benefits the county and its locals, the MCA is consulting livestock experts on value addition of the husks to ensure farmers get higher profits. Murimi says he has proposed a Sh3 million budget for putting up a shed in Thiba village where farmers can safely store their produce.
Mwea Irrigation Scheme was started in 1956 and the predominant crop grown in the scheme is rice. This is one of the seven public schemes under the management of the National Irrigation Board (NIB).
Since inception till 1998, the scheme was run solely by the Board as mandated by the Irrigation Act Cap 347. The Board was responsible for all the activities in the production chain which includes land preparation, credit provision, crop husbandry activities, harvesting and post harvest handling including marketing.
This system of farmers channeling their paddy through NIB collapsed during the 1998/99 crop when they revolted and refused to deliver the crop and instead demanded that they be allowed to market it on their own.
Following this sudden change of role of NIB in the scheme, the scheme management was briefly taken over by a Mwea Rice Farmer's Cooperative Society. However, the farmers realised they could not go it alone due to: lack of skilled personnel; lack of finances and lack of machinery for scheme maintenance.
In 2003, the farmers approached the government for assistance in the scheme management. NIB went through a restructuring process with a view of changing its mode of service delivery to the farmers in the schemes. Some of the non-core roles which used to be performed by NIB were devolved to the farmers.
With liberalisation of the market, farmers could now explore other ways to make money including selling the byproducts like husks. The sale of the hay was started a year ago after many farmers were hit by drought which ravaged their animals due to lack of feed.
The business is now a multimillion shilling venture given the extent to which it has reached within the country and abroad.