Battle on for Garissa seats as elders face resistance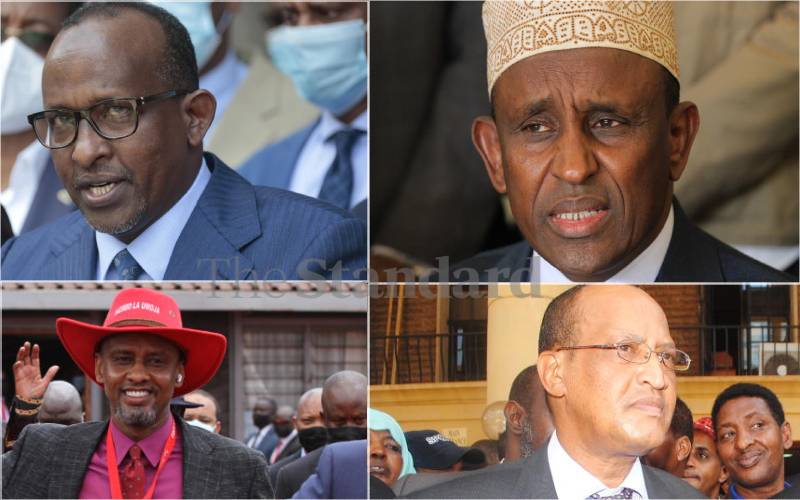 Battle lines have been drawn in Garissa County politics, with key politicians naming their preferred candidates for various seats as the road to next year's elections takes shape.
Deputy President William Ruto's visit to the county last week gave a glimpse of titanic battles ahead, with friends turned foes and close relatives going against each other.
While Garissa Township MP Aden Duale and his United Democratic Alliance (UDA) brigade have made their line-up known, the council of elders has also unveiled its candidates.
Since the advent of devolution, it has become tradition for clan elders in Garissa to endorse aspirants for elective seats. Those endorsed by the elders are therefore seen to have an upper hand and the much-needed legitimacy.
However, going by the happenings in the recent months, things seem to be changing by the day, as a group of current and aspiring politicians are coming out to question the mandate of the elders from the major sub-clans of Abudwaq, Samawathal and Aulihian.
Like any other county in the northern region, Garissa politics will likely take a different dimension next year compared to the last polls, with a strong resistance to the elders' choices expected.
For the position of governor, the Abduwak Council of Elders has given the green light to Governor Ali Korane to defend his seat.
Dekow Maalim Sambul, who is the sultan (king) of the elders, also named Udgoon Siyad to run for woman representative, while Isse Yarow Kahin was endorsed to go for Balambala parliamentary seat, while current Fafi MP Abdikarim Osman was cleared to defend his seat.
The elders also endorsed Siyad Osman for Garissa Township parliamentary seat currently held by Duale.
The Sultan said the decision was reached by various sub-clans and he only endorsed the verdict, adding that each candidate has a right to contest for any seat.
Duale, however, criticised the elders whom he accused of endorsing aspirants with questionable integrity. He said elders ought to stay out of politics.
"You will not see me being carried shoulder high in the name of endorsement by clan elders, the voters are to decide on whom to elect," Duale said during a visit to his constituency.
The former National Assembly majority leader wondered why elders did not ask about mismanagement of funds in the devolved units as well as problems such as lack of water and poor health provision.
During Ruto's tour of the region, Duale introduced his line-up who will be seeking the UDA ticket.
He introduced former military man Dekow Mohamed, alias Major Dekow, to run for governor. Dekow will face Korane, former governor Nathif Jama and Botswana envoy Mohamed Shidiye.
In the run-up to 2017 elections, Duale and Korane, both from Abduwak clan, were elected on a Jubilee ticket, in an arrangement with the Samawathal clan that saw key seats shared between the clans.