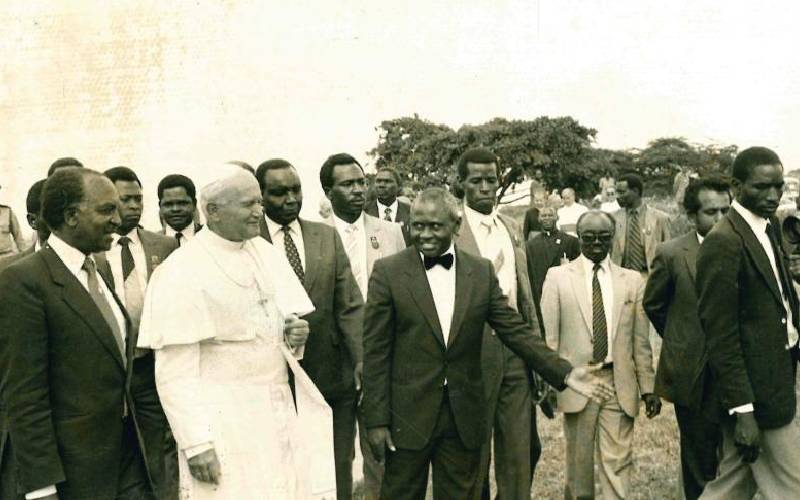 Pope John Paul II's two-day visit to Kenya in 1980 uplifted the nation's spirit, sparking a sense of renewed hope.
The papal tour came at a time the economy was in the doldrums. So bad was the situation that the Bretton Woods Institutions initiated a series of economic reforms commonly known as structural adjustment programmes (SAPs) to restore efficiency in key sectors of the economy.
When the pontiff landed in Kenya, there was a feeling of disillusionment, especially among the youth. The Pope was well aware of this cloud of cynicism that threatened the nation's stability.
And he did not disappoint in his spiritual message to the young men and women mostly in their 20's. He told them not to despair, as they carried the dreams of the future.
Those still alive when the pope made the speech on May 6, 1980 at the All Saints Cathedral are no longer young – they are sexagenarians and septuagenarians who were expected, once they take over leadership roles, to steer the country into economic prosperity.
Sadly, they have disappointed. Many of those lucky to have been in positions of influence, never made Kenya a better place. Instead, they normalised corruption and tribalism.
Forty-one years later after the Pope's inspiring address about the journey to the Promised Land, most Kenyans are living below the poverty line.
For the country to achieve development success, John Paul II, then an ardent fan of British Liverpool Club, reminded the youth about the importance of internalising virtues such as uprightness, generosity, brotherhood and selflessness.
"And now I wish to offer a particular greeting to you, the young people present here and through you to all the youth of this land. For I know that you carry in your hearts your dreams for the future of Kenya, and in your hands the power to make those dreams come true. May peace and joy be always in your hearts," said the Pontiff.
Born Karol Józef Wojty?a in Wadowice town of Poland, Pope John Paul II was the head of the Catholic Church from 1978 until his death in 2005.
On April 2, 2005, John Paul II spoke his final words in Polish. "Pozwólcie mi odej?? do domu Ojca" (Allow me to depart to the house of the Father) to his aides. He died at his home in the Vatican.