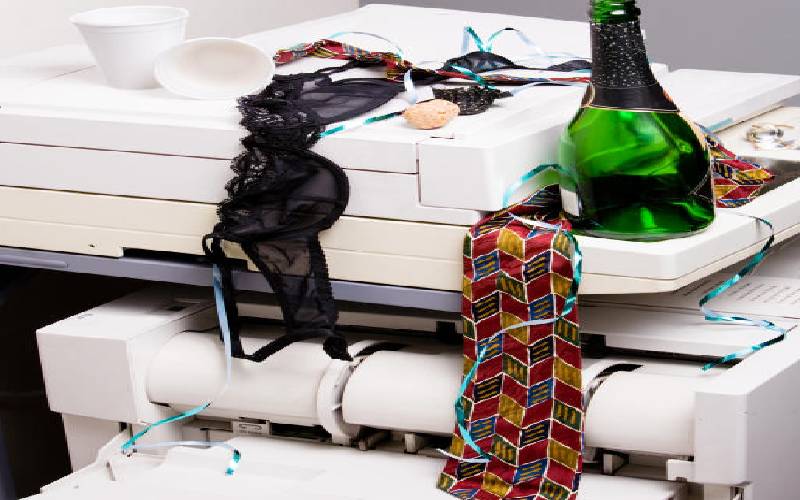 Teenage sex parties are not new in Kenya. They are now just easier with easy access to smartphones and the Internet. They didn't start with randy teenagers in Nairobi.
Take a 30-year-old city businesswoman whose name we have concealed to protect her daughter's privacy because she is a minor.
The single mum got pregnant during a sex party in Kirinyaga when she was 16 and in Form Two. She recalls that it all started when her cousin who was in Form Four asked her to escort her to boyfriend's place when their guardians had gone for a funeral in Meru.
On their way, they picked up two more girls who were also in high school. The cousin told them "her boyfriend had some friends and they also wanted girlfriends. I thought the boys were in high school like us," but instead they found six grown men.
Read More
"There was alcohol, lots of it. We were told we were safe because some of the men were police officers. We got there at 10am and by midday, we had relaxed enough to try a few drinks. It's the first time I drank Kingfisher. It was sweet, and two bottles got me so drunk."
She says she swapped multiple men, as did all the girls who attended the party. "No one forced me. I actually thought I had become a woman and I could make my own decisions. I saw myself as more mature than my age mates because serious men, who were older, had money. Some were police officers who wanted me. I could not waste time anymore with boys at school."
She and her girls were dropped home in the wee hours. When her grandmother, mother and aunty returned "they found us asleep and didn't think much of it since they arrived at around 8pm. I attended three more such parties before schools opened."
By the third and fourth party, she was also inviting her other friends as the retinue of men also increased.
"I thought it was a good life and I was having fun, something none of my classmates could do. My periods delayed when schools reopened and by mid-term, I knew I was pregnant."
Her grandmother was a widow. She was from a single-parent home. Her auntie was a single mother too.
"When they realised I was pregnant, my grandmother was calm, but my mum and her sister beat me up until I told them how it happened. When I confessed to not knowing who made me pregnant, they beat me some more as they escorted me to the house where the parties were held. My mother and her sister could not do anything to the man. They went to the police, who promised to make an arrest the next day. But the man fled and to date, I don't know my child's father. Three other girls also got pregnant, including my cousin who eloped and married her police officer boyfriend. She had just turned 18 so nothing could be done," she recalls.
She blames her foolishness at the time on the allure of seduction by grown men, teenage rebellion and ignorance on ways of the world. "Right now, I will chain my daughter to the door if I have to. I have spoken to her. I have told her how I messed up and I don't want her to tread the same path. She has a phone with WhatsApp. All her messages come to my laptop too. She is never away from me for more than ten minutes. I have to protect her from the mess I got myself into. When she turns 18, there is nothing I can do, but for now, she knows I will kill her if she tries nonsense with men."
She says besides her foolishness, society also allows teenagers to get lost. "The house we went to had neighbours, and they all saw us getting in, music blaring and alcohol being served, no one raised an alarm. It's like the society has branded men who sleep with girls under 10 years as paedophiles but once a girl has breasts, then it's OK for men to sleep with her."
Sex parties don't just lure girls. Boys too are roped in as one medical doctor discovered when he tracked his son's phone to a Sh5000 per head teen party-bash which turned out to be a scene from the harem of a mad roman emperor Caligula-when he sent his nephew to check out.
"I had their parent's phone numbers but while all the mothers were concerned, the fathers didn't see what the fuss was all about," says the doctor based in Lavington, Nairobi.
The doctor seized his son's phone and learnt that the party had been planned for weeks and only a few select teens were invited. The criteria included having parents without drama and those that allowed their kids time out at night. "These are parties planned with military precision and even keen parents can't find out. They have some type of honour in keeping silent. No one rats out, no matter what," explains the doctor.
Belinda Adhiambo from Nairobi's Kasarani area says school closure due to the Corona pandemic made matters worse.
Belinda recently discovered through snooping into her niece's phone that she and her daughter were part of the '16 Forever', a sex and alcohol WhatsApp group.