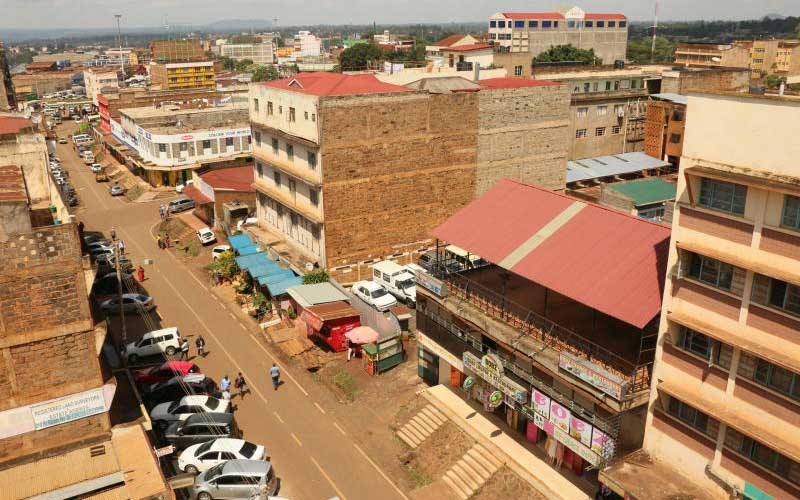 Of all places he could have chosen to be laid to rest, Lieutenant General Robert Stephenson Smyth Baden-Powell chose Nyeri.
Not the Westminster Abbey where such esteemed persons were laid to rest.
In a lowly cemetery in Nyeri, then a small township sitting squat at the base of Mt Kenya, the founder of the world-famous Scout movement was buried in 1941. His wife, Lady Olave St Clair Baden-Powell, is also buried there.
It was in Nyeri, at The Treetops Hotel, where Queen Elizabeth II of England and one of the world's longest serving monarchs, ascended to power after the death of her father, Georges VI, in 1952.
Nyeri is an iconic town that is probably underappreciated. It has birthed legends and become home to many more.
The town was started in 1902, founded as a British camp right in the middle of nowhere after the colonialists' victorious invasion of the region.
It is hard to imagine that the founders envisaged the camp morphing into post-colonial Central Province's administrative headquarters.
Nyeri Governor Mutahi Kahiga calls the town a "hub of natural beauty'' and "a key player in the Central KenyaTourism circuit."
"It is endowed with the rich Kikuyu culture and has increasingly become a popular destination for tourists to experience that deep culture," he says.
Under devolution, Nyeri is the headquarters of the county and the town still yields a lot of attractiveness for business, and boasts enviable political clout.
It is probably the most potent centre for the Mt Kenya region, a hotbed of Central Kenya politics.
A town surrounded by an attractive lush green of tea and coffee and held in the embrace of Mt Kenya and the Aberdare Ranges, Nyeri is the quintessential administrative town.
"It is said God takes breakfast in Mt Kenya, then strolls to the Aberdares through Nyeri for lunch, before heading back in the evening," Kahiga jokes.
Interestingly, that Kiambu is in Central Province meant that people had always travelled from places such as Kikuyu, skirting Nairobi en route to Nyeri, to have their complaints addressed in the province's seat of power.
Paul Wagiita, a human rights lawyer in Nyeri, says the town, by attracting people from afar amplified its status. It got to a point where Central Province was synonymous with Nyeri, in spite of boasting towns such as Thika and Kiambu.
"Those in Nyandarua at some point entered, and immediately left Rift Valley province on their way to Nyeri to seek services. Coming to Nyeri was a real adventure," says Wagiita.
Since devolution, Nyeri town has housed four governors. While some counties have had one governor since 2013, no governor has completed a term in Nyeri. The first and third governors died in office.
The first, Nderitu Gachagua, succumbed to cancer in February 2017 after which his deputy, Samuel Wamathai, took over.
But months later, Wamathai lost to Wahome Gakuru in the 2017 general election, a popular candidate who would die in a car crash in November that same year.
Kahiga is the current governor of the quiet agricultural town.
But while top towns revel in a robust nightlife with nocturnals patronising joints and partying nights away, Nyeri was always relatively quiet.
It is understandable. The wealthy retire to their homes in the evenings, five, six kilometres out of town in budding estates.
This has also meant that for long, Nyeri town has not had high demand for residential houses. Apart from the Majengo slum, few people live within the town.
But now, notes the governor, the town is robust in the evenings.
"Nyeri is no longer the town that sleeps at dusk as evidenced by active night life before Covid-19, with many hotels and entertainment joints operating through the night. Several shops are open 24 hours," he says.
A lot of development is also coming up within the town centre, like the recently opened hotels, FK and Bantu in the town's central business district.
About a hundred metres from the junction that drains the traffic from Othaya into the Nyeri-Nairobi highway, the Ten Commandments were plastered strategically on the side of the road.
In a screaming red, the seventh commandment, "Thou shalt not commit adultery", supposedly kept the town under control.
Nyeri cannot be placed among the most enthusiastic towns in the race for the skies. Modest houses litter the town centre that seems to have stopped growing in height.
The likes of Osman Allu — a small building that is believed to be over 100 years old — have borne the vagaries of time and remain important to the town.
Osman Allu is the shop where long-time resident Joshua Mwangi and his peers used to buy the random piece of soap in the 70s.
"The agelessness of this shop baffles all of us," he says, pointing out that the building is exactly how it was 50 years ago. Many shops around it are as they were, a modest one floor dead in the middle of town.
As a result, the common observer decries the town's inability to grow.
Nyeri is also the home town of Mau Mau heroes such as Dedan Kimathi, Ndungu wa Gicheru, Waruhiu Itote and Muthoni Kirima, among others.
It was home to world famous environmentalist Wangari Maathai, the founder of the Green Belt Movement and the 2004 Nobel Peace Prize Laureate.
Former President Mwai Kibaki also calls Nyeri home.
Nyeri town is approximately 160 kilometres from Nairobi. The county is home to 759,164 people, according to the 2019 Kenya National Bureau of Statistics' (KNBS) Kenya Population and Housing Census.
Apart from the Powell graves and Historical Gardens, Nyeri boasts many other heritage sites.
These include Paxtu Cottage at the Outspan Hotel which also houses a Scout museum, Italian War Memorial Church, Wangari Maathai Statue, Blessed Irene Nyaatha Shrine at Our Lady of Consolata Cathedral, Ruring'u Old Court Museum and Mau Mau Cells.
It also hosts tourist class hotels, lodges, guest houses, homestays and restaurants.
"Nyeri town has one wildlife conservancy managed by Dedan Kimathi University with nine species of grazing mammals that include wildebeest, warthog, Grant's gazelle, impalas, Burchell's zebras, Andean llamas, among other flora and fauna," Kahiga says.
"This is potential that has not been marketed enough to pull in more tourists."
In the recent past, Nyeri has seen a lot of expansion towards King'ong'o, Mweiga, Gatitu and Chaka.
The presence of many tertiary institutions such as Dedan Kimathi University of Technology, Nyeri National Polytechnic, Outspan Medical College and Kenya Medical Training College is a boost to the area's economy as well as education of Nyeri's dwellers.
In the last three years, the town has seen several infrastructural improvements that have boosted its attractiveness to investors.
"The county government has promoted development by ensuring the town has the necessary infrastructure," says Kwai Wanjaria, the lands, physical planning, housing and urbanisation Executive.
"Currently, Nyeri CBD has no road with potholes, all parking spaces are paved, the greening programme is underway and street lighting is done."
Wanjaria says they are also building the "biggest transport termini in Kenya" that will reduce congestion and promote the economy.
After all, a town which is among the oldest in the country and which boasts such a rich heritage needs some good planning if only to appreciate its perseverance through years to remain as important to the locals as it was a century ago.