Tips to get higher maize yield during erratic rains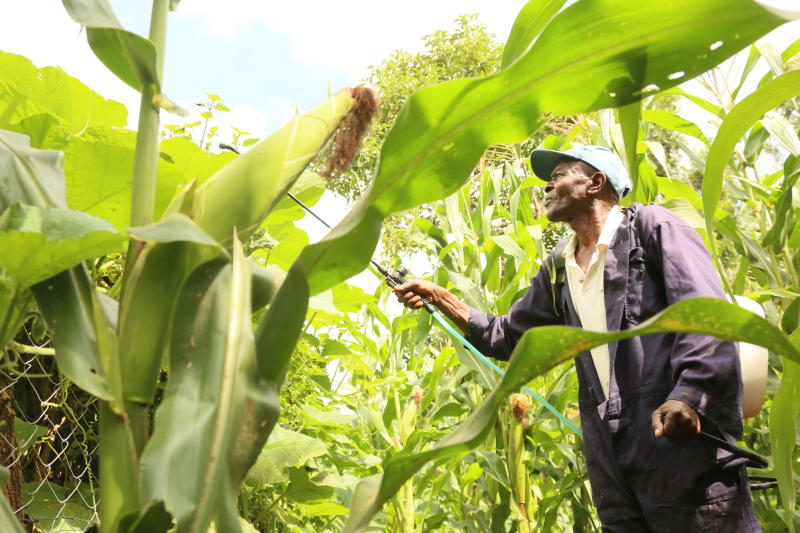 In June 2014, Bondo in Siaya County was in the grips of a dry season. Saturday Standard journalists visited a farmer, Oyoo Awuondo, at his scorched maize field.
The maize had all the signs of a failing crop. "This is not likely going to end as I had expected when we planted," Awuondo said.
Farmers like Awuondo know too well how drought affects yield. Lack of rain almost certainly banishes a crop to failure. Tom Dienya, the Head of Agricultural Statistics Unit at the Ministry of Agriculture, says maize is the most important crop in Kenya.
Low yields
"It is the most consumed crop in Kenya," Dienya told Smart Harvest via email.
Farmers in Kenya produce, on average, 40 million 90kg bags annually. In 2019, 43 million bags were produced.
Maize is therefore a staple crop whose importance in the Kenyan diet is enormous.
It is for this reason that last month's announcement by the Kenya Meteorological Department predicting depressed short October-December rains is important.
Because of below average sea surface temperatures in the India Ocean, several parts of the country are expected to experience low amounts of rainfall.
Rain patterns
In a communique issued last month, Met said the short rains are likely to start in the third or fourth week of October in some parts of central Kenya as well as in the capital City, Nairobi.
Cessation of the rains is predicted to fall on the fourth week of November 2020 and the first week of December 2020.
In the coastal strip, South Rift Valley, north-eastern, southern Kenya and parts of the coast region, the weatherman said cessation would come later in the last weeks of December.
"In the month of December sunny and dry conditions are expected to prevail over several places as the cessation begins," the weatherman's statement read in part.
A few places – some parts of Western, Nyanza, Rift Valley and Central Kenya – are expected to receive good amounts and will not be affected as much.
The Ministry of Agriculture has identified unreliable weather – due to climate change – as a primary factor contributing to maize crop failure in Kenya. According to the Ministry, Trans Nzoia, Uasin Gishu, Bungoma, Nakuru, Elgeyo Marakwet, Narok, Migori, Kericho, Nandi – in that order – produce maize the most.
"These areas are the best maize producing areas because of reliable rainfall," says Dienya.
The way forward
How will farmers be affected by this and what can they do to avert possibility of debilitating losses?
"There is one critical way maize farmers should respond to the short rains: plant the right variety," says Simon Maina, the acting General Manager in charge of Quality Assurance at Kenya Plant Health Inspectorate Service (Kephis).
Plant right variety
The best for depressed rains, Maina says, are drought tolerant and early maturing varieties.
"Drought tolerant varieties do well even when rains are not adequate. The crop utilises little moisture available in the soil to produce nearly as good as regular varieties," Maina says.
Jesse Mbugi Kariuki, a farmer from Njega village in Kirinyaga County, attests to the beauty of drought tolerant seed varieties.
In January 2017, big sections of Kirinyaga County suffered drought. Njenga village was one of them. "It was unusually dry," Mbugi says.
Luckily, for Mbugi and hundreds of other farmers, Icoseed, an NGO that operates in Kirinyaga, collaborated with Kenya Agricultural and Livestock Research Organisation (Kalro) to deliver drought resistant maize variety seeds to farmers under its umbrella.
"I was sceptical initially because it was just hard for me to believe that there was maize that could perform well under dry conditions," Mbugi says.
Though doubtful, he accepted to plant the variety: WEMA 1101 variety.
According to the International Maize and Wheat Improvement Centre (CIMMYT), the WEMA (Water Efficient Maize for Africa) was aimed at helping farmers manage the risk of drought. "We learnt about WEMA maize around 2016," says Patrick Muriuki, the Managing Director at Icoseed.
There are many drought resistant maize varieties. According to Patrick, Icoseed went with WEMA 1101, "after tests – including tests to determine soil properties and qualities – were done."
The crop did extremely well, to Mbugi's delight. "I was surprised at what science could do because I produced as much maize as I would under favourable weather," he says.
According to Muriuki, some farmers reported harvesting as much as 40 bags per acre – an abundant harvest well above average for the mainstream varieties, which fetch about 30 bags per acre.
Before growing WEMA 1101, Mbugi had been planting indigenous maize varieties, and a few others popular at Agro vets.
"In the drought seasons, I have never produced as much as I did with the WEMA maize," he says. Farmers in neighbouring areas thought Mbugi had been using borehole water to irrigate his farms.
"My farm was green despite the drought. And people did not believe that the only difference was the maize variety that I planted."
Fast maturing type
The other advantage that the WEMA variety offered farmers was maturity time. WEMA maize is ready for harvesting after three and a half months. Dr Benjamin Kivuva, the Assistant Director, Seed Production Systems at Kalro, explains that early maturing varieties are primed to grow fast while also yielding a lot.
"We usually advise farmers in arid and semi-arid areas to plant these varieties – some which are specific to particular areas," Kivuva says.
He adds: "There are two likely scenarios. One is when the duration of the rain season is shorter than expected. Two, is when rainfall is erratic and unpredictable."
When the rainy season is shorter, Kivuva says, the solution is to grow early maturing variety. "Planting should take place at the onset of the rains," he says.
Subsidised fertiliser
Erratic rains present a much more difficult scenario.
"With erratic rains, farmers risk most of their seeds aborting as the moisture content fluctuates without steadying," Kivuva says.
According to Dienya, several policy measures are being implemented by the ministry to minimise losses that occur because of climate change.
"For instance, we are implementing plant protection policies, free trade market policies, food security policies and restricted imports when stocks are adequate," Dienya says.
"The government has also been providing subsidised fertilisers and seeds to needy farmers. The government also provides subsidised insurance for small-scale maize farmers."
Mulching
According to crop experts, use of mulching during this season of depressed rains helps conserve the little water in the soil.
According to Food and Agriculture Organisation, the use of cover crops and mulches protects soil surfaces from: rainfall impact, surface sealing and runoff – resulting in increased water infiltration into soil profiles; and the sun's heat, evaporation and burning of soil carbon, which over time will lead to increased organic matter and improved structure of the soil profile – resulting in increased water holding capacities.
Plants that are mulched are protected from harsh temperatures. The layer of mulch also protects the soil from erosion, caused by wind and heavy rains.