I started an award-winning organisation while still a student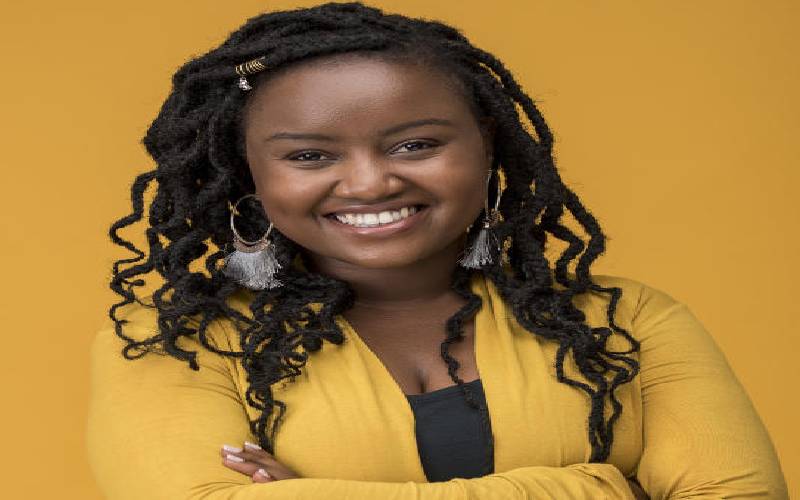 She was 21-year-old university student when the idea began swirling in her head. They had just had lectures about the effects of bad nutrition on children and she had to do something about the poor children back home in Kenya. Armed with nothing more than an idea, she set off putting it into action.
Meet the 28-year-old Wawira Njiru; founder of Food for Education, an organisation that provides subsidised meals to more than a million school-going children. The winner of the 2018 Global Citizen Prize for Youth Leadership that came with a $250,000 cash prize, explains what it took to start and run the massive programme.
How did it all begin?
I was in university in Australia studying for a degree in Nutrition and Food Sciences when I started Food for Education. That was in 2012 when I thought I could change the world. During my first year, I was already thinking of what I would do for children in Kenya when I come back home. I was learning about the impact of poor nutrition particularly on children and I wanted to ensure they have the right food especially in school. Many children go to school hungry in Kenya and around the world and this affects their ability to grow and learn. I wanted to get a solution to this. So in 2012, while still in Australia, abroad, we began Food for Education, a non-profit organisation that provides subsidised nutritious meals to children in public primary schools.
How did you raise the funds?
I did the initial fundraising while doing my undergraduate degree in Australia. I was working at three to four jobs at a time to put myself through university as well as to raise the initial capital needed to start the organisation. I held a fundraiser with a few friends (whom I made for chapatis and other Kenyan foods) that raised Sh125,000. With this amount, we built a kitchen, hired a cook and started cooking for 25 children daily in Ruiru, my home area. We have now grown to providing meals to 30,000 school children every day
What is your goal?
Take a quick survey and help us improve our website!
Take a survey
Our aim is to feed a million children a day by 2025. We have a team of 60 people in our two central kitchens to help us achieve this. The goal is to scale up the operations and expand the programme across the country. We also want to leverage on technology such as Tap2Eat, an app that uses mobile money transfer service to top up for the children's lunch. It is worn as a wristband and tells parents that their children have eaten.
How do you fund the feeding project and pay the employees?
Our funding comes from donors. These are well-wishers both in and outside the country. Then the parents get to subsidise the meals through the contributions using the app. Parents happen to be the largest contributors to our programme. Their contribution accounts for over 60 per cent of the cost of a meal. They contribute Sh15 which allows them to directly invest in their children's nutrition. Through Tap2Eat app, parents can make easy prepayments that allow their children access quality meals.
How do you ensure your pitch for donor funding is perfect?
It is all about credibility. Be sure that every figure in your pitch is justified. What you want must be clear in your mind. You must know what you want to accomplish.
How do you ensure that cash flow issues don't lead to hungry children?
Cash management is key. I have learnt how to budget better, how to manage cashflow and have adequate financial projections. With a growing team, we always have to be careful to make sure we are able to make a payroll, feed the children and continue to expand our operations. We have strong financial structures that enable us to run properly. From a strong board, a competent finance team and the right policies in place, we are able to manage our finances well. We also audit our finances each year to ensure everything is running as it should be.
What business challenges do you face?
Our biggest challenge has been in creating systems and streamlining existing ones so that we scale up and feed as many children as possible at the lowest cost possible.
How do you manage the sizable work force?
I believe in good people management that aligns them towards your declared vision. It is about creating good structures that enable all people in the organisation to feel valued and motivated. I have also set clear responsibilities.
What are some of the mistakes you have made along the way?
When I came back in 2014, we tried some pig farming hoping to subsidise the new venture. They were doing well but they died of swine flu. That set us back quite a bit and we were unable to scale up as fast as we intended. I realised pig farming was not for me. I learnt it is wise to invest in something you know much about. Thereafter we began a restaurant in Ruiru and a food delivery business within the town. Then we moved the restaurant to Kilimani. The restaurant is a business by itself where the profits are used to subsidise school meals.
Then Covid-19 pandemic hit. How has that affected the organisation?
Yes. At the start of the year we had set a goal of feeding 100,000 children everyday by the end of 2020. This would be a tenfold growth from the 10,000 we currently feed. Then schools were closed owing to the Covid-19. However, we have used this period to complete the construction of our second kitchen in Dagoretti South Constituency that will see us feed an additional 20,000 children everyday. With schools now opened, we have resumed plans for the construction of our third kitchen that will bring our total to 100,000 children a day by the end of 2021. Since schools closed, we have been providing meals to children and their families, providing food packages and hot meals equating to 2,000,000 meals between April and September 2020.
What advice would you give to young people with big ideas but limited by resources?
My advice would be to just start. Start with what you can, with where you are. We started with feeding just 25 children at a run-down kitchen at a local church. We have picked up lessons along the way that have shaped us and we are where we are now, feeding 30,000 children everyday once schools resume at full capacity.