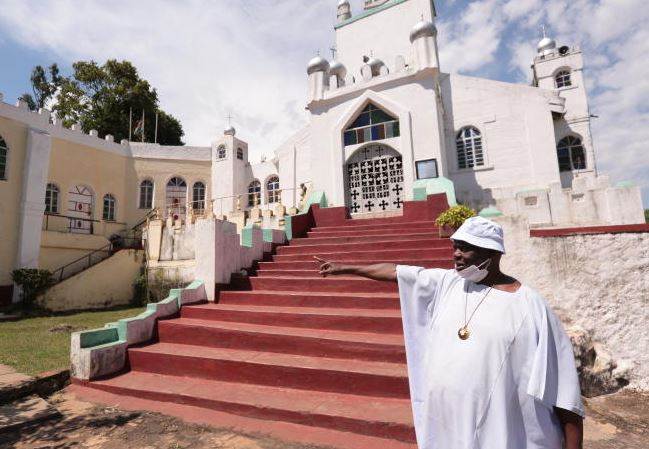 A mention of the Coptic Holy Ghost Church raises adrenalin levels among residents of Kisumu, especially those around Mamboleo.
The church whose operations continue to baffle many is not new to controversies. Some associate it with mysterious road accidents along the Kanyakwar-Mamboleo Junction stretch, on Kisumu-Kakamega Road.
But Father John Pesa, the leader of this church, dismisses them as unfounded claims.
Healing prowess
Every January 14, he leads church members in a march from the church to Kisumu Central Business District to mark the church's anniversary. The congregation is provided with police security to prevent attacks by those who claim the walk is sacrificial and invites bad omen in the area.
Read More
Pesa is aware of his church being associated with evil powers, and has on a few occasions reported the claims to police, but no action has ever been taken.
"But where do I get the power to control gravity? Accidents happen everywhere, and I do not understand why people must associate me with this black spot," he told The Standard.
Many consider him mysterious, but Pesa says this is a scheme to downplay his healing prowess. Some church leaders in Kisumu have even accused him of "diverting" their angels to his church.
When The Standard paid him a visit at his office on Thursday afternoon, he was conducting prayers for a few believers.
After the prayers, he gives us audience, starting the conversation by asking us what people are saying about him, and then moves to explain his beliefs.
Donned in a white rob, white cap and white face mask, he presents the image of a calm man of God.
A walk into the church premises greets you with people kneeling down for prayers at all corners, others chained on both legs, while others whisper in small groups.
Sometimes, high-end cars are parked in the compound, with people coming in and out of his "special" prayer room.
The design of the church is as mysterious as its leader, with narrow corridors snaking through the over 100 rooms within that single premise.
Pesa says he borrowed the design from Syria and Goa. "We have offices, accommodation rooms, prayer rooms and visitor's rooms here," he says.
Within the church, the acceptable greeting is waving of the index finger.
The form of greeting might appear cultish, but the cleric says it is Christian, and originates from the Bible in the book of Ephesians Chapter Four verse Four.
But why is Pesa so feared, such that he is rarely spotted in inter-religious gatherings despite his church being one of the oldest and most famous in the country?
He claims he is the poorest religious leader of his stature, with no bank account, no investment to his name, no wife and no children, and no mobile money account.
He is not sure of his exact date of birth, but records indicate he was born on September 25, 1952, at King George Hospital, now Kenyatta National Hospital.
According to Pesa, his mother Margret Wanjiku died immediately after he was born, and then he was taken in by the Kaplong Catholic Mission in Bomet, where he was raised by a Sister Beligna.
Later on, he says Vincent Pesa, a resident of Karungu in Homa Bay County was identified to be his father, and he was transferred to nearby Nyandago Catholic Mission where he grew up.
He says he began to experience spiritual powers in 1958, and began his healing, something he did during his life as a Catholic priest, both in Kenya and Tanzania.
In the 1960s, he was suspended from his role as a priest, which saw him join African Roho Church where he served for few years before starting Coptic Holy Ghost Church.
Next leader
"I had conducted a healing while in Bukoba, Tanzania, when a woman visited the mission with a sick baby, to seek for prayers. The clergy were not pleased and decided that I should be stripped of my role as a priest," he says.
It was then that he got engaged in prayer missions across Nyanza, earning a huge following.
In 1971, Pesa laid the foundation stone for Coptic Holy Ghost Church Mission in Kisumu, which has since been the church headquarters.
During a funds drive to construct the church, members were each to contribute Sh1, and to date, the church offering remains at Sh1.
And as he approaches his sunset years, Pesa hopes that the person who will take over the steering of the church maintains its doctrine and keeps it stable.