Lucky to be alive, says football star Otieno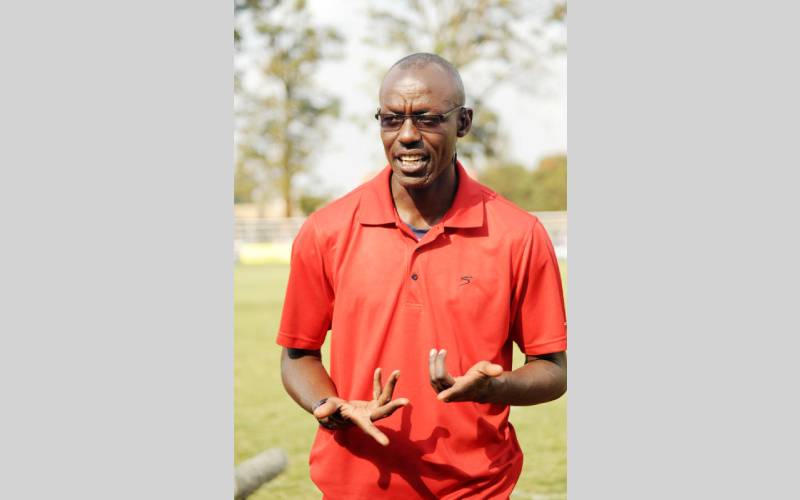 Former Harambee Stars captain Musa Otieno (pictured) has opened up on his struggle with Covid-19, saying he is lucky to be alive.
The 46-year-old former national team defender, who is recovering from the coronavirus, has termed the experience as scary. He says he contracted the disease while helping the vulnerable people in a Nairobi estate, through his Kick Off to Hope organisation.
The former AFC Leopards, Tusker, Santos (South Africa) and United States' Cleveland City Stars centre half re-tested negative for the novel coronavirus on Monday last week at Kenyatta National Hospital after finishing a 14-day self-quarantine.
Otieno was admitted on June 26 at Mbagathi Hospital and discharged on July 5.
Narrating how difficult it has been for him to cope with his new way of life – isolation and boredom – Otieno, who captained Harambee Stars at the 2004 Afcon finals in Tunisia, said no one is immune from the disease.
"I thank God for everything. At the moment, I'm feeling much better compared to the first few days when I was admitted at Mbagathi Hospital. I can now walk around and I don't have those Covid-19 symptoms anymore; chest pains, coughing, fever and sore throat," Otieno said.
He says it had never occurred to him that he could contract Covid-19.
"It's just unfortunate that I got it while on duty distributing foodstuff to the vulnerable groups. I wasn't feeling well and I went to Mbagathi Hospital for a test."
Otieno says as a sportsman, he always strives to stay fit through regular training and had not visited a hospital for a long. But this time he had to stay in hospital for 11 days and that "taught me a lot".
"My biggest problem was that I was struggling to breathe. There was no fitness anymore, and I just wanted to get better and leave the hospital."
And as isolation prevents him from continuing with his usual lifestyle, Otieno says he has come face to face with stigmatisation.
"This is not something that anybody would like to contract by socialising with you. Sometimes when I get out of the house or walk in the neighbourhood, I see people pointing at me," he says.
He says living with the virus even for a day is an experience he would not wish anyone to go through. For now, his normal training routine has to wait for him to fully recover.
The football star says even when he will resume his normal life, he will have to be self-disciplined and adhere to the health guidelines.
"Once I was discharged I felt like I had already overcome the battle. Yes, I was going back to my house under restrictions with no visits, but it came with some freedom; I could do anything I want in my house," he says.
"The first three days were a bit difficult for me because I wasn't used to staying in the house but after the fourth day, I started adapting to the new lifestyle."
After retiring from football in 2011, the former Harambee Stars assistant coach returned to Kenya and started his Kick Off to Hope organisation, previously Musa Otieno Foundation, six years ago.
"One thing that brought me back after my retirement was to analyse KPL matches on DSTV's SuperSport as well as work with my organisation," he says.
"I then had some coaching experience with FC Talanta before deciding to focus on my organisation as I tried to give hope to the community through mentorship programmes and a football academy."
Otieno says his organisation has supported over 600 families during the pandemic, adding that he has partnered with donors from the US and Germany to repaint Dr Krapf Primary School, donate 20 computers, install a 10,000-litre water tank and refurbish the library.
"It has not been easy to raise an annual budget of Sh1 million but we are trying our best to bring hope to over 150 children we are working with," he said.