Smell of money: The millionaire chamas of Marikiti market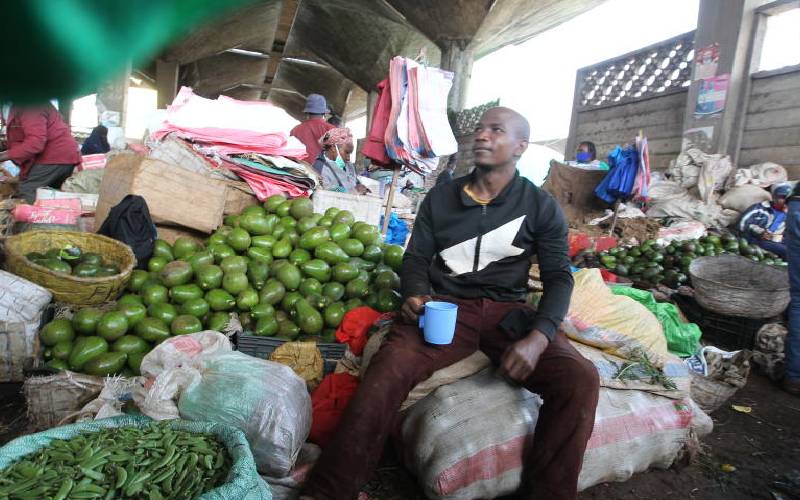 Wakulima Market or 'Marikiti' is one large pipeline of food to residents of Nairobi. It is noisy, dirty and has always been busy since opening shop in 1967. It's not the kind of place anyone would imagine is a hub of millionaires.
But Maritiki, Kikuyu corruption for 'market', has churned out millionaires in real coin on the back of trading in potatoes, tomatoes, hoho, nduma, nguace, maize, beans and assorted fruits.
For starters, traders in the chaotic market have a collective business turnover of between Sh100 million and Sh500 million in a day! That's before deduction of operating costs, according to Cyrus Kaguta Githaiga, the chair of Marikiti market
Such money can attract dark forces — which is why there are daily interdenominational fellowship sessions to fight juju.
Though initially meant for 300 traders, the market now serves over 20, 000 people, comprising farmers, wholesalers, brokers, retailers, vendors, handcart pushers and the kua - the carriers on whose backs and shoulders sacks reach different bus stops en-route to the soko and then your plate.
The profit margins are eye-watering. A trader can go home with anything between Sh10,000and to Sh50,000 in one day.
The bulk of traders are members of the Wakulima Market Traders Association Group, the chama which collectively run different businesses, including trucks, parcels of land in Thika, Juja and Ruai, besides owning several buildings around Kenya.
There are also other chamas, mostly operated by women since the 1970s when, like all chamas, they started with dishing out money merry-go-round style in the 1970s. Some early members died and their children inherited the shares.
The contribution is mandatory and one is fined for failing to make a contribution in time. A normal group has between 10 to 20 members who contribute between Sh500 and Sh1,000 a week.
The high rollers are in a different league, as they contribute Sh10,000 or more daily.
Faridah Oronga a trader at Marikiti says through the chama, "I have educated my children and made other investments. Our chama has bought parcels of land valued at millions of shillings. I will get my share the day we decide to dispose of the lands. We have also invested in lorries that transport goods to various parts of the country."
Faridah adds that besides business, the chama also serves as a social welfare group. Each member contributes Sh1,000 to a sick member and "it is a must to contribute. Those who fail to contribute will also not get any help when they are in need. During burials, we hire a bus and select a few individuals to represent us. We don't let our own to suffer. We live as a family."
Salome Wanjiru has been operating at Marikiti since 1997 and says that "we oil the economy," besides making individual investments like buying land in Ruai. She says most Nairobians perceive them as simple market women yet "we own several buildings" and money from the chama has boosted her "dairy and poultry farming business back in the village, and all my children have completed university."
The traders also have access to readily available loans. Margaret Muthoni, a trader, says they borrow small guaranteed loans in the morning and repay in the evening. "I make enough to pay back the principal and keep the profit. The secret is to take advantage of the compounding interest."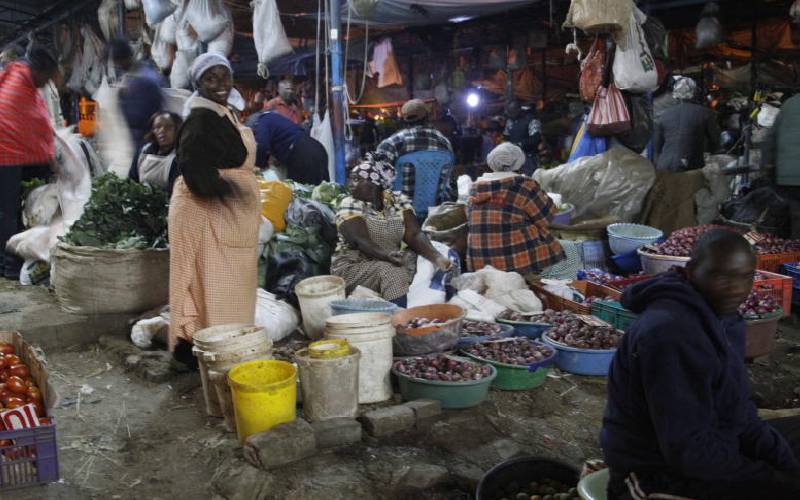 The market has 28 different sections with different products and thus, different chamas. Those dealing in potatoes and onions could for instance have their own chamas. There are 20,000 non-registered and 8,000 registered members, but all groups fall under All Wakulima Market Traders Association with an elected chair.
Money collected by all the chamas easily oscillated between Sh100 million and Sh500 million in a day and Githaiga is proud: "We have created wealth and are successful. Most of us have built homes, own matatus and made investments worth millions of shillings using this concept. We realised that this initiative is a powerful tool, which has a lot of benefits."
Githaiga ensures all traders' rights are respected, besides providing a conducive environment for working. "We pushed for the closure of betting shops near the market because traders were becoming lazy and spent their earnings betting. Every day, we have a fellowship at 6am through Wakulima Interdenominational Pastors Welfare to fight juju," he explained.
Githaiga says some of the biggest challenges is garbage disposal and "hawkers who create congestion on the roads adjacent to the market. Hawkers are good investors if they are managed well, but should be designated on less busy roads."
Githaiga wants the county government to look into, among others; the expansion of Marikiti besides, improving its drainage system, refuse disposal and recycling of garbage. Other downsides are that "many people don't like coming to the market because they say it is dirty and insecure."
He says that for the chama to be successful, 100 per cent integrity is a must and rules should be set in such a way that if someone breaches them, they are fined. Discipline is key."
Stella adds that to understand table banking, one has to look at cooperatives as a bigger version of table banking with the difference being that they have "greater numbers and systems to control the numbers, but the bigger the number, the larger the complications. However, they're regulated and you can save and borrow three times your savings and at friendly interest rates."
One problem with cooperatives is that shares are controlled as some put a cap on monthly contributions, besides resolutions being passed during an AGM.