Making waves in world of shipping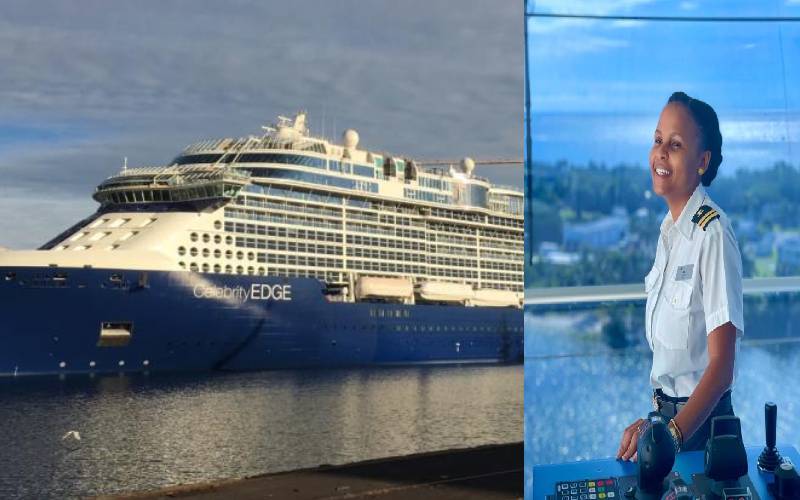 Kenya's first woman maritime pilot is now the second in command of a cruise ship, Celebrity Edge, after she was promoted to first officer.
Announcing the happy news, a week ago, Elizabeth Marami tweeted: "September 18, 2021! I officially took over as 1st Officer on Celebrity Edge. Never EVER give up on your dreams."
Celebrity Edge is the largest ship on the fleet operated by Celebrity Cruises cruise line, headquartered in Miami, Florida.
Marami has chartered a path least followed. In the world, women account for a paltry two per cent of employees in the maritime sector.
Yesterday Principal Secretary, State Department of Shipping and Maritime, Dr Nancy Karigithu described her promotion as a "statement that women can achieve anything if determined."
''Indeed her focus, hard work resilience in the face of seemingly insurmountable challenges are worthy of admiration. She is indeed a great inspiration and mentor to the youth back here in Kenya, not least those who are aspiring for maritime careers,'' the PS said.
Women in Maritime in Eastern and Southern Africa Kenya country chapter chairperson, Fiona Mbandi expressed delight at the elevation of Marami.
"This is what we aspire to see. When the girl seafarer goes to achieve the highest level in the area of specialization, it gives encouragement to others who are yet to board," she said.
Marami's journey to success has been inspirational.
After her studies in Nautical Technology at the Arab Academy for Science Technology and Maritime Transport in Alexandria, Egypt, she came back to Kenya in 2014 armed with her first license but struggled to get placement aboard ships.
This was the only way she could grow her career.
"I walked from door to door to different shipping companies for three years to get placement, I got turned down severally because of gender and as time went by, age.
"I watched my male colleagues progress as they got placement in a company that rejected me because I was female," she narrated in the tweets where she announced that she almost quit.
Questioned my purpose
"I must admit, I had days I questioned my purpose..." she said. But nine years later, after her graduation from Egypt, a company offered her an opportunity as a cadet.
"I studied in Egypt in 2009 because at that time Kenya was not mandated to offer courses that would be internationally recognized by International Maritime Organization (IMO)," she said.
In 2010, Kenya was listed in the so-called "white list" which now enables Kenyan colleges to offer IMO recognized Standards of Training, Certification, and Watchkeeping (STCW).
But even then, it still wasn't enough. This is because although Kenya has a national shipping line, it does not own ships.
Then she caught a break.
"News came in and MSC (Mediterranean Shipping Company) signed an MoU to revive the KNSL! This was probably the best news ever."
Marami became part of the first batch of one officer and 15 deck ratings to go onboard. And her career begun to sail to great heights.
"MSC finally gave me an opportunity that was denied to me regardless of gender," she said.
She became Kenya's first commissioned woman marine pilot.
"I have remained keen in advocating for policies that favor both genders and ensure that there are equal opportunities in the maritime industry," Marami says in one of her blogs.
Marami is the daugther of a Mombasa-based surgeon and career teacher who grew up in Mombasa and wanted to pursue law after her high school studies.
In 2014, she successfully passed the International Unlimited Second Mate license examination, making her the first female marine pilot in Kenya, at age 25.
She engages in a series of mentorship initiatives like Girl Education Challenge to help girls to go to school. She is also a member of Women in Maritime in Eastern and Southern Africa.