Prayer payment appeal starts at Court of Uphill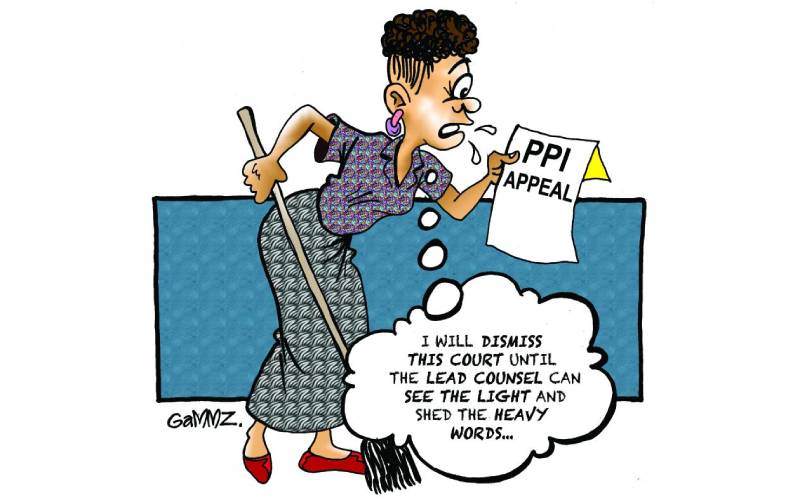 As young, vibrant lawyers rolled up their sleeves and went into a legal war with their veteran learned friends at the Court of Appeal over the Building Bridges Initiative (BBI), Harold was launching his own sensitive appeal in Gitegi.
Frustrated two weekends ago by Sue's disappearance in Naivasha, Harold is ready to do anything to get money that will give him a chance of accompanying Sue to whichever other haunts she may desire in the future.
As you may remember, Harold's Prayer Payment Initiative (PPI), which would generate him loads of cash, flopped spectacularly, leaving Harold, who abuses animal proteins, with an egg on his face.
But when the Hi Court, made up of a jury whose case determination always attracts appeals and who are constantly high on Sue's liquor, trashed his case, he was distraught.
It was thus a reprieve to be told that the two leaders, whose BBI had been declared null and void by the High Court, were launching an appeal.
He had found inspiration. "Pete," he called me one evening from the kitchen where he was making good use of the exaggerated budgetary allocation he directed there on budget day. "You will be my lawyer, right?"
To fight the trauma that came with imagining that Sue might have been part of a crew that advanced promiscuousness in Naivasha, Harold spent long hours in the church.
He did not go there to pray; neither was he meditating. Harold was watching the Court of Appeal proceedings.
It is the cold season and so he packed himself arrowroots and a flask of tea every time he left the house for church.
He also feared that if he was captured out by his enemies, who feel he watches too much TV while they have to pay for every moment they glance at the TV, they would murder him in cold blood. To prevent that, he wanted his blood warm at all times.
We prepared to face the local jury, which would listen to our appeals to have the PPI, as a popular initiative supported by at least two people, revived.
In case you have forgotten, PPI is initiated and promoted by Harold and is supposed to give him money through the faithful's contribution for prayers.
As a trusted priest, Harold argues that he should be paid for every prayer he makes, whether it floats just under rain clouds or if it ricochets off tree canopies and loses power to climb higher.
There are only a handful of people who trust in Harold's prophetic powers. I am one of them, because Harold is able to determine, with dumbfounding ease, which days he will get more drunk than usual, which day someone will attempt to move the church fence to make the compound bigger and when Harold will be tempted to deny me food.
We planned our submissions. Yours truly, advocate in the coat of Harold (only one he owns), was the lead counsel. I suggested that lead counsel was a heavy moniker but Harold insisted.
I wore his old cassock which, oily, looked properly black. We then visited the local sheep shearer for a wig and, smelling like a whole herd, proceeded to the Court of Uphill, which stands on Gitegi's highest ground, which is where the High Court ought to be.
My team of appellants comprised me and my equally small-minded peers, most of them, people I have formerly recruited in missions that helped Harold make a statement in the village, such as harvesting people's corn to remind them that we know cons when we see them and they should not try Harold.
The defendants had been recruited by Ndumia, who is Harold's de facto assistant at Harold Assemblies of Holy Associates (HAHA), and Sue, who would be sitting in the panel of the judges we would be labouring to please. Sue is also a Hi Court judge, and sometimes calls herself Amicus Kuria.
I was the first to make my submission. "My lords, and Harold's lady, I am here to express my dissatisfaction at the Hi Court for dismissing the PPI.
I feel that this is a discombobulating attempt at massacring justice, extinguishing chances of a citizen who deserved an unbiased hearing," I started.
The big English bamboozled a bench which, left exposed by my unmatched grasp of English (which many people claim is the route to winning a case) requested to include a member of the Soup Rim Court, the highest in Gitegi in altitude, and the worst in attitude. The judge is called John.
At which Ndumia, the head of the Court of Uphill and also the defendant, and who has the worst understanding of the queen's language, announced that they had added John to the bench.
"We have add-John-ed." The court was dismissed by Sue until a later date when the lead counsel can see the light and shed the heavy words.