Put power under your feet, don't let it go to your head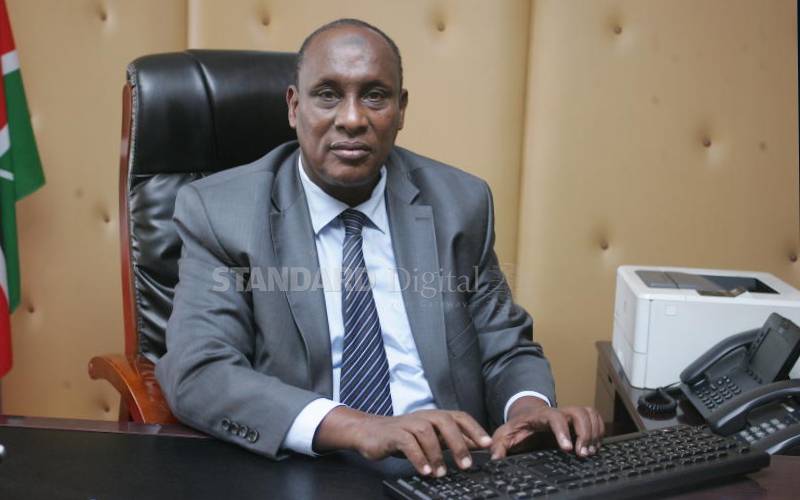 "One time an old man called me," he says, with the air of one retelling a story over a fire. "This old man had not gone to school, but he was one of those very wise old men. I was barely 18. He said, 'Young man, you might go far in life, but remember one thing: if you get power, please put it under your feet. Not on your head to show off. Because if you put it on your head, like a nail, it will bring you down. If you put it under your feet, it will uplift you."
That sage advice has guided Ministry of Interior Chief Administrative Secretary Hussein Dado's life.
He is no spring chicken, but he isn't quite sure how old he is. "I am about 60, 62, 63 around there - you know, during our time these births were not recorded, so you don't know exactly," he says, laughing. "You just assumed you were born on a certain date."
"But age is just a number. I thank God I have been healthy so far. I have not been touched by all these lifestyle diseases like high blood pressure, high blood sugar and all that. I only hear people complain about them," he says. What's the secret? I ask.
"I am a very happy and optimistic person. I don't keep grudges. I forgive easily. I try to understand. Even if you wrong me in any way, I try to give you an excuse so that by the time we meet again we have overcome whatever you did. I never keep grudges. I don't go to bed thinking about how somebody wronged me. I let it be that person's problem."
In 1978, he was just one of the many faces employed here in Harambee House. It was a good job. After all, it was an upgrade from being an untrained teacher in Tana River county.
The role he plays now, CAS, did not even exist yet.
If he had had a crystal ball to see into his future, though, he would have had mixed feelings about it. "There have been very good times and there have been things I wouldn't wish to remember," he says.
One of the good ones has been having a family. He and his wife have five children. He got married on April 19, 1986.
"Although I am a Muslim, I am only married to one lady and we have lived very peacefully up to today. She is Aisha Shora Guyo. As Muslims and even as our community, we don't change names when we get married," he says, pre-empting my curiosity.
"Everyone keeps their name. It was an arranged marriage - but a success!" He quickly adds, laughing.
"We don't date. Okay these young ones these days date," he says, "but during our times you'd check whether they were a good family, whether she was a good girl and well behaved, and the family would go and ask her family for her hand in marriage.
"As a man you would struggle to try and see her from afar and then say yes," he remarks, with a belly laugh. "Was the first time you met really on the day of the wedding?" I ask. "Yes!" he says. "But that kind of love grows, you know." Was it awkward getting used to each other?
"No, it is so unique - You start adjusting to each other slowly and over time it grows into love. You will have known everything about that person through your friends. Incidentally, when they don't like you, they elope with someone through this other love thing. So for that period, if she persevered and waited for you, you will definitely know."
Shot in the line of duty
The bad times have included narrowly escaping with his life. "When I was a DC in Baringo, I was attacked by bandits in Garsen in 1999 January where they broke my left leg.
"They were shooting indiscriminately at the land rover we were in. The bullet hit my leg here (he motions to a spot above his knee), came out from this other side and ricocheted to the person sitting next to me. He was also injured. Thank God nobody died."
They fitted him with an iron plate that was removed after three years.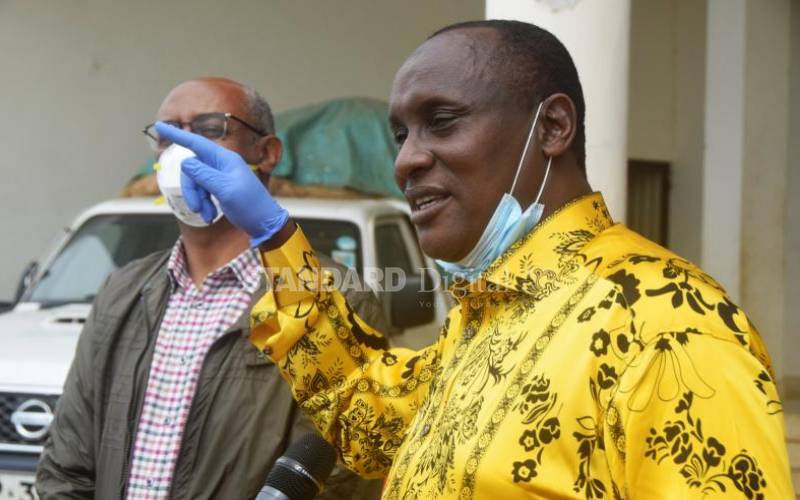 Some of his experiences have been beyond most people's dreams (and even his, at one point) such as counting the president as one of his good friends when he was a junior person career wise.
He was working in Garissa in personnel services at the provincial headquarters when he was recruited as a District Officer in 1986.
He visited the old man once again, who told him: "Young man, you have taken a job that has taken you to other cultures. You will find something that is laughable to you that is an important cultural practice to others. Please don't laugh at other people's cultures."
That is how he got along with the people in the places he was posted, which would be Kisumu, Kisii (where he started a division called Nyamache), Nakuru and Nyeri. While there, he became acting District Commissioner and was promoted to go to Mandera in 1994, then ended up in Baringo.
"Baringo is where I stayed for over six years and you know how thorough Mzee was," he says.
Working under Moi
Mzee refers to the late President Moi. He says that DCs then would last three months, a year, sometimes two years, so lasting as long as he did was out of the norm.
"It was so funny that when he decided to move me, at one of the functions he told me, "Bwana DC, you know people have started calling you Lambert. I said, 'Mzee, me? Lambert?' You know I'm a Muslim. He said, 'Enda angalia mbao ya ofisi yako'. Baringo started in the 1940s, and there had been a DC back then who had stayed for about five years, so he was trying to say that I had really lasted too long!" he says, laughing.
"Working closely with Moi gave me a lot of experience. I really looked up to him," says Dado.
He was moved to Machakos where he was DC for two years, handling some of the worst crises of his career - the Kyanguli fire disaster and the railway disaster at Athi River. He becomes pensive while describing it.
"I was at the scene at 3am when the dormitory was burning and caving in on the children and there was nothing we could do. Then counseling parents for a whole month, in between convincing them to bury the remains in one grave for a national funeral which brought together all the leaders, including all the opposition sitting with Moi for the first time.
"Then, nearly six months later there was also the railway disaster at Athi River, which I also handled. Those were not very good times."
After being DC in Machakos, he was appointed ambassador to Namibia.
That was in February 2001. He stayed on as ambassador for three and a half years despite the change of government in 2002.
On returning, he briefly became senior deputy secretary in the Ministry of Foreign Affairs briefly, then in the Ministry of National Heritage, before running for Garsen MP in 2007 and losing to Danson Mungatana.
He was then appointed as one of the directors of Kenya Plant Health and Inspectorate Services (Kephis). "I resigned in June 2012 from Kephis and tried my hand at the gubernatorial position in Tana River and became the first governor. And at that time Tana River had just come out of a bad time where there were a lot of tribal clashes.
"Because people didn't understand what they were getting into, I selected youth, women and elders from all the warring communities and took them on a trip to Rwanda. My reason for doing that was to give them that shock therapy of what clashes and war can lead to. The kind of genocide that happened in Rwanda can happen anywhere.
"They were so shocked that when they came back they became my best ambassadors of peace!" he says.
When he ran again in 2017. He lost narrowly and contested the case in court but it was thrown out.
"Luckily, the president decided to appoint me on the same day that my case was thrown out. It was thrown out at midday and by 4pm I was a CAS - a newly created post where I became one of the first holders. I was posted to devolution," he says.
Going back home
"Finally, during the last posting I was brought here. It was quite exciting for me because it was like I was coming home. Provincial administration has been my home. That and security are my passions. I love my country," he says.
When it comes to throwing jabs as politicians are wont to do to each other, count him out. He is one to take the high road.
"People say that politics is a dirty game, but politics is only dirty when played by dirty players. At the same time, it is not true that politicians are liars - only those who want to lie do that," he says.
Tana River never leaves his mind.
"I wish for Tana River people to live in peace and harmoniously. They shouldn't see themselves through the eyes of different communities, but as one people, for them to move ahead," he says.