From a boy with a lisp to one of world's biggest influencers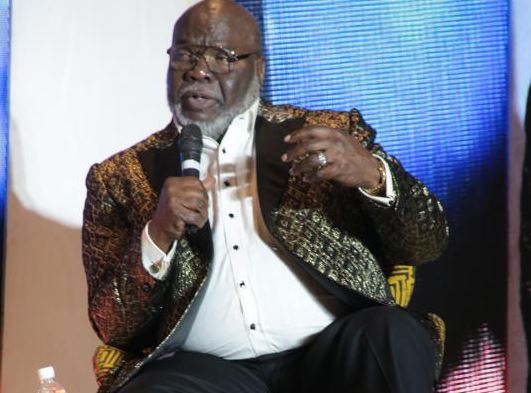 Born to a janitor dad and an educator mother 62 years ago, the little boy stood as much chance as any other black kid growing in a country that wasn't fully out of the bowels of racial discrimination. His chances weren't helped much by the fact that he spoke with a lisp. A lisp he seemingly outgrew judging from the booming and commanding voice that demands silence as he confidently addresses the press conference in Nairobi a few days ago. Little wonder he was chosen by President Barack Obama in 2009 to deliver the morning service before the historic Presidential Inauguration. Did I mention that he is also an author of 20 books and a Grammy-award winning gospel musician?
So how did the little boy with a lisp grow into a man worthy of being named on Savoy's list of "Top 100 Powers That Be?
Three things largely contributed to the making of a successful entrepreneur and leader in TD Jakes.
Observe life and learn
1. Experience which comes with age. "I read a lot and have a lot of experiences from traveling around the world and meeting interesting people. I look at the world as a university and everyone in it as a teacher. To walk away from the cuisine of life void of intellect, intelligence and wisdom would mean that I didn't pay attention. In fact, the lack of attention is what causes many people to miss out on great opportunities."
Inspire your children's business acumen
2. He grew up with entrepreneurial parents. "Dealing with taxes, payrolls, budgeting, and money in general was part of the narrative I heard growing up, and it served me well as I became a man. At the time, I didn't realise it would have such an impact on me and help me as a business person and a founding pastor of The Potter's House Church. That is why I cannot stress enough how important it is to raise your children in the atmosphere of your business as opposed to shooing them away." It was, therefore, a no-brainer that he would get into business when his dad died. "I was 16 then. At the time of his death, he had 52 employees. That was a big deal in the 60s. When I remember my dad, I recall a man with a strong work ethic who insisted that I have one too. He was tenacious and relentless. He inspired me because he had very little excess capital to work with. He had to grow his own capital while he was growing his business."
Doesn't hurt to start small
3. The third thing that contributed to his becoming a successful entrepreneur was starting young and starting small. I can't think of a time in my life, outside of ministry, that I haven't worked. People didn't see me working and I wasn't on television but I was always entrepreneurial, dabbling in real estate, though it started on a very small scale."
"But the good book says, despise not the day of small beginnings. You need small beginnings so you can work out the mistakes while they are still small. Small beginnings also allows you build the kind of relationships that are necessary to sustain the business as it grows because at the core of business is nothing but relationships."
Find mentors and models
His father became the first mentor he ever had. "You need different mentors for different areas of your life. The mentor that speaks into my life as a husband and father is totally different from the person who speaks into my life as a business person." "However, we talk a lot about mentorship and forget to talk about a part of mentorship called modelling. You can have mentorship, but if you haven't had models of what you're trying to do, is like trying to build something that you haven't seen. It's hard to be what you didn't see. So once you see it modelled in front of you, it becomes a lot easier to do it," he says of his life which he modelled after Dr Martin Luther King. "I was awed by him from a child's perspective because my father was. And to see my father that impressed about something another man did with the microphone cause me to have a deep appreciation for the ability to be able to articulate that."
Have no capital? Work around it. How?
Lack of capital among entrepreneurs is the reason he wrote Soar: Build Your Vision From The Ground Up. "Many of us don't have the access to capital that we would like to have. 'What do we do in the absence of that?' is the question that the book seeks to answer."
But even as entrepreneurs struggle with capital issues, Jakes says the problem is better today than it has ever been due to technology. "Social media has brought down the cost of advertising exponentially as businesses no longer have to depend on traditional modes of advertising like radio time and billboards, creating an opportunity for great savings. What we (entrepreneurs) have to do then, is reinvest that money back into the business and budget, sometimes severely.
To succeed in business, find loyal employees
Besides capital, the other big issue leaders and entrepreneurs face is good people. "Finding quality, trusted, loyal, committed people who will work just as diligently when you are not looking as when you are, are hard to come by. You cannot teach loyalty. Having a degree does not necessarily indicate loyalty." What's more is that good people are any business' greatest investment. "They are hardest to find and even harder to keep. Without good people, even with a great product, great idea and super vision, it is hard to implement those ideas and cause them to become a reality."
Your relationships are your greatest resource
Relationships, he says, are your greatest resource, business-wise or otherwise. "It is not necessarily the absence of capital, but the absence of relationships that make it hard to access capital. If you have strong relationships, you can access capital."
Even as we start out in business, he cautions about rushing to success. "Starting out initially, I think we rush to success because we want to impress people with our accomplishments. But gratification delayed is very effective when it comes to building a business. "You have to understand that there's going to be years of sacrifice followed by years of surplus and if you have the surplus before the sacrifice, your business doesn't last very long."
Take the leap. Arms shaking. Do it scared
And this he experienced firsthand when publishing his first book.
"The experience going into self-publishing my first book was scary. I put into it all the money we had. It was all the savings we had put aside to buy a house. I sold the book off the trunk of my car. But being tenacious and relentless, like my father had shown me to be, and believing in what I had, helped me make that very scary decision."
Believing in what you are doing is very important. Because, if you don't believe in what you have and what you are doing, no one else is going to believe in it either.
Find your motivation
At 62, Jakes is showing no signs of slowing down. "My kids help a lot in keeping me motivated," Jakes says of his 5 kids. "That, plus I would lose energy if I lost challenge. It is the challenge ahead of me that gives me the motivation to get out of bed every morning. I don't pay much attention to age, but to what I'm trying to do. I am purpose-driven, and when you are purpose-driven, it ignites passion and energy and enthusiasm."
After all, is said and done, Jakes tells young entrepreneurs that they should understand that entrepreneurship is 'supposed to be hard'. "This is something we don't teach often. We see successful people and we aim to be like them. But we didn't see them struggle. So as we aspire to be successful and encounter struggles along the way, we tend to think that something's wrong. But no one got to be who they were without struggle."