Sauti Sol alone together: An experiment or is this the end?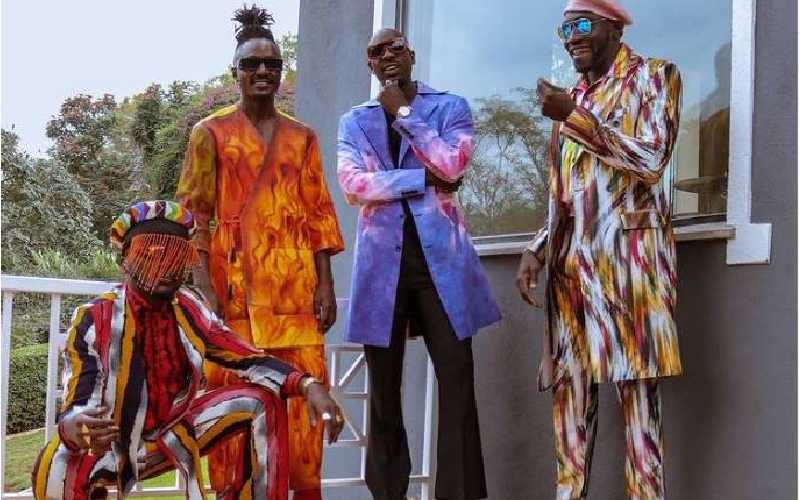 Sauti Sol, Kenyan leading boy band recently announced the group members would be focusing on solo projects.
Sauti Sol – the Afro-pop band comprising Chimano, Bien-Aimé Baraza, Savara Mudigi and Polycarp Otieno – is an award winning music group with interests in fashion, pan-Africanism, culture and social consciousness.
In an open letter, they said they would work "Alone-Together", a phrase that was taken to mean that they would pitch the image of solo performers, rather than the usual Sauti Sol image they have had over the years.
"It (Alone-Together) ties with our natural progression of self-growth, while still being a single unit. The journey is a 4-part musical and visual art series for you and the world with the hope of enlightening you to who we really are," the group said in a statement.
They said they would start releasing singles as individual artistes.
"The African King of Bald Men, Bien, shall kick off with his first solo singles, a collective track between him and jazz maestro, Aaron Rimbui aptly titled, Bald Man Anthem…This date will also mark the inception of Bien, Chimano, Savara and Polycarp's individual journeys as entertainers," the statement went on.
Whether this is the end of the boy band's long reign in music is still debatable. Many people see it so. And this has been fueled by the way the now rolling individual singles are working in the market and how the fans are reacting to that.
The irony is in how some of the members are being viewed as having been key in Sauti Sol's success and how well they are placed to succeed as solo artistes and vice-versa.
Whether they are stronger together, or have what it takes to make it as solo artistes is the question.
But this shift in gear has been a long time coming.
Sources close to the group indicate the group members have been working on a plan to push individual brands since their former manager parted ways with them about two years ago.
However, the deal they have with Universal Music Group is seen as one of the things keeping them together.
Now, each group member is pushing towards a personal end, and the noise around Sauti Sol louder than ever, louder than their music.
After all this is Kenya's longest standing music group and, arguably, East Africa's biggest export.
They are unique. And there are many narratives to explain this. Here is one; Sauti Sol love the ladies - Suzanna, Awinja, Malkia, Nerea, Isabella.
And the ladies love Sauti Sol. The love was apparent at Nairobi's Mövenpick Hotel & Residences on February 13 as Sauti Sol headlined The Midnight Train, an evening of great live music courtesy of Trace TV.
The Midnight Train is also the name of their 2020 album.
Chimano asked the crowd to dance with the band, and mostly female fans thronged the small stage, moving to every beat at the live gig.
"Thank you Trace, but most of all thank you (fans) for making time to be here with us," Chimano said in the midst of the 50-minute performance.
As Taio, former Camp Mulla manager and MC of the Midnight Train gig put it then, Sauti Sol "is a national treasure."
They became the first local band to be signed by Universal Music Group through the international stable's African subsidiary, Universal Music Africa.
UMG is the biggest music company in the world, pulling in revenues of Sh710 billion in 2018.
With music labels like Young Money, Def Jam Recordings, EMI, Island, Motown and Shady Records under its imprint, UMG boasts of having access to a global market across different genres and countries.
"UMG's artistes are second to none. We invest in our artistes in every stage of their careers and strive to provide the most creative and commercial opportunities possible. We also provide UMG artistes with the latest technology to keep track of the performances of their music, both financially and from a marketing perspective," the UMG website states.
With an agreement with more than 400 platforms across the globe, Sauti Sol's music has been flowing across all corners of the world.
The band has been enjoying similar systems to those at the disposal of global superstars like Justin Bieber, Lady Gaga, Ariana Grande, Drake, Elton John, Nicki Minaj, Taylor Swift, U2 and dearly departed legends like Luciano Pavarotti and Marvin Gaye.
Signing Sauti Sol was a new chapter for UMG that has since signed more African stars, besides pitching camp here to work with the continent's music icons.
While signing the deal in South Africa, Sipho Dlamini, the managing director of UMG South South Africa and Sub-Saharan Africa said: "We are delighted to announce our partnership with Sauti Sol, one of the most innovative and creative groups to have broken through from Africa in recent years. Universal Music Africa is dedicated to helping the best African music talent to reach new audiences around the world and we are excited to welcome them to our global UMG family."
A few days after the deal was signed, Sauti Sol released Suzanna, a song about a lover who has her mind on the finer things in life instead of reciprocating the love she is being given by her lover.
Suzanna was the first song in Midnight Train, the band's fifth instalment.
Who would have imagined that an acapella group from Nairobi's Upper Hill High School would conquer the world, 15 years after the young boys met for studies?
Where it all started
Though already a big deal in Nairobi then, it was not until they released their first single, Lazizi, that the country took notice of them. They followed this with Blue Uniform, a masterpiece.
The two videos were the work of Jim Chuchu, then a member of Just a Band, and were part of Mwanzo, a 14-song album released in mid-2009.
Two years later, Sauti Sol was back with Sol Filosofia. The album, a product of Penya Records, had Soma Kijana and Coming Home as its lead singles.
It was Sol Filosofia that earned the group the Best Fusion Artiste/Group of the Year at Kisima, which was then the best and prestigious awards ceremony in East Africa.
Sauti Sol was a breath of fresh air and signified a change in the music industry. They worked as a team and every issue, good or bad, highlighted by the media had to be directed to their manager who was their sole mouthpiece. Even getting a sound bite from one member of the group on the sidelines of their shows was a difficult task; to this day.
Live and Die in Africa, their 2015 album, was a reinvention of Sauti Sol. It featured a fully pop sound, with songs like Sura Yako and Shake Yo Bam Bam dance hits becoming club anthems.
The album had Nishike, a 'thirsty' number. The soulful Nerea, featuring Amos and Josh, and Kuliko Jana, an acapella with the Red Fourth Chorus, also featured as one of the strong numbers.
Only weeks after its release, Nishike was banned from mainstream TV.
According to Savara, speaking to Morgan Greenstreet of Afropop Worldwide, Sauti Sol is all about trying new things.
"Well, the song is pretty straightforward. We didn't see anything out of the norm in that really, but our people, especially our Kenyan audience…the kind of music we did before Nishike was very, very conservative in terms of expression, in terms of expressing sexual feelings. But it came to a point whereby we needed to do something out of the norm, and that's why we did Nishike," he said.
The album, which was free to download in its first 48 hours, was downloaded 400,000 times, introducing fans to the group's website – Sauti Sol's next marketing frontier.
The band went on doing more exploits and conquering new worlds with many firsts.
They embarked on a self-sponsored five-week tour around the country to promote the Live and Die in Africa project. They spent millions with a back-up crew of more than 100 , sound systems and a branded tour bus.
And not slowing down in creating unique content, Sauti Sol cast its net wider to Africa and beyond.
They have worked with many big names; C4 Pedro (Love Again), Bebe Cool (Mbozi za Malwa), Yemi Alade (Africa), Patoranking (Melanin), Tiwa Savage (Girl Next Door), 2Baba (Oya Come Make We Go) and even Kenya's top stars Khaligraph (Rewind) and Nyashinski (Short and Sweet and Tujiangalie).